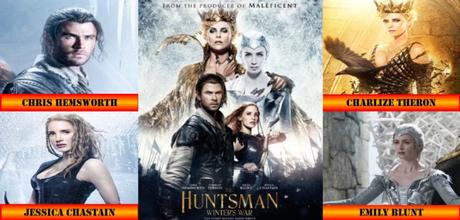 Director: Cedric Nicolas-Troyan
Writer: Evan Spiliotopoulos, Craig Mazin (Screenplay) Evan Daugherty (Characters)
Starring: Chris Hemsworth, Charlize Theron, Jessica Chastain, Emily Blunt, Nick Frost, Rob Brydon, Sheridan Smith, Alexandra Roach, Sope Dirisu, Sam Hazeldine, Sam Claflin
Plot: As a war between rival queen sisters Ravenna and Freya escalates, Eric and fellow warrior Sara, members of the Huntsmen army raised to protect Freya, try to conceal their forbidden love as they combat Ravenna's wicked intentions.
There may be spoilers the rest of the review
Verdict: Lacklustre Sequel/Prequel
Story: The Huntsman: Winter's War starts as we see Ravenna (Theron) first using her powers to gain the reputation we know as the evil queen along with her sister Freya (Blunt) her only weakness rise to the power in the kingdom as the Ice Queen after losing her child.
The Queen brings only one rule to her kingdom, you can never fall in love which her two best child warriors Eric and Sara do, once grown up Eric (Hemsworth) and Sara (Chastain) become lovers leading them to be punished with separate banishment from the kingdom.
To confuse matter The Huntsman has to continue to fight for Snow White so now this is a sequel to stop Freya getting her hands on the mirror and its evil powers. The Huntsman teams up with his wife Sara who both believe something different happened during their banishment from Freya's kingdom.
The Huntsman: Winter's War comes off confusing because we are sold on the idea that this is a prequel only for it basically have a longer opening sequence to the original and being a sequel which means Ravenna is barely even in this one. The story comes off very familiar with not much actually happening through the film that we haven't seen. I didn't find the story very appealing because it ends up feel like a dark version of Frozen.
Actor Review
Chris Hemsworth: The Huntsman was trained from a child by Queen Freya to be one of her best warriors but when he falls in love he get left for dead believing his love has been killed. He has defeated Ravenna once and now he gets called upon to retrieve the mirror that has started to take control of the Snow White. Chris is good in this role doing what you would expect him to do.
Charlize Theron: Ravenna is the evil queen that is the sister to Freya, she has used her powers to make Freya rise to power before we know what happened to her in the first film. Now she is trying to control the world from inside the mirror. Charlize is only in a supporting role and doesn't reach the levels we know she can with this character.
Jessica Chastain: Sara is another one of the huntsman trained by Freya taught not to love only to fall for our leading Huntsman.  Pushed out she teams up with the Huntsman as they look to rekindle their love once more. Jessica is solid in this role but I can't help but wonder what happens to her accent through the film.
Emily Blunt: Queen Freya gets turned into the all-powerful snow queen once she witnesses the father of her child over a burnt out cot. She takes children to raise her own warriors cheating them not to love but when she learns her best warriors have fallen in love she exiles them as she continues to conquer the south. She learns of the mirror and wants it for herself. Emily is solid in this supporting role in what is meant to be the main villain.
Support Cast: The Huntsman: Winter's War has a supporting cast that is stolen by the dwarf performance that are clearly the highlight of the film.
Director Review: Cedric Nicolas-Troyan – Cedric gives us a sequel we didn't really need that offers little new to the story only expanding the world it is set in.
Action: The Huntsman: Winter's War is filled with plenty of mindless fantasy action throughout that gives us nothing really stand out on this side of the story.
Adventure: The Huntsman: Winter's War throws our characters on a reluctant adventure much like the first one.
Fantasy: The Huntsman: Winter's War is in a fantasy world of witches and creatures etc etc etc.
Settings: The Huntsman: Winter's War puts us back in the world created with nothing newly created.
Special Effects: The Huntsman: Winter's War has basic supporting effects which just don't really come off completely believable.
Suggestion: The Huntsman: Winter's War is one that can only really be watch if you loved the original. (First Fans Watch)
Best Part: Dwarfs.
Worst Part: Wasting Charlize Theron.
Believability: No
Chances of Tears: No
Chances of Sequel: No
Post Credits Scene: No
Similar Too: Frozen
Oscar Chances: No
Budget: $115 Million
Runtime: 1 Hour 54 Minutes
Tagline: The story before Snow White
Overall: This is just a dark version of Frozen let's all be honest here.
Rating