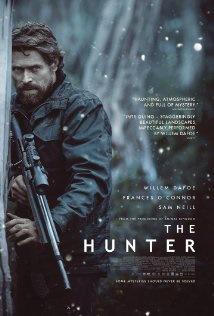 Director: Daniel Nettheim
Writer: Alice Addison (Screenplay) Julia Leigh (Novel)
Starring: Willem Dafoe, Frances O'Connor, Sam Neill, Morgana Davies, Finn Woodlock, Jacek Koman
Plot: Martin, a mercenary, is sent from Europe by a mysterious biotech company to the Tasmanian wilderness on a hunt for the last Tasmanian tiger.
There may be spoilers the rest of the review
Verdict: Visually Brilliant
Story: The Hunter starts by introducing Martin (Dafoe) a mercenary who is hired by Red Leaf a Biotech company who want DNA samples, hair, blood of a long thought extinct Tasmanian tiger for their own use. Martin travels to Tasmanian where two reported sightings in the last year have be confirmed. Martin stays with a family whose father is lost out in the outback and gets his own tour guide Jack (Neill).
Martin starts with the basics learning about the local wildlife and showing off his expert trapping skills. We watch how he continues to hunt but it soon becomes apparent he isn't alone in his pursuit. Martin also learns about the family he is staying with and helps Lucy (O'Connor) get over her personal demons. Martin finds himself in the middle of political battle between environmentalists and the local workers. All these things come together to force Martin to uncover the truth about what is going on.
The Hunter is a film not only about the quest to find the last Tasmanian tiger, it also focuses on the human factor and greed people will have to potential rule a species extinct to get ahead. I personally am a man who believes we should be trying to save our endangered species and this film plays on that urban legend of this one still being alive out there. I think all the hunting scenes are harder to watch but important in the development of Martin because we learn about his drive. As the story continues we learn that he relaxes his situation onto the tigers and feels for both the family he is staying with and the tiger he is hunting. I will say this is going to displease the nature lovers out there, but as a story this is truly a heart breaking tale. (8/10)
Actor Review
Willem Dafoe: Martin Our lone hunter who is very ritual in his routines, he gets hired by a biotech company to hunt down the last remaining Tasmanian tiger. Along his way he meets and becomes friends with a small family and stands up for what is right. Willem gives a great performance making himself a screen presence in every single scene. (9/10)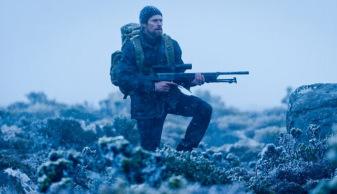 Frances O'Connor: Lucy wife of the missing man that Martin stays with, she is struggling to deal with his disappearance but her children help around the house and with Martin. Frances gives a good performance in this role. (7/10)
Sam Neill: Jack family friend who brings Martin to the area but seems to be hiding a secret or two. Sam does a good job in this supporting role. (7/10)
Support Cast: The Hunter has three main supporting areas, we have the children who help understand how this hunt could cause troubles, we have the environmentalist who want to protect anything that could be there and we have the people who don't want to be out of a job. Everything single member of the cast does a good job.
Director Review: Daniel Nettheim – David does a good job directing this film that leaves you with your feelings exposed by the end. (8/10)
Drama: The Hunter creates a conflict that puts our characters in a position that is very difficult, letting us see how they handle the situations. (9/10)
Thriller: The Hunter has a thriller element to it but sometimes loses to focus upon something else. (7/10)
Cinematography: The Hunter is visually beautiful with the landscapes shots. (10/10)
Music: The Hunter uses its music to let us know how the characters feel throughout each scene. (9/10)
Settings: The Hunter has beautiful settings of the outback in Australia. (10/10)
Suggestion: The Hunter is one to try I don't think it will be for everything, but this is a bleak thriller that will break your heart but will send the message about what we need to stop doing. (Try It)
Best Part: I am putting the final hunt as best and worst moment, because it is the best but also the worst part because of what happens.
Worst Part: Final hunt.
Believability: No (0/10)
Chances of Tears: You could have some with the final scene. (3/10)
Chances of Sequel: No
Post Credits Scene: No
Awards: Nominated for 12 Australian Film Institute Awards Winning two
Oscar Chances: No
Runtime: 1 Hour 42 Minutes
Tagline: Some Mysteries Should Never Be Solved
Trivia: During the beginning of this film, actual original black-and-white archival footage is seen of the last ever Tasmanian Tiger living in captivity.
Overall: Beautifully Shot Drama Thriller
Rating