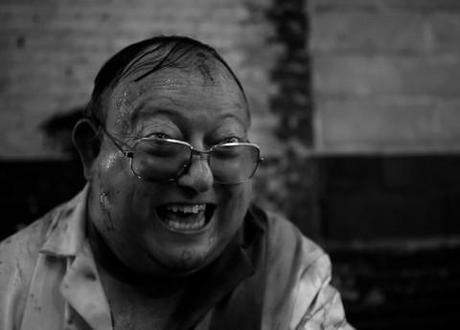 Sick. Photo credit: Six Entertainment
The Human Centipede II (Full sequence) has, after months of controversy, been awarded an 18 certificate for UK DVD release by the British Board of Film Classification (BBFC). The BBFC have overturned their previous decision to refuse to rate the graphic horror film, which centres on the premise of a maniac stitching together victims, face-to-bottom. The BBFC initially refused to classify the horror sequel on the grounds that it may breach the Obscene Publications Act, and "poses a real, as opposed to a fanciful, risk that harm is likely to be caused to potential viewers." The BBFC relented in their resistance only after 32 cuts were made to the film, totalling two minutes and 37 seconds.
Thirty-two cuts. The BBFC said that the cuts include sections showing masturbation with sandpaper, teeth removal by hammer blow and a hodgepodge of other unimaginable atrocities. But Mike Sampson of movie site JoBlo.com, who assured us that he himself is not a fan of the film, felt this may ruin the point of the film: "if you're going to sit through this movie, wouldn't you want to watch the balls out version?" Matt Singer of IFC calmed his fears, proposing that, although over 1% of the film is lost, the film is likely to still be sufficiently horrific. "Assuming the filmmakers made their cuts with more precision than Martin, the mentally unwell 'hero' and untrained surgeon of HC2, it shouldn't make that big of a difference," he said.
"Considering its subject matter, there is a pleasing irony to the fact that HUMAN CENTIPEDE 2 has been butchered to get a certificate" Time Out Film tweeted
Dangerous. The BBFC did not take this decision lightly. Catherine Shoard of The Guardian reported that "the feeling that the film's very premise made it 'dangerous' enough viewing that no amount of cuts could redeem it was upheld by one of the BBFC's vice presidents, Gerard Lemos, who abstained from the board's collective decision."
Publicity. Inevitably, the BBFC saga has brought attention to the film. The BBFC's initial decision was met with criticism from some quarters, and the controversy has most likely been beneficial to the reputation of a film that aims to shock and appal. Tom Six, the film's director, has called the situation "brilliant for marketing", and has welcomed the new announcement. He has also promised to produce a third film that will "make the last one look like a Disney film." Splendid.
Here's the trailer, if you've got the stomach for it…