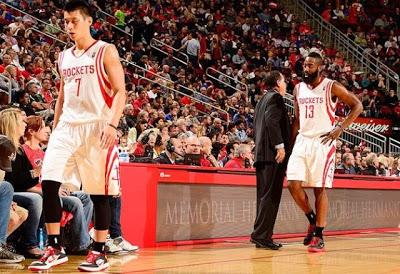 Lets take a look at the Houston Rockets. They currently have a 20-14 record with impressive play all around. They are led by James Harden with 26.4 points and 5.3 assists (do I hear a most improved?). I have been very impressed by his play, I didn't believe he could be so good alone.
Now Jeremy Lin has 12.1 points and 6.4 assists. He needs to score more, Harden can't win every game by himself. Omer Asik has 10.6 points and 11.4 rebounds a game. He has turned into one of the best rebounders in the NBA.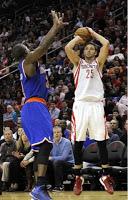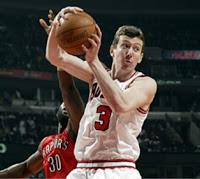 Chandler Parsons gets 14 points and 6.4 rebounds. I like this guy, he has a bright future. Patrick Patterson has 12.9 points and 4.8 rebounds a night. Now off the bench they have Toney Douglas with 8.9 points, Carlos Delfino with 9.5 points and Marcus Morris securing 9.2 points and 4.2 rebounds.
What do they have to do to get farther in the playoffs and be better next season? Well Jeremy Lin has to score more with James Harden, both in the 20 points range. Patrick Patterson needs to get his rebounds up, too.
They will make the playoffs in my mind at about a 5 or 6 seed. They could make it to the 2nd round but I don't see them going any father. Now in the offseason they need to get good role players to come off the bench.