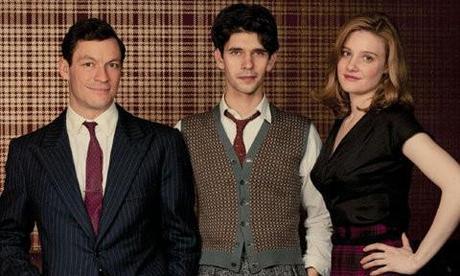 The cast of BBC's The Hour. Photo credit: credit: Laurence Cendrowicz, BBC
Hotly anticipated new drama The Hour premiered on BBC2 this week. Starring The Wire's Dominic West, alongside Romola Garai and Ben Whishaw, the serial follows three journalists working on the launch of a current affairs programme and "uncovering a dark and dangerous conspiracy". The drama's 1950s setting has drawn the inevitable Mad Men comparisons, despite the objections of writer Abi Morgan, who also worked on BAFTA-winning Sex Traffic. But can The Hour live up to its sparkling pedigree?

Mix and match. The opening episode blended conspiracy thriller with office politics-based observation – not exactly to universal acclaim. Writing in The Guardian, Sam Wollaston said that The Hour was a "slower starter": "It doesn't really feel like it's got going yet, the various threads haven't begun to be spliced together," he wrote, but also added that there was enough material to keep him watching future episodes. The Independent's Tom Sutcliffe was less sure that the different plotlines would come together, questioning how the thriller elements could match up with the newsroom drama and sexual politics. Keith Watson at The Metro was unimpressed, describing the first episode as a "lumpen mix of conspiracy thriller and period detail". Over at The Telegraph, Michael Deacon hoped the next episodes would "jettison the waffle about broadcasting and prejudice" in favour of a more thriller-based plot.
Pointing and tutting. At Den of Geek, Ryan Lambie felt The Hour lived up to the BBC's excellent reputation for period dramas thanks to the attention to detail. But Michael Deacon was unimpressed by the "pomposity" of the programme's approach to its 1950s setting: "At times it appears to be less a story than an exercise in upbraiding the past for failing to live up to the politically correct ideals of the 21st century."
Perfect timing? Several critics have pointed to the apparent prescience of The Hour, coming at a time when journalists are in the headlines – and even in the dock. But this wasn't enough to impress The Evening Standard's David Sexton: "The Hour, for all its apparent topicality, is just a summer filler," he wrote.
Perfect casting? In The Independent, Sutcliffe praised the cast, noting that "even the smaller roles get fine performances". In a similar spirit, Wollaston reserved particular praise for Julian Rhind-Tutt, who plays the Prime Minister's press secretary: "There's not nearly enough of him in episode one. Let's hope that changes."
Smoking and drinking. A key element of The Hour: Only one review of the opening episode failed to mention how much the characters drink and smoke. Shades of Mad Men achieved.
More reviews

The Princess of Montpensier
Harry Potter and the Deathly Hallows
The Stranger's Child