This is a guest post from my favorite online resource, One King's Lane. 
Thank you as always OKL!
_____________________________________
The Hot New Trim Trend We're Loving
Black-painted trim and molding is a refreshing shift from white—and beautifully highlights a room's best features. Here's how to use it.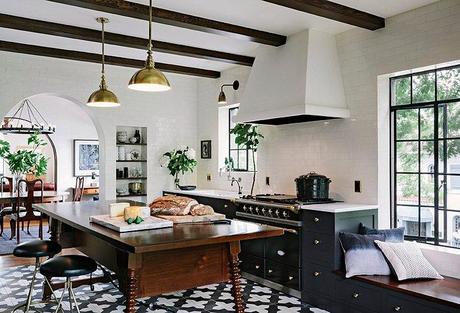 Interior by Jessica Helgerson Interior Design
TIE A ROOM TOGETHER
In a space like the kitchen—where there's so much going on—black paint can create a sleek, organized beauty. Use the paint on multiple fronts; we love how these black-and-white tiles play off the black-trimmed windows and cabinets.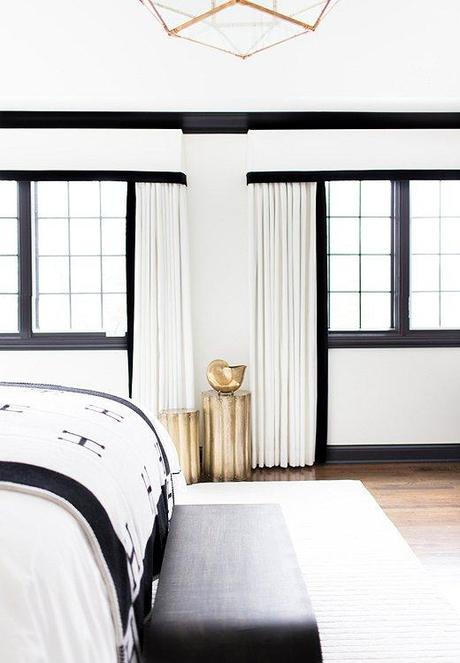 Photo by Alyssa Rosenheck
DEFINE AN AIRY SPACE
As we all know, there's no combination quite as chic as black and white. In mostly white rooms or rooms that get lots of light—or both—black can punctuate the space and give it some polish. These vertical and horizontal lines, from the molding along the floor and ceiling to the window panes, help to ground an airy bedroom. And note how the lines are carried even further: The black lines of these windowpanes continue along the top of the curtains, and the blanket pattern echoes the black trim.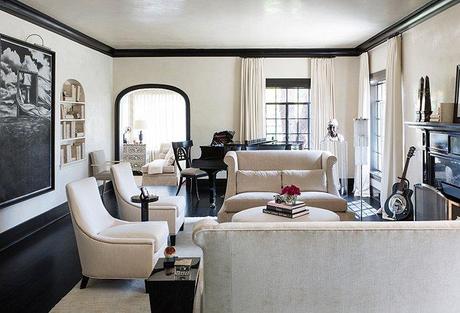 Photo by Rett Peek
HIGHLIGHT DESIGN DETAILS
Think of black paint as a highlighter, which you can use to draw out architectural elements of a room. Ceiling molding or a carved mantel is a perfect target. Perhaps most of all, we love the idea of highlighting an arched doorway—a lovely detail that could otherwise go unnoticed—with a swoop of black. Whether the rest of the walls are white or another color, the whole space will come into sharper focus.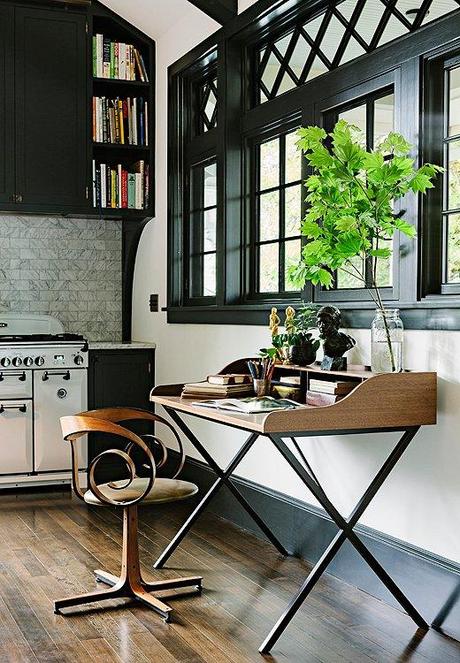 Interior by Jessica Helgerson Interior Design
ADD A MODERN UPDATE
We love the cost-effectiveness of black trim: Without changing a single furnishing, you can get a much more modern space. With the crisscrossed windows, this kitchen corner look a little storybook. But with the rich layer of black along the baseboards and other spots (including the windows), it becomes a fresh, modern, and inspiring work corner.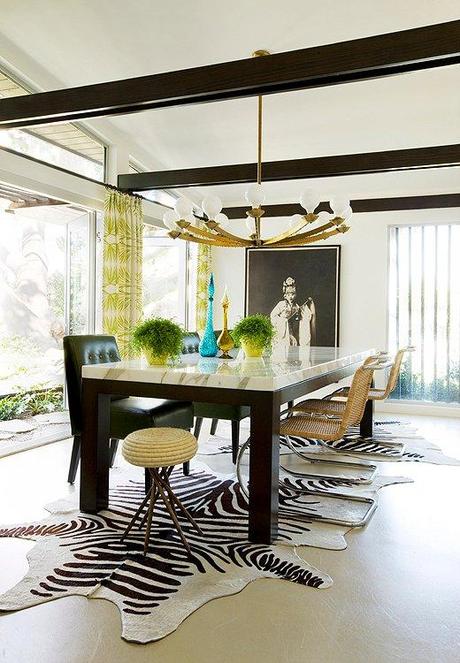 Photo by johnellisphoto.com. Interior by Melissa Palazzo.
GIVE A GLAMOROUS LIFT
Black is a strong color—it can play off statement pieces and make them pop even more. These black-painted beams frame a dining room scene that's centered around a golden chandelier and large-scale animal-print rugs. Within this framework, the open-air, high-ceiling room is taken to a more glamorous place.
________________________________
10 Design Lessons from Ashley Hicks's Instagram Feed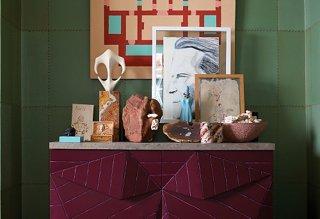 A few things become clear when you
[email protected]
 (the handle of English designer Ashley Hicks) on Instagram: He's as bold and ingenious as his father, famed designer David Hicks. He has a great sense of humor. He has an incredible eye for everything (from chickens to tapestries). We took a quick look at the world through his lens and found some fantastic design ideas to put to use in any space.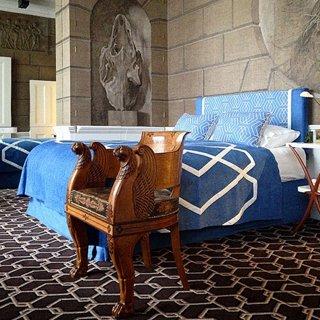 Lesson #1:  Good Antiques Go with Anything
Don't get hung up thinking that because of its distinctive period details, an antique needs to be surrounded with similar pieces. This ornate chair shines among modern, geometric patterns.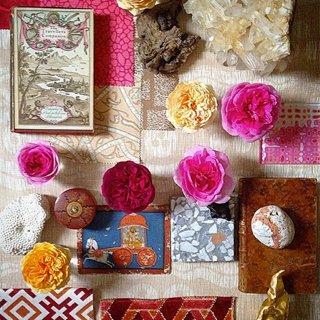 Lesson #2:  Coffee Tables Are Canvases

Hicks inspires us to think beyond a tray and a vase. His harmonious palette, mixed patterns, and loads of natural beauty create a striking surface.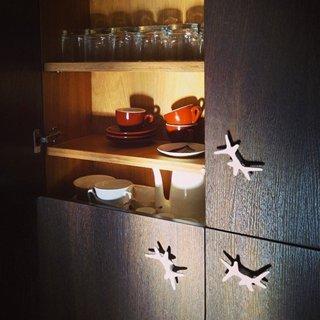 Lesson #3: Opposites Do Attract
You might expect sleeker hardware on minimal cabinets, but expected just isn't Hicks's style. White coral pulls are surprising and sculptural, with just the right amount of quirk.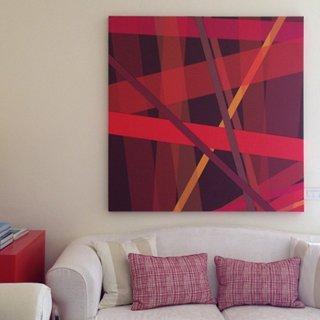 Lesson #4: Look at Art As Pattern
The word 
pattern
 brings to mind textiles, but Hicks proves that's not your only option. Maybe that sofa doesn't need a bold fabric but instead a bold print just above it. We love how the pillows subtly echo the artwork's graphic lines.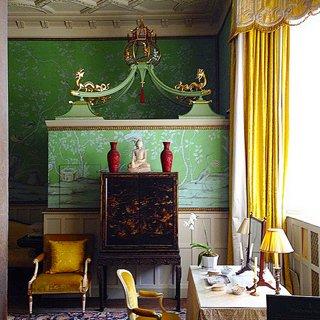 Lesson #5: Chinoiserie Is Better in Numbers
Most would stop at the wallpaper, or the cabinet, or the vases. But when the motif is spot on, the more the merrier.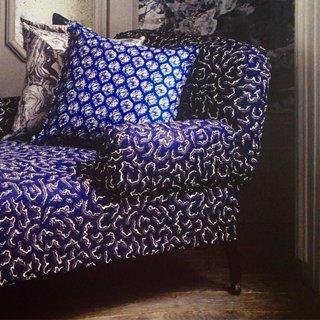 Lesson #6:  Print Mixing Favors the Bold
Hicks's own Munnu and Eleuthera prints are gutsy on their own, but together they create an even more striking mix. As long as hues don't fight each other (you'll know it when you see it), don't be afraid to try out bold combinations.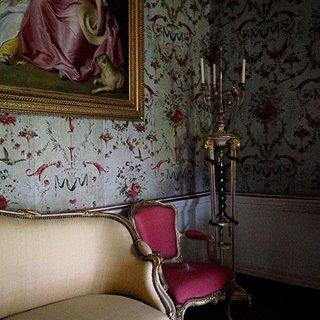 Lesson #7: Hot Pink Can Be Elegant

Bright hues don't have to scream in a space. When you pick a classic silhouette, even bold fabrics speak more genteelly.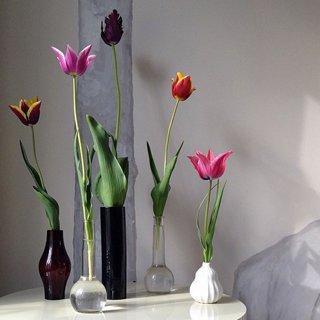 Lesson #8: Elevate the Everyday

These tulips would be stunning even in a coffee can, but clustered in bud vases of various shapes and sizes they create a modern still life.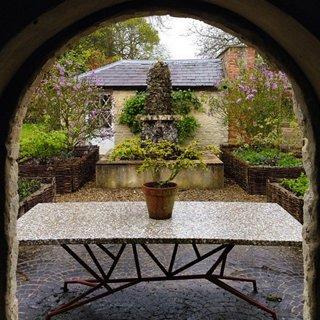 Lesson #9: Outdoor Furniture Counts Too
The unique lines of Hicks's garden table
are as refined as those of any piece in a formal indoor room. The upshot: It needs little adornment.
Lesson #10: Never Underestimate a Coat of Paint
A quick coat of red paint on a bamboo sofa (which belongs to one of his clients) updated the classic piece and made its details more striking.
Shop Ashley Hicks's Vintage Picks 
And finally, in my favorite news today, OKL is doing custom upholstery now. And some of them are what you'd pay at Target - Seriously, $359 for a custom bench, etc. See below: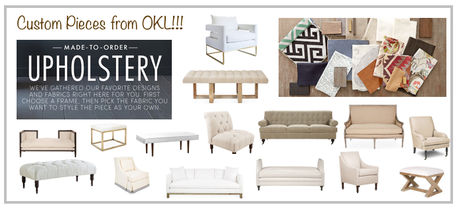 Subscribe by Email
HERE
Post a Comment (even from EMAIL) by Clicking 
H
ERE