Text Post
The Homeland Season Finale: Predictions From Expert TV Watchers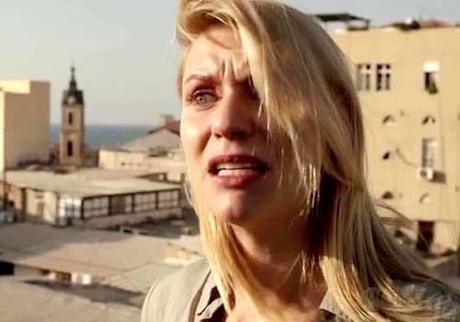 For those of you who watch Homeland, you know that the plot line has gotten so ridiculous that literally ANYTHING could happen on the season finale this upcoming Sunday night.
In preparation, I've asked three of my favorite writers to give their predictions. Do not read on if you don't like spoilers—although really, if we told you what has happened in the last three episodes, you wouldn't believe us anyway. You'd be like, "That's pure nonsense, and I cannot even imagine how you arrived at that storyline. Are you high?" So feel free to read on.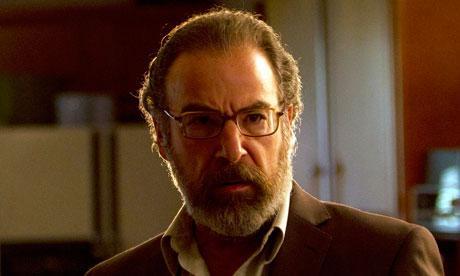 This first one is by one of my Internet friends (aka BEST friends), Daniel Holmes, who you might recognize from the hilarious comments he writes on my blog posts. You can read his own blog here, and perhaps even friend him on Facebook, kind of like I did because he emailed me one time. 
I know what you're all thinking is going to happen.
"It's all so obvious, David is going to shoot Brody, and Saul and Carrie are going to go rogue and figure out how to expose him for the drone strike, and Dana is going to complain and  blah blah blah."
YEAH, THAT'S WHAT YOU THINK IS GOING TO HAPPEN BECAUSE YOU CLEARLY HAVE NOT BEEN READING BETWEEN THE LINES, SO LET ME CLUE YOU IN ON HOW ITS ALL GONNA GO DOWN. FOR REALS.
1) Abu Nazir is not dead.
Yeah, you didn't fucking see that one, right? WELL IT'S BECAUSE WE KILLED HIS FUCKING CLONE. YEAH, THE EVIL CLONE. THE REAL ABU NAZIR HAD BEEN TRACKING HIM THIS WHOLE TIME BECAUSE THAT'S WHAT YOU DO WHEN YOU CREATE AN EVIL FUCKING CLONE. YOU DON'T JUST SIT AROUND AND LET THE CLONE JUST GO AND MURDER PEOPLE (I mean he did, but he was super bad about stopping him because his a clone scientist not a fucking terrorist scientist so back the fuck up). Look i could point out where it was in the episode, but I don't want you to feel dumb, so believe me. Next season is going to be all about stopping Evil Abu Nazir clones.
2) Mrs Brody and Mike are gonna retire on Bangopolis island because that's what you do when your husband is a failed terrorist, okay? IT'S JUST WHAT HAPPENS. STOP QUESTIONING IT.
3) Dana and the kid who's not Dana are going to go fucking solve crimes or whatever teenagers do (coke?) because no one really cares about them. OH YOU HIT A FUCKING PERSON AND YOU'RE SAD ABOUT IT? THEN FUCKING DRINK LIKE EVERYONE ELSE WHO'S DONE IT. DO YOU THINK JESSICA LANGE IN AMERICAN HORROR STORY TURNED HERSELF IN? SPOILER ALERT, SHE BECAME A PSYCHO NUN. GET THEE TO A NUNNERY. And I don't know what's his name, he can go to the arcade or some bullshit (more coke?)
4) The Vice President is still dead. Dude had a heart attack, it was pretty obvious. NOT EVERYTHING IS A METAPHOR.
5) We're going to find out Saul is actually a trained fucking ninja assassin samurai working for the Culper Ring (GO LOOK IT UP, IT'S AWESOME) and he's going to disappear when David Estes tries to shoot him because that guy is a prick.
REMEMBER THOSE CLONES? FUCKING SAUL AND NAZIR TEAM UP AT THE END, AND WILL BE BEARD BROS FOREVER.
6) Brody is just gonna disappear and get really into like stamps, or something boring like coin collecting in Wyoming because fuck this noise. Also, he's gonna buy like a ranch and there's going to be like a girl on the ranch, and look did you see We Bought A Zoo? Yeah, it's gonna be like that but replace Zoo with Ranch. Possibly a Sex Ranch. (Brody always seemed like he'd be into some weird sex shit).
7) Carrie is going to have one of her manic episodes, but like manic the FUCK OUT, and reach a new higher plane where she talks with George Washington. G Dubs gives her some information to take back to Saul and the Real Abu Nazir (he gets really into Eminem's early work) about the evil Abu Nazir clones, and warn her about something EVEN EVILER. Then she like reappears into Saul and Nazir's hideout to give them the info, and they become like the DC Birds of Prey except she can walk, and the other two are dudes.
8) The Drone that Killed all those Kids.
WHAAAAT?
I KNOW.
ALRIGHT, SO ALL THOSE DEAD KID SOULS ARE SUPER PISSED AND BONDED TO THAT DRONE AND HEAD BACK TO FIND DAVID ESTES. IT'S SUPER FUCKING CREEPY AS SHIT, ANYWAY, THEY FIND HIM BECAUSE IT'S A GHOST DRONE THING AND TRY TO BLOW UP DAVID, BUT INSTEAD THEY BOND AND IT BECOMES SOME WEIRD FUCKING DAVID DRONE CYBORG (THINK LIKE THAT SEASON OF BUFFY BUT MINUS THAT REALLY BLAND BORING GUY THAT BUFFY WAS BANGING) WITH ITS LAST MISSION TO DESTROY THE GOVERNMENT.
A REAL HOMELAND THREAT IF YOU WILL.
Alright, so that's what is going to happen.
It's all pretty painfully obvious.
Except for that Brody thing.
I mean, I don't know what a sex ranch is but, it can't be anything anyone wants to see.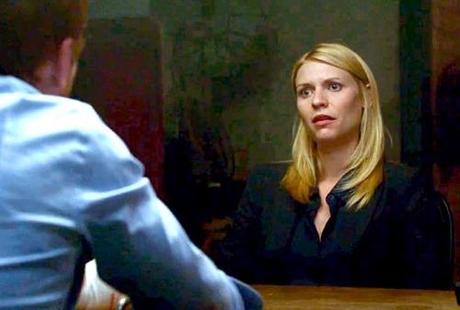 This next prediction is by a writer who wanted to remain anonymous, so he asked me to call him "unltd." He is really talented, and I think his prediction is brilliant, and might actually happen.
Ok so crazy-eyes-and-jaw Carrie and Mr. Whaaaw-I'm-a-terrorist Brody are shacking up. They have a night full of lusty, healthy sex. Which prompts them to think about the future. Will Crazy leave the CIA? Can Mr. Whaaaw leave his family? Can you ever just walk away? They talk about jazz - how the improvisation behind it is not so different from lying to yourself, and your wife, and to Congress, and to Abu Nazeer and RoyaSchmoya.
Meanwhile, CIA Agent Stabs-In-The-Fist is spying on them - intent on killing our least interesting congressman without Crazy Eyes finding out. But all that time alone with Crazy and having heard her have sex more than a few times, Stabs realizes that he's hot for Crazy - not only is she a brilliant agent, but she's got all the right moves.  Agent Love.  Will he kill Mr. Whaaat? Will he fuck her? Doesn't getting shot in the stomach hurt - like a lot?
Back at Langley, the guy who played Che Gueverra in the original cast of Evita is packing up his office having been sacked by Estes - who does not deserve a nickname.  They meet each other by the elevator bank. It's kind of awkward. As Estes surveys the meager belongings that constitute Saul's material possessions here at the agency, Estes says "Nice plant."  Saul gets in the elevator. Estes goes to fawn over a new drone model.
In a surveillance van somewhere in Arlington, the creepy bald hacker dude is eating pizza when his cell phone rings.  It's Che. Che wants Creep to spy on Estes. Because Creep has a gay-thing for Saul, he agrees. He installs bugs and cameras everywhere - even in Estes' bathroom.
Mr. Whaaaw returns home to HotJess who is, quite naturally, in the kitchen.  Homeboy is packing up for school. Angrygirl15 is the first to see dad walk in - she scowls at him, naturally. Homeboy is actually as dumb as he looks and asks his father if their family is breaking up.  HotJess explains that they are breaking up. CoolMarineMike is moving in. Homeboy is so sad that he pees his pants. Angrygirl15 runs to her room. She's packing her bags.
Crazy and Che have coffee. Che explains that Estes fucked him over. "There's got to be something you can do!" There is. Just then, Che's phone rings. It's Creepy.
Crazy, Che, and Creepy watch a sex tape of Estes in which he's practicing giving himself head - courtesy of one of the secret cameras Creepster planted in Estes' home. This is Che's way back into the agency. Crazy tells Che he can't do this, but Che wants to get even.
The Dead VP's son and Angrygirl15 meet inside inner chambers of the Supreme Court where they do their trig homework. Angrygirl15 needs a favor from son of Dead VP. After the funeral tomorrow, she needs him to give her a lift - consider all apologies accepted.
Crazy meanwhile is back to work - waiting for Brody to come home to her tonight. After what she has been through, she's done with spying. She hands in her resignation to Estes - suggesting he do the same. Just then Saul walks in and shows Estes the sextape. Saul is getting his job back.
That afternoon, the VP has his funeral. Everyone is there.  Blah. Six gun salute. Afterwards, DeadVPSon sneaks out with angrygirl15. he drives her to the bus station. This is goodbye. She's done with the DC - done with the Potomac Two-Step. She's going to LA, where she can be free. DeadVPSon tries to kiss her goodbye. She doesn't kiss him back. She looks down at the ground and gets on the bus. Bus drives off.
Mr. Whaaah packs his bags and says goodbye to HotJess. He drives off. Stabs-in-the-fist is following closely behind, in a Pontiac. Mr. Whaaaah drives to a deserted road, stops the car and gets out. Stabs-in-the-fist approaches him, draws his gun - ready to kill Mr. Whhhaaah.
As part of her immunity deal, RoyaSchmoya has negotiated the right to get new haircut. While being styled, she informs Crazy that even though Abu Nazeer is dead, this is just the beginning. A BOMB goes off somewhere. Smash to black. Roll credits.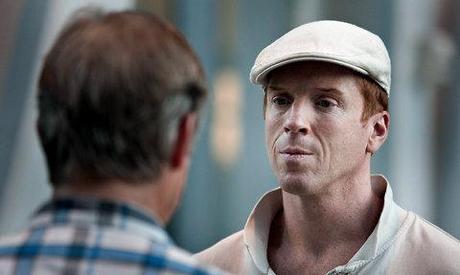 This final one is by Meghan Kaminski, who is the only person I know who is as obsessed with fantasy worlds as me. She's also fucking hilarious, and you can read her blog here: http://meghankaminski.tumblr.com/
So what's happened so far? Angela Chase went blonde, a terrorist Skyped on an iPhone 5 even though abandoned factories have no wifi, and the vice-president was assassinated via text message. I think that in the season finale, we learn that CARRIE IS THE MOLE. I mean, she's in love with a terrorist, and love makes you do crazy things. It makes you magically know the answers to everything, and also keeps you quiet when the Vice President is about to be killed by his hackable pacemaker.
So this Sunday, Carrie's path is clear: she's going to shoot Quinn in the head, dispose of the body and accurately assume that no one will look into it, and then perform manic road head on Brody as they drive to the Naval Observatory. There, he'll hold a press conference announcing his candidacy for President!!! Then Brody and Estes will have an Eskimo brother moment and start making out.
Except for that last line, I honestly think this all might happen.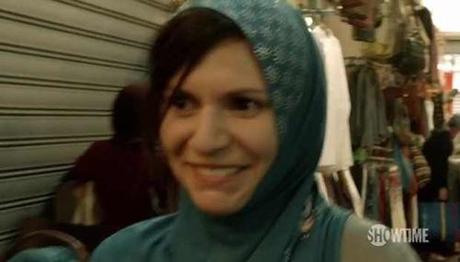 Here you have it folks. Three outcomes. Any of which might happen. Seriously though, don't rule anything out. See you on the other side.