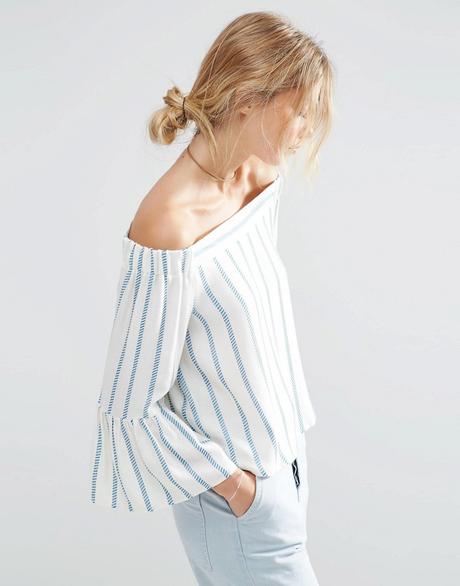 9 I-want-these-now ASOS picks.
It's the time of year again where we draw our curtains and realize that, 'holy moly, it's suddenly warm?!', thus throwing us all off-kilter when it comes to the sartorial selection of the morning. Us Brit gals, we're just all about the knits until at least April. My current wardrobe rotation is heavy on knitwear after attempting to adjust back to non-tropical weather and I'm seriously lacking in summer get-ups, so it's probably about time I took to the (online) high street, eh?
<!-- SHOPSTYLE COLLECTIVE WIDGET CODE END —>
I'm still heavily invested in the Bardot, off-shoulder trend and this ASOS Stripe Off-Shoulder Top (£32) ticks all the boxes for me. I love the breezy Australian aesthetics, a nod to the styles favoured at Ellery and nicholas. Nothing beats a pinstripe for easy sometimes-smart style in the spring and early summer! I think it'd make a perfect pairing with these ASOS Fairleigh Mom Jeans (£35) or possibly even these beautiful pink culottes from ASOS Petite (£38).
More often than not, I find that I lack spring/summer footwear the most. British springs and summers are so changeable that you can usually get away with transitional dressing
as long as
you slip a pair of sandals on! These Lillie sandals from Head Over Heels by Dune are a pretty versatile pair!
Disclaimer: Post surprisingly not sponsored by anybody, not even ASOS. I'm just really into ASOS right now.