UPDATE: I saw it. Disappointed, to say the least. More after coffee and digesting Connecticut's horrible news today.
I was a late Tolkien lover, although a C.S. Lewis novel, Till We Have Faces, made me re-think everything I knew as a teen about story.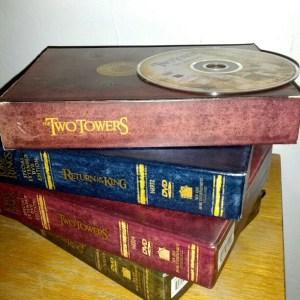 Where we bookmarked our last LotR extended editions & appendices marathon (earlier this week)
Since the two authors were close friends and I love/write fantasy, you'd think Lord of the Rings would have been a standard-read-at-least-annually series for me. Somehow, I missed it and didn't start reading them until my husband insisted we buy the Extended Editions of the movies as they were released (it also had to line up with our finances at that point, being newlyweds 'working' in the arts).
Hooked. Line, sinker, unabashedly hooked: so much so that our close friends call December 25th Lord of the Rings Day in our house, as we watch them all in a row with coffee then pizza and beer, typically in our bathrobes. I'm sure that my 4-day stint stage managing for Sir Ian McKellen in 2005 had something to do with it all as well. (TANGENT: Not to brag – but I will – I held Glamdring multiple times, and had to call lighting queues properly by breathing with McKellen performing Richard III. I also taught him how to burn a dvd with files on it; that's how long ago this was.)
Given all of this, many people asked my reaction to The Hobbit being three movies instead of two. My first reaction was BRING IT. For a number of reasons, and in no particular order:
The first movie, which I'm seeing in a few short hours, will likely feel a little long in contrast to the sheer amount of plot we'll receive. That's pretty much how the book runs as well. The creators are ready for mixed feelings on #1. The Hobbit is one story and isn't as semi-neatly divided into segments as LotR. Even that one couldn't seamlessly integrate the book chapters as they appeared in the film trilogy, if at all.
Audiences are smarter than Hollywood Marketing Suits want or believe us to be. A good story well told can sustain our attention for longer than 80 minutes. Risk-taking energizes your audience, and I really wish the industry would see that. Look to GATZ (a live show that lasted eight hours with dinner break) for proof. That theatre company played out the entirety of The Great Gatsby word for word with a simple office set and five actors, and audiences (even non lovers of the book) can't get enough of it. Because:
Audiences long for experiences that make the trip worth it. I honestly don't remember the last time I was psyched to see a movie in the theaters. My last experience was Samsara  and before that, I can't even remember; it may have been The Dark Knight (and I didn't forget the word Rises). I know this is not common practice, but it is mine. Audiences in all arts need to feel they are part of an experience and attending a movie (besides the popcorn) just doesn't usually do it for me. With forums and comments and live tweeting TV shows so embedded (pun intended) in the consumer experience, movie and live theaters must find ways for their patrons to feel connected to both the space and others watching the art plus others in the audience, to create a situation where the entire event was just as thrilling as the work itself.  With The Hobbit, I KNOW that everyone there at 12:05a.m. wants a certain experience, having much to do with simply being together for this event.
Personally, I only watch the Extended Editions of LotR, so to me, three movies is better than two. This is, of course, sight unseen, so we'll see how I feel tomorrow. I doubt it will change too much, even with potential critique. (And I am in no way looking for a debate on whether Return of the King's official viewing should be theatrical or extended cuts. I prefer the extended cut.)
48fps. When I bought our tickets, I had THREE CHOICES as to how to see this movie. Controversial as they all are, and I am not an ardent lover of 3D movies, I was awed by the choice. Besides the technological breakthroughs for good or for bad, and I hold my opinion until tomorrow (see below), what an amazing way to continue and stir conversation around the premieres and Tonight – the Event. See what Jackson did there? Friends of mine are seeing the movie tonight at the same time but in 24fps, and we all got to choose that experience for ourselves, then have the option to try a different experience, ultimately deciding which we prefer.
There is more, but I leave that discussion for tomorrow. I knew that I had to build a Broadcast around The Hobbit somehow, and two excellent guests fell into my lap. Therefore:
FRIDAY 12/14
2-3pm PST
THE HOBBIT HANGOUT (ON AIR)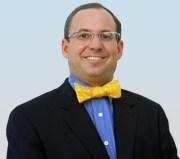 Josh wrote A Hobbit's View of Property Rights, is the author of the two time ABA Journal Top 100 Blawg Honoree Bow Tie Law, Litigation World columnist and founder of Majority Opinion LLC. Josh has been published in American Lawyer Magazine.
Mr. Gilliland is a California attorney and nationally recognized thought leader on electronic discovery with his blog "Bow Tie Law."  Josh has conducted over 350 Continuing Legal Education seminars on e-Discovery all across North America.
Josh has organized webinars with Magistrate Judge John Facciola and other e-Discovery leaders; guest lectured at McGeorge School of Law and has been published in American Lawyer Magazine.
Josh founded Majority Opinion LLC in 2011 to develop iPad Apps for litigators.
Josh also ties a mean bow tie.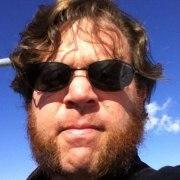 Noah J. Nelson is a Tech/Entertainment Writer for Turnstyle News, occasional contributor to NPR. @areyouthatguy
WATCH us Friday 2-3pm at the video link that will replace the red above, and send your thoughts or questions via comments!
————–For More Arts Broadcasts————–
See the full schedule
Subscribe to YouTube
theCMJstoriesBLOG
Facebook.com/theCMJstories
Don't miss a segment @CindyMarieJ