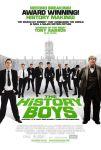 A group of young men at Culter's Grammar School have the change to be accepted into Oxford or Cambridge and must work hard to ensure they get the final grades and have a little bit extra. Taught by some very different eccentric teachers, trying to show that you can learn more outside the classroom as well as in it.
⭐️⭐️⭐️
Set in 1980s Britain it certainly looks back at a very different time if you compare it to schools and six forms now, the headteacher of the school wants nothing more than the boys to achieve maximum potential. Even if it is partly for the selfish reasons that it would look amazing for the school. On the whole though he actually does want the boys to have the chance for a better future.
The film is based on a play of the same name by Alan Bennett and it has the same cast as the original West End run. Something that I feel is fantastic as quite often when a play is then transferred to film they would completely change the cast. Something I did find fantastic when watching it is looking at the cast and what they have gone on to achieve in the past 13 years. Plus they would have certainly known the characters so well by this point.
Each of the boys had a different personality and given different issues, even though we don't get this as a massive constant throughout we do get little moments for each individual character. We get different types of teachers with Hector being very inappropriate when giving the boys a lift on his scooter, something that just may become his downfall. Mrs. Lintott had worked so hard with the boys to help them achieve amazing A Level results and she deeply does care. Irwin is a rather young teacher and brought in for experience of the Ox-Bridge connection and how they can get the boys that final push to being accepted.
Something I throughly enjoy about films that are based on plays is that it is guaranteed to be dialogue heavy. Over the years this is something I have loved more and more. While some of the subject matter is difficult, Hector's obsession with the boys being the main one really. I just found that really tough to watch and something that is not really easy to attempt to understand.
While they are mainly studying for the entrant exam in History they are also taught general studies which seems them act out different scenes from romantic literature and film, those scenes have to be a particular highlight for myself in the film and made me think about Dead Poets Society.
The performances were impressive enough and many different issues were raised from start to finish this makes for something good to watch. Dominic Cooper was a particular standout in terms of performance. I also really enjoyed watching Jamie Parker in this film, considering I saw him originate the role of Harry Potter in the Cursed Child play.