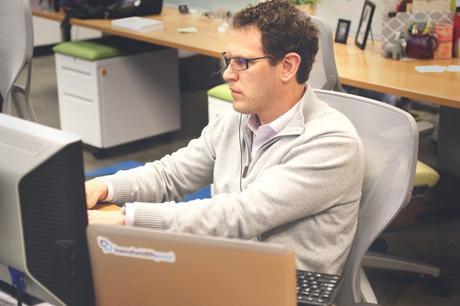 NEWS COPY
The average office worker will drink 24,684 cups of tea, fall out with colleagues 479 times and send 400,816 emails during their working lifetime, according to new research.
Over the course of their 47 years as an employee, Brits will arrive to the office late 1,026 times, take 98 days off sick and endure 1,174 meetings.
Those polled will also typically spend a total of five months and three weeks gossiping - and have to cope with 25,539 IT faults.
While respondents will be on the phone for a total of two years and three months, making 158,982 calls during their entire career.
The research of 2,000 office workers was commissioned by Avery UK, ahead of the launch of its new website dedicated to office organisation.
Fiona Mills, Marketing Director at Avery UK said: "It's fascinating to see just how much people experience throughout their careers.
"It may be quite an eye opener for office workers as they may not realise quite how much time they'll spend doing things or the number of times they'll do them.
"The research certainly suggests that they deserve all the cups of tea they consume, however bosses might not be too happy about the number of times people are late."
In addition to sending 33 emails every day, the typical office worker will receive 44 emails - or 537,860 throughout the course of their entire career.
The typical daily commute is 29 minutes long and Brits are late to work about twice a month on average.
Bad traffic is the number one reason respondents don't make it in on time, followed by poor timekeeping and oversleeping.
When they are late in, office workers arrive nine minutes and 52 seconds after they should do - however 57 per cent said they are never late to work.
The most annoying aspect of office life among those polled is the management - fellow team members aren't far behind in second, along with the IT department in third.
On average respondents spend 13 minutes and 13 seconds each day searching for missing paperwork and stationery - despite one in five decluttering their desks on a weekly basis.
Office workers will get through 196 notepads during their career, run 282 pens dry and print-off 343,504 pages of documents.
And the average worker drinks around two cups of tea and two cups of coffee each day - getting their first fix of caffeine at 8.59am.
The biggest cause of conflict at work is the temperature of the building, followed by people pretending to busy when they're not.
And the boss is the third biggest reason for conflict - in fact, the average worker will have 891 showdowns with their superior throughout their professional life.
Of those polled, 85 per cent agreed that having a clear filling system and knowing where everything is makes their job less stressful.
Fiona Mills, Marketing Director at Avery UK said: "This study really highlights how the little things we do every day in the office really make big a difference over all.
"It's staggering to see how much time is lost to simple things like being disorganised and not knowing where essential items are.
"This is why we have launched an online guide to getting organised at home and in the office, with tips and ideas for each room."
To find out more about being better organised visit: www.avery.co.uk/organiseyourlife.
ENDS