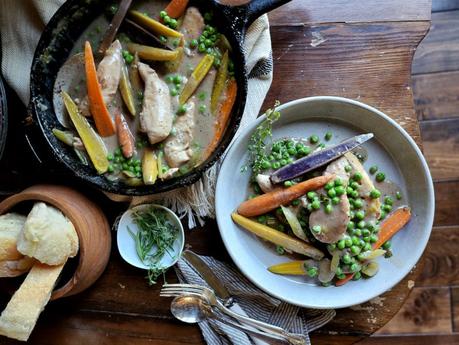 Chicken pot pie with or without a topping! Your choice! The nutrient dense bone broth chicken gravy is the best ever! Perfect weeknight meal!
Thanks to Kettle and Fire for partnering with me on this recipe. For a full disclosure on my work with brands, please click here.
Keep in mind that I operate independently and all the creativity you see in this post are solely my own.
Bone Broth Gravy Recipe
What makes this a super healthy pot pie? Well, several things.
One of the most important is the liquid I'm using to make the gravy. It's pasture-raised chicken bone broth from Kettle and Fire.
For a 20% discount on your order, please use code, ALLYSKITCHEN, at checkout. It's a great deal!
Chicken Bone Broth Gravy
This is the kind of bone broth gravy that reminds me of Mom's. Why? Well, because she'd use homemade bone broth in her gravies, especially on holidays. Such a decadent addition! Of course, Mom made her own bone broth. Always a pot simmering on the stove.
Bone Broth Gravy with Flour
I use flour, but there are other thickening agents you can use like arrowroot, tapioca starch, cornstarch, wheat flour, xantham gum, potato starch.
However, there are other things that you could conceivably thicken the gravy with. For instance, egg yolks. You could make a roux. Or you could even use pureed vegetables.
Kettle and Fire Bone Broth Gravy
As you know, my favorite bone broth is Kettle and Fire. I use it in so many things. And, Pop and I sip bone broth, at least a cup, daily.
This bone broth is rich and hearty. Made with grassfed and pasture-raised bones, and simmered for hours and hours. That's what makes a great healthy bone broth.
Chicken Tenders and Gravy
Here are some other chicken and gravy recipes that I think you'll love!
Coq au Vin, yes, this French recipe is down home authentic from my French girlfriend's Mom who still lives on the farm in Brittany France!
These Easy Creamy Baked Chicken Tenders are full of flavor and healthiness!
Chicken and Gravy Recipes
Other great chicken and gravy recipes, well, look no further. You must check out my Rosemary White Chicken Chili. Honestly, the chili 'broth' is more like a chili 'gravy'!
If you want more kick and spice, then try the Honey Jalapeno Baked Chicken. It's sweet, savory and spicy. And, rest assured, you can adjust the spice level depending upon your palate preferences. That's the beauty of home cooking.
Chicken Recipe with Gravy
I love making this recipe in a cast iron skillet. If you don't have one, please invest in one. It takes time and many recipes to get that skillet working like it's your best friend. I've had some of my cast iron skillets for 50 years. Yes, they're as good as the day they were first purchased.
Check out some options for great skillets at my Amazon Storefront.
Baked Chicken and Gravy
Baking this skillet of chicken, gravy and vegetables doesn't take long. You've already cooked the chicken somewhat in the initial pan searing. And, since they're tenders, they'll be cooking much more quickly.
The vegetables are going to simmer and cook in the gravy sauce. My cooking time is based upon how we love our vegetables, a little on the al dente side. We don't like overcooked soft vegetables.
Easy Chicken Pot Pie
OK, I know you've been saying in your head, 'But, Ally, this isn't a pot pie because it has not topping baked on top!" Well, kinda like you're right, but, again, you have the option to do that if you wish.
For us, we wanted to use a really fabulous bakery ciabatta salt bread that we love. This worked for us. But, if you want that top of pastry dough, whatever it might be, then do it. Just factor in your baking time to bake the dough.
Easy Chicken Pot Pie with Biscuits
There are so many toppings that you can put on top of a pot pie. I love to read the history of foods, and the pot pie does have a history that dates back to the Roman Empire!
Besides using biscuits, homemade or prepared (frozen or refrigerated), you could use a pie crust, puff pastry, crumble topping, crouton topping. Hey, think outside the topping box. Next time I might even slice the ciabatta bread, butter and grill it, cut into large chunks, then once the pot pie is done, just put these chunks on top! Scoop and serve!