This year, 2016, my oldest son is getting married. He's finally found, at almost the age of 40, the perfect soulmate for him as he ventures into his first ever marriage. For so long, I called him my 'George Clooney'. Strikingly handsome. Successful in life. And, a man with a kind, generous, tender soul and spirit. And, always carefree and single. No more. Like some of his cousins, uncles and great uncles, he joins their ranks as the last bachelor standing.
For Matthew and Kristin's wedding rehearsal party, I'm going to create, design, and prepare all the food myself. I mean, really there's no one better to do it. I don't want to leave anything to chance. And, with a few extra hands, feeding 60 to 75 people is no 'hill for this climber'! There have been many a Thanksgiving and other holidays in my past where we've had 40+ chowing down.
One special thing I'm doing for this party is creating new recipes that will be served. Right now there's 'the bridesmaids peach cake' and in the works is 'the wedding party's lemon cookies'. So, this 'harvest table peachy salad' is the third in the series.
Since it's going to be a buffet outdoors in our side yard, I designed and had a 12 food 'harvest' table built out of vintage reclaimed Carolina barnwood. I've always wanted one of those long narrow 'al fresco' dining 'harvest' tables in my yard, and this was the perfect excuse to have it done. Luckily for me I found the right people. A young couple from North Carolina, originally from California, who relocated just to reclaim the gorgeous historic barnwood on farms of the past. If you're ever in the Jacksonville, NC area, you have to look up Hillbilly Majik. Billie Jean and Steve have been amazing to work with on this venture!
I can just picture this recipe, the harvest table peachy salad, on the table alongside so many other bowls, plates and platters of goodliness. It will be absolutely stunning with all the colors and then the history and conversation of the table will be priceless. Hopefully, this new harvest table will go on to host friends and family, parties, simple suppers and even just balmy days and evenings for many years. I think the wood will be fine in the outdoors. It's certainly been seasoned well for over a hundred years.
I must say when I created this recipe, I was salivating as I did the photography. When all the glamour shots were done, I literally ate four bowls (see the little bowls in the photo) of it. It's just an explosion of flavors and textures that will go well with so many things. It keeps well refrigerated for about two days. But it probably won't last that long!
Thanks to Dole Sunshine for partnering with me for this post! All the opinions and creativity are solely my own. For a full disclosure, click here!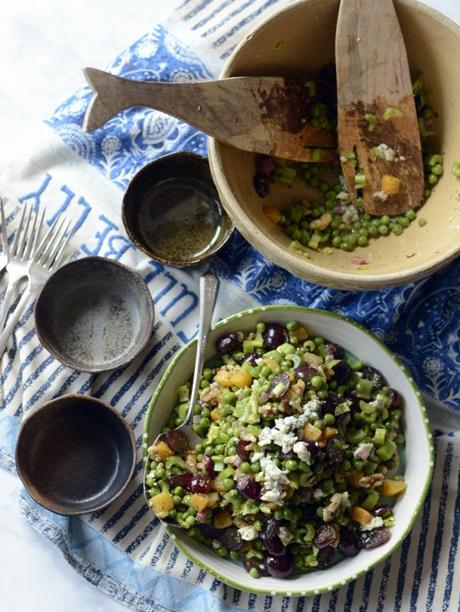 Ingredients
2 cups petite peas, previously frozen and completely thawed & drained
2 containers Dole Sunshine Fruit Cup Peaches, drained (will be about 1 cup diced peaches)
1 ½ cups celery, slices
½ cup walnuts, chopped
2 cups red seedless grapes, sliced in halves lengthwise
¼ cup aged prosciutto, diced
1 tsp. sea salt
1 tsp. coarse ground pepper
1 ½ tsp. dried Italian seasoning
½ cup gorgonzola cheese crumbles
1 lemon, juice
¼ cup extra virgin olive oil
Instructions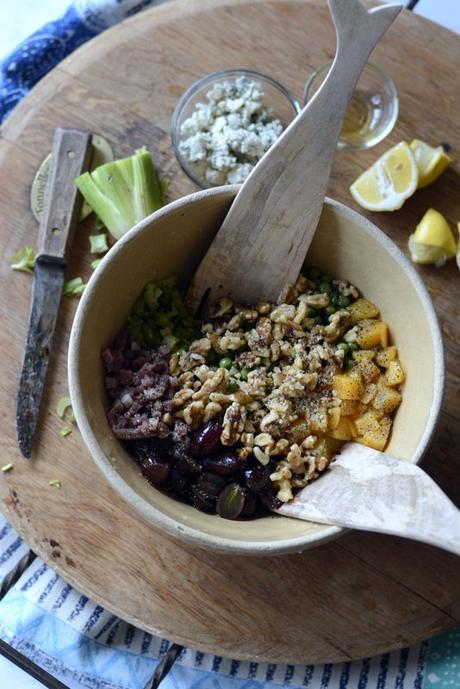 Comments