Anthony's Restaurant Rating:
66/100 X
Welcoming:7/10 Menu Choices: 7/10 Food Presentation: 8/10
Food Temperature: 8/10 Food Taste: 14/20 Service: 5/10
Ambiance/Music: 5/10 Architecture/Interior: 7/10 Air Quality: 5/10
Total: 66/100

More about:
The Happy Prince
The minute I came back from Paris and put my Lebanese phone chip into the phone, I received two messages from a friend. As a follower of NGNO and a friend who knows I am always on the lookout to try new burgers and hopefully find amazing ones; he suggested I go visit The Little Prince. Many have been talking about this new place lately, so I decided to get a closer look at it as soon as possible. So here I was…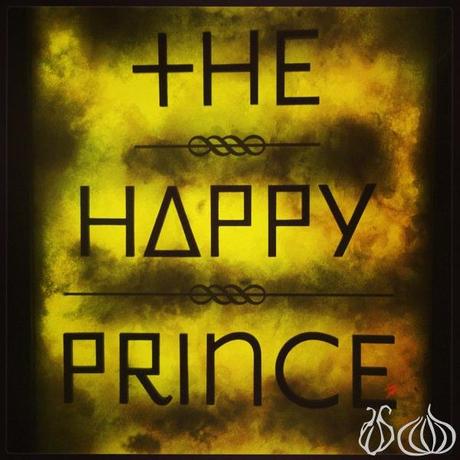 Michel writes me: "Antoun, j'ai gouté au Burger de Marky's: tres bon! Mais ce sour j'ai gouté un meilleur cheese

celui du Happy Prince a Mar Mikhael. Je l'ai trouvé Excellent. Yalla donne moi ton avis!!!

"
So, after extensive search over the internet, I finally found the number of the place on Nad's Reviews page, so I called to inquire about their address. In the heart of the Mar Mikhael street, just a few meters away from Bar Tartine, take the first left and a valet parking service will be waiting to take your car. You reach a large glass facade over two doors. The yellow lighting inside was the first thing that caught my attention.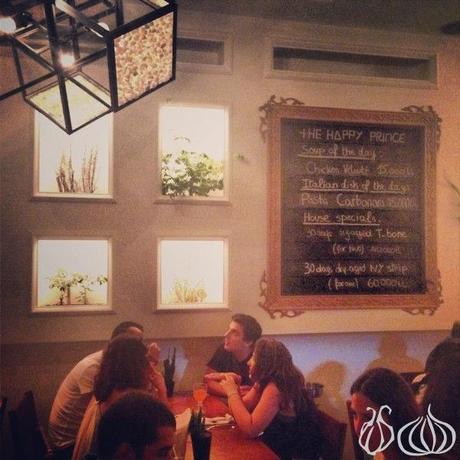 The place described:
Yellow dimmed lighting
Metallic cubes constitute the bases of three metallic design chandeliers, with transparent onyx stones
Long wooden bar welcomes you on the right
A middle high wood table, looks like a complete tree cut in half is the center design piece, separating the bar from the dining area
Three rectangular tables and one round one at the end
16 squares cover the long white wall and filled with different green plants
In the middle of the white wall is a square black board where the day's specials are proposed
A DJ turntable on the right side of the door
The special drinks recipes is filled with colorful bottles decorating the bar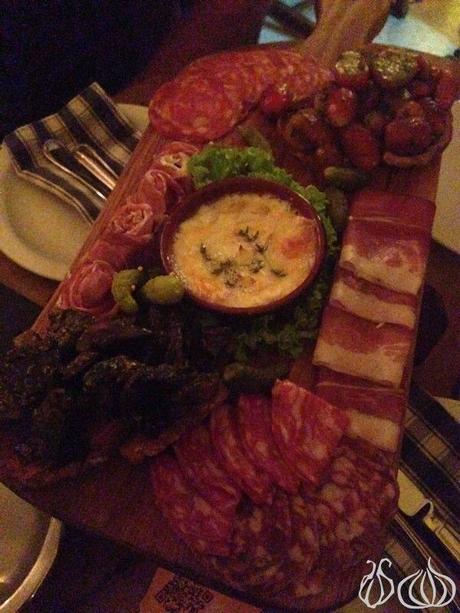 The fresh corn salad: 16,000L.L (fresh grilled corn, arugula lettuce, cherry tomato, avocado, served with lemon dressing). An amazing salad. The avocado is soft and tender, soaked in the salad's lemon sauce, accompanying fresh cooked corn that melt like butter under your teeth. Rocket leaves, cut in small pieces add a fresh taste and touch. A few tomatoes are all what's needed to add some colors to the mix
The cheeseburger: 23,000L.L (selected cuts of US black Angus beef served with house made French fries). A good burger. Read the full description below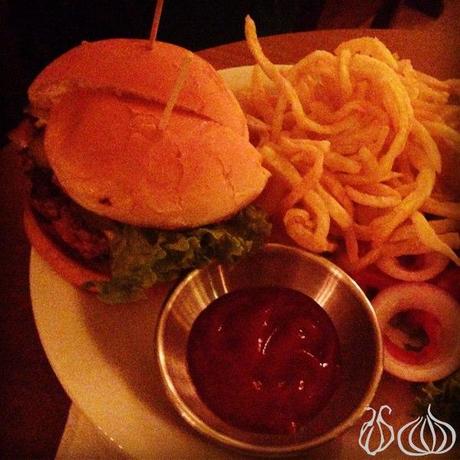 The steak and egg sandwich: 30,000L.L (US black Angus NY strip, two farm eggs omelette, tomato served in a ciabatta bread with house made French fries and chipotle sauce). This sandwich has a very strong and prominent egg taste that makes it heavy. I didn't enjoy it especially in the ambiance of this bar. It fits better served for breakfast or a heavy lunch. The meat, used in long strips is unpleasant to eat. Bite the sandwich once to have the long slice escape out leaving behind an egg sandwich. Not a bright idea to say the least. This sandwich is very expensive for what it is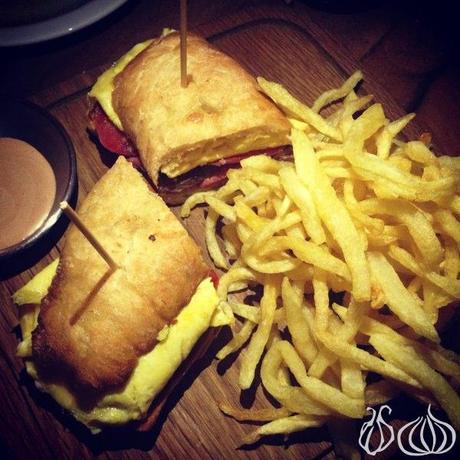 Tarte Tatin: 10,000L.L (Flaky puff pastry served with caramelized apples, lemon zest and vanilla ice cream). Chewy and far from being flaky, this tart comes with the sweetest ice cream I've ever seen. Didn't like it at all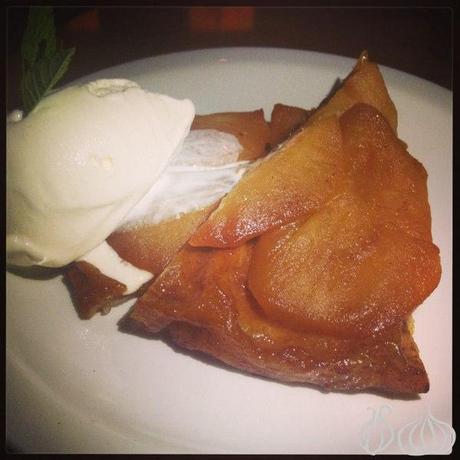 The Jackie's cake: 12,000L.L (House made chocolate cake served with fresh cream). An acceptable chocolate cake but the melting whipped cream that comes with it is a shame.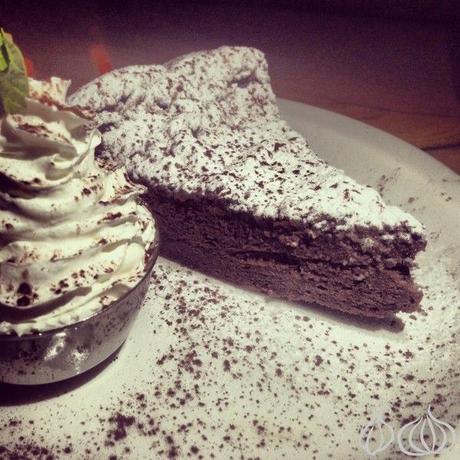 My opinion about the Burger:
The pickles are close to non existent. They are too thin, commercial and don't add any sweetness like they should
Where are the caramelized onions? I couldn't find any
The cheese is too thin and not melted enough
The bread is not my favorite. It needs additional yeast to have more air bubbles inside
The meat is good, but not great. It needs more juiciness, more flavor and more character
Oups! The Happy Prince fails the cold meat test. I waited for 25 minutes before tasting the patty again: It felt exactly like eating an unseasoned steak tartare. The meat crumbled into many pieces and became chewy like an elastic. I'm sorry to give you too many feedback but this is the truth
Coleslaw! Where is the coleslaw salad? A must with every burger platter on the planet is not available at The Happy Prince
On the other hand, the proportionality of the ingredients is good, the size and diameter of this burger are well dozed and the overall taste good. A must try for sure but don't expect to discover the tastiest burger in Lebanon
I'm confident to tell you that Marky's $6 burger is still the best produced in Lebanon.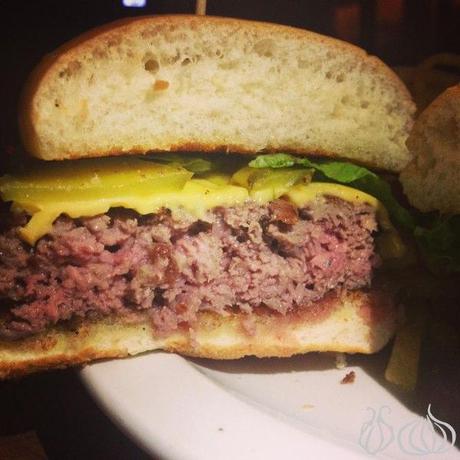 I am just thinking out loud:
Dark dimmed place, crowded and filled with youngsters. A small and tight space. High and unpleasant music while eating – you get a constant feeling of: "Eat fast, someone's waiting to take your place."The waiter tried to remove my plate twice and I grabbed it back. When asking about the menu to choose desserts, he tells me in a hurry: "We only have these three, which one should I get you," without getting the menu so as to save time. Adding to that, average food, no Coca-Cola, and a super slow service. Is this the place everyone's talking about? I'm surprised to be honest!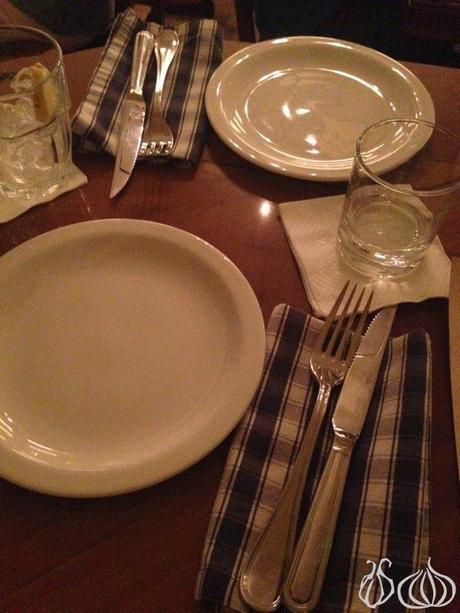 Good to know:
 You can only reserve one table: The round one that can host up to eight guests
The Little Prince is known for its unique drinks and cocktails
I loved:
The table napkins: Their presence adds a fine touch to dinner. I liked their thickness and their clean smell
The idea of cutting and producing the French fries in-house is nice
What I didn't like:
Music is a bit too loud. Is it a pub or a restaurant? Food is better enjoyed in a calm ambiance
Service is slow
My friends on the table next to us ordered the cold cuts platter: It was served with cold and chewy bread produced the day before
Lights became super dimmed at 09:30pm  – I could hardly see what was on my plate. Again, is that a restaurant or a night club?
I am sorry for the bad quality of pictures. I think they were economizing electricity
So, dear readers, I am sorry if this review will not please many of you. But I was not the only one. Three of my friends who were also there left unhappy as well. So no, The Little Prince does not have the best burger in Lebanon. Frosty palace, in the same neighbourhood is way better.
























Pages  [
1
]  [ 2 ]