There's a #neweggintown!  The Happy Egg Co. originally came to be in the UK but has officially landed on US soil.  What makes the Happy Egg Co. unique is the fact that they are completely FREE RANGE eggs?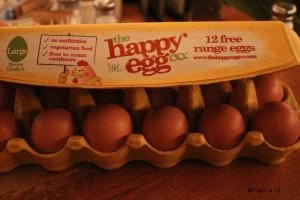 What does that all mean?
Sitting down with the informative Happy Egg Co chicken farmer Cyd Symanski, she explained to me how FREE RANGE works.  The Happy Egg Co. has 3 farms located in Arkansas.  These farms are roughly 4 acres.  Around 9am to 10:30am, the chickens lay their eggs in their large protective barn where they stay over night to roost within their favorite nesting box then around 10:30am, the doors of the barn open, and the hens have a choice: to either stay inside, or run amok outside.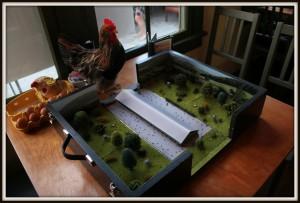 (a model of what the 4 acre farm looks like where the hens roam free and happy!)
What I found out is that hens have very distinct personalities.  There are the ones who are waiting for that door to open, and as soon as they do run out into the field.  There are those that do go outside but don't wander off too far from the barn, and then there are the hens who never have the desire to leave the barn at all, but the choice, is made by them.
Then around 4pm, the chickens make their way back to the barn where they will eat then find their place to roost at night.  Therefore having the freedom of the outdoors allows them to be happy and healthy.
Last Thursday evening, I was invited out to Grub Restaurant, former Top Chef Contestant Betty Fraser's co-founded restaurant with Denise DeCarlo (also know as the Grub Gals) for an evening of appetizers made straight from the Happy Eggs themselves.  The Grub Restaurant is an adorable cafe located in West Hollywood that offers brunch offerings, and dinner options.  That evening they served up: deviled eggs, an amazing creme brulee, meyer lemon curd pavloka, a souffle, and a huevos diablo salad.  In the offerings they served you could tell their passion was completely in it.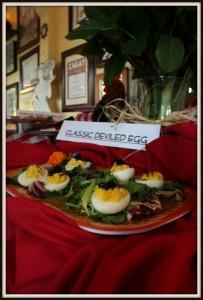 Deviled Eggs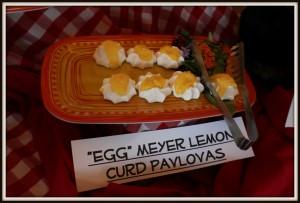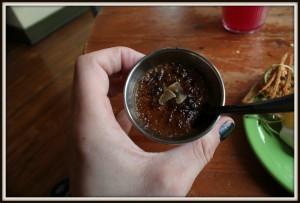 Their very own mascot, "Frida" also made an appearance that evening, and even did the Happy Hen dance for us.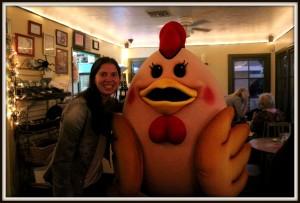 The Happy Egg Co. Eggs can be found in Ralph's, and soon to be Fresh n' Easy stores along with specialty stores from Santa Barbara to San Diego.  The MSRP is 4.99 a package.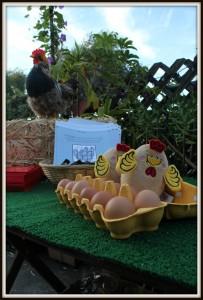 Within the next 5 years they are truly hoping to expand across the US.
Disclosure: I was invited out for an evening out with the Happy Egg Co.  I love the premise of this company, and hope to bring awareness of Free Range Eggs to others.