We had been scrimping on food the past few days we were in Palawan, we decided to treat ourselves. We went to Mercado de San Miguel, a small complex of souvenir shops and two restaurants. Some friends opted to have burger at Skybox Sports Bar and Grille while half of the group decided to dine at The Gypsy's Lair.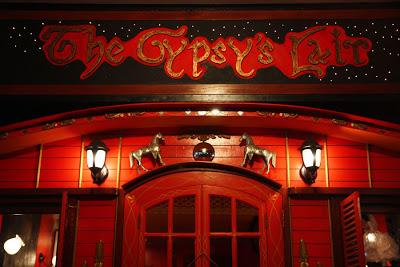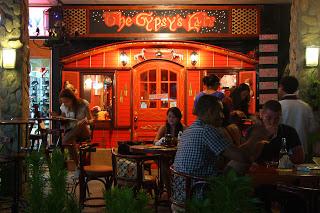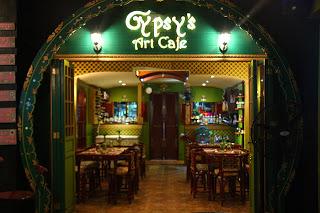 The Lair's colorful and whimsical interiors, with art in every angle, appealed to me more than a burger. (Sometimes I get suckered into eating in a nice looking place without looking at the menu.)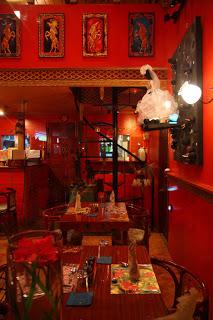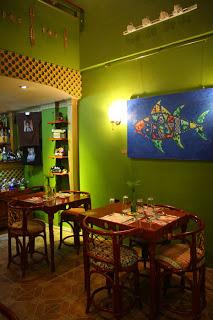 I studied the menu with interest. There were so many delicious sounding dishes that it took me maybe ten minutes to decide. If I remember right, meals go from Php120 up to Php420, most of it in the range of Php160 to Php220. Because it was our last night in Puerto Princesa and I had decided to splurge a bit (I call it splurge because my budget for a meal on this trip was only Php150, including drinks), I had a chicken burrito (Php170) and a glass of lemongrass slush (Php70). I think they have special names for these, but I had forgotten to note it down.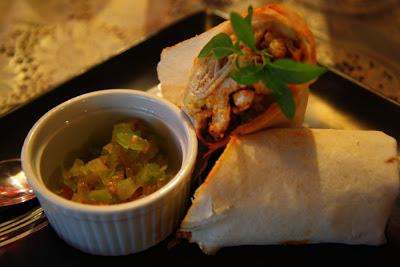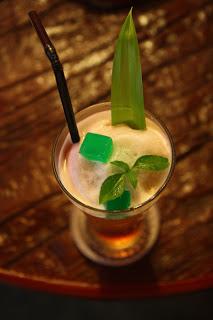 Chicken burrito (left) and lemongrass slush (right)
I am glad I got suckered into eating in this nice looking place. I was satisfied with my food and drink. Wanted more of the burrito, in fact. I had the opportunity to take a photo of my friends' food, and a bite of each, too! The tapsilog is what you would expect a tapsilog to be. The bowl of squash soup can be shared by three people. The pork-kwa is deep fried pork belly with tofu.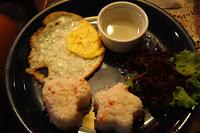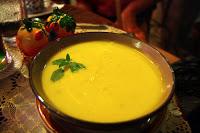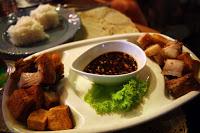 From left to right: tapsilog, squash soup, and pork-kwa
The Gypsy's Lair has live acoustic music and palm reading. WiFi, too. We were there on a Monday and the palm reader was off duty. But the band was up on stage...looks like the sign hasn't been updated.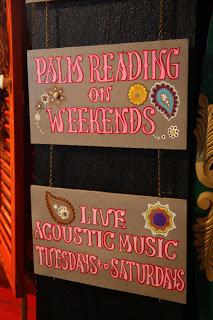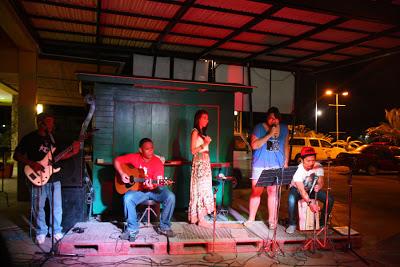 To cap off the night, one of our friends gave the vocalist a break and took the stage. Bravo, mi amiga!
The Gypsy's Lair Art Cafe
Unit 20 Mercado de San Miguel, National Highway, Puerto Princesa City
0918 909 5571
Daily 9AM to 12MN
How Mustachio splurged on his last night in Puerto Princesa:
Lemongrass slush Php70
Chicken burrito Php170
Puerto Princesa and El Nido:
Puerto Princesa: Zzzzs, Wheels, Meals
Vietnam in Palawan
The Gypsy's Lair (you're here!)
and more soon!