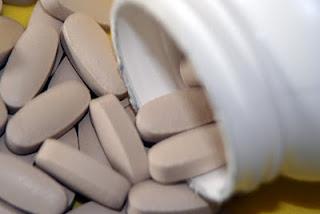 I have heard the warnings. I have read the reports from the American Academy of Pediatrics. I have even bought the stink'in vitamins. Are my kids get a daily Vitamin D supplement? Nope. I can't stand trying to remember to bug my husband to give it to them. I still have liquid Vitamin D from a year ago that is only supposed to last a month. I started giving it to the baby, but then I forgot. There are some doctors who think Vitamin D supplements are not necessary. I guess that's why I haven't made it a priority. And because I have too many things to remember.. I really think I will spend this weekend getting organized. Do you give your kids a Vitamin D supplement? Do you ever forget?
FROM NBC: We've been hearing a lot about vitamin D lately. Some studies are showing that vitamin d might help lower the risk for several kinds of cancer and maybe diabetes too.And lots of doctors are beginning to test their patients' Vitamin D levels.
But we haven't heard much about Vitamin D and children.Some doctors believe that kids aren't getting enough D, and it could be making them sick.
Problem is, most pediatricians aren't testing for it.Benjamin Smolen/14-years-old: "You're coming home. You're tired. You're aching." 14-year-old Benjamin Smolen was just a freshman in high school, but all of a sudden he was in constant pain. He says his whole body ached. He was getting headaches and feeling exhausted all the time.Benjamin Smolen/14-years-old: "It went on for weeks."
So Benjamin actually asked his mother to see the doctor?Marilyn Berzin/mother: "The pediatrician is like the last person he ever wants to see." His mother is a doctor, Dr. Marilyn Berzin is a DC dermatologist. Because benjamin is an active tennis player, she thought he'd simply pulled a muscle. But after he spent weeks complaining of things like severe body aches and stomach pain, she became concerned that it was something more serious.
Doctors tested him for everything from arthritis to Muscular Dystrophy to Lyme Disease.Marilyn Berzin/Mother:"Everything came out normal except that he had a severe Vitamin D deficiency." Doctors say most kids probably aren't getting enough vitamin d, a compound that aids in the absorption of calcium, which builds strong bones. when adults don't get enough d, they often suffer from Osteoporosis. But when kids don't get it, they never actually develop strong bones.
Dr. Laura Tosi is a pediatric orthopedist at Children's National Medical Center. Dr. Laura Tosi/Pediatric Orthopedist: "Teenagers will stop taking vitamins and particularly our girls will stop drinking milk."Tosi says she's seeing more and more kids coming to her bone health clinic with low Vitamin D levels.One study out of New York found that 70 percent of American kids aren't getting enough D.Researchers believe it's because kids aren't playing outside like they used to and they're not getting enough sunlight, which helps the body produce vitamin d on it's own.
Dr. Laura Tosi/Pediatric Orthopedist: "Now more and more kids are couch potatoes, so they're not getting d from the sun."According to the American Academy of Pediatrics, kids under 18 should be getting at least 400 international units of Vitamin D each day. Considering one glass of milk only has 50 to 100 units, Tosi says kids need to be taking supplements.That's what Benjamin is now doing. Immediately after his diagnosis, doctors give him 50-thousand units of Vitamin D once a week for 8 weeks. now that his levels are back up, he's taking a smaller dose daily to get what he needs.Dr. Marilyn Berzin/Mother: "Within about 3 weeks he started feeling a lot better. he grew immediately about two inches."Benjamin Smolen/14-years-old:"Tennis felt a lot better, being able to do it. i have a lot more energy, more active, stopped hurting."Doctors say they don't regularly test for vitamin d levels in kids because it's expensive and there isn't one reliable test for it. But there are changes to vitamin d recommendations coming down the pike in the future, so testing may become more prevalent.

-NewsAnchorMom Jen
Skin Dimensions SB products, exclusive to Soderstrom Skin Institute, are manufactured with Pharmaceutical-Grade ingredients. In addition to being "Feel Good Products," they contain unique and innovative ingredients in concentrations that can assist you in the achievement of your own personal skin care objectives. This product line contains higher percentages of Glycolic, Vitamin A, C, E, Co-Q10, green tea, than what you can purchase over the counter.