Pastels, also called chalky colors are a great choice if you wish to add a little color to an outfit, but in a softer, more subtle manner. Even though they are mostly spring colors, pastels can be worn whenever, wherever.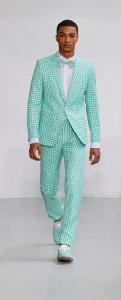 From preppy and edgy to sporty or glam, pastel colors can be incorporated in any kind of outfit and can be worn by anyone as a fashion statement.
What is great about pastels is that they can be worn in almost any setting, at any age and that they go great against almost any skin tone. Pastel colors have a beautiful way of fusing with light skin tones and make dark skin tones shine.
Technically speaking, pastel colors are colors that, when described in Hue-Saturation-Value terms have a high value and a low to intermediate saturation. Basically, what this means is that, even though they are bright colors, they have a soft feel.
Even though pastel colors have been used for a long time and have been utilized a lot in different mediums of arts and crafts, in fashion they became popular during the 1980. In this decade, pastels saw a big trend in the world of men's fashion. Part of this trend was due to Sonny Crockett, a character played by Don Johnson on the hit US TV series "Miami Vice", who wore only pastel shirts and suits.
Pastel colors are associated mostly with spring, but this doesn't mean that you cannot wear them during the winter time too, to break the monotony of grays and browns, which are part of the color palette most winter clothes use.
Pastel colors are best to be worn during the day, as they replicate the sunlight, but this does not keep you from wearing them in the evening too. If you are going to a rather formal event though, it is better to keep it more conservative and not wear pastels, as pastels have a light feel to them and are mostly suited for casual or office outfits, as well as for relaxed parties and other casual settings.
There is no precise rule when it comes to wearing pastel colors, but we have some tips on how you can actually incorporate pastel colors in your wardrobe:
1.Colors
1.1 With a neutral
In fashion, there are a series of colors that fall under the " neutrals " spectrum. These are: gray, black, white, beige, khaki, tan, ivory, dark blue, etc. These colors can be worn with each other and with any other color. If you find yourself wear an all-neutral outfit, you can break it up by changing one of the pieces with a pastel one.
1.2 With other pastels
Pastels go great with other pastels; there is no doubt about that. Wearing two or more chalky colors at the same time will result in a warm, relaxed and welcoming look. All you need to know is how to coordinate colors and you are all set.
Remember that colors that lie closely on the color spectrum such as red and pinks or blue and green go together well. Another easy to remember color scheme you can remember is to mix colors that lie on opposite sides of the color wheel, such as blue and yellow.
1.3. With a highly saturated color
Pastels look great when they are mixed with highly saturated colors. You can either create a color scheme of different colors; for example you can wear a chalky pink with a highly saturated blue; or you can create a monochrome scheme and wear the same color, only that one piece will be a pastel, and the other a highly saturated color; for example a chalky blue can work well with a navy blue.
Pieces and fabrics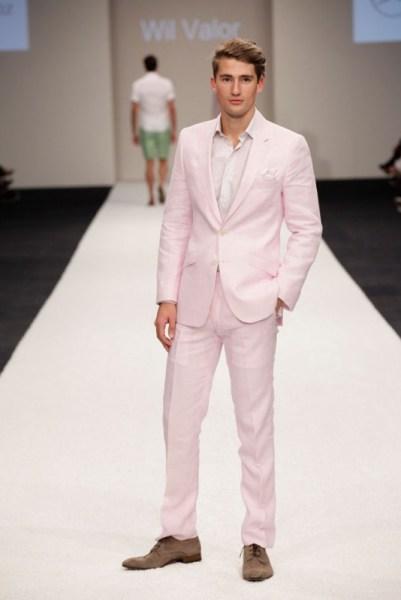 Any type of garment and any fabric comes these days in pastel colors. However, most pastel pieces are cotton shirts, blazers, pants, and occasionally shoes. As a fashion tip, if you want to make pastel clothes and accessories rough, go for a leather pastel piece, as it is a balanced combination that will make you look both rugged and soft at the same time.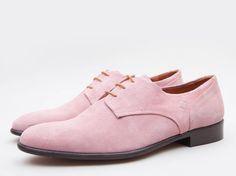 Accessories
Certain people are have a small phobia when it comes to wearing big blocks of colors or patterns, but they still wish to incorporate colors in one way or the other in their outfits. This is where accessories come in the game. Wearing accessories can be a great fashion statement and you can easily communicate who you are by adding a tie, a watch or a pocket square that speaks to you. Moreover, accessories can be a great way to style up an outfit.
If you are wearing pastel clothes, you can also pair them with metallic accessories. Pastels look great with metals, and you will have a lot to gain, sartorially speaking. Remember that metals are neutrals, which means that they can be worn with each other (it is OK to wear both gold and silver at the same time) and with any color clothes.
Timeless pastel clothes will never go out of style, which makes chalky colors a great investment. Having a few pastel go to pieces will ensure you that you will always be au courant.
From soft blues to sorbet pinks, wearing pastels is a great way to offer any look lightness, warmth and elegance.
Fraquoh and Franchomme
Further reading:
Choose the colors of your clothes like a proA guide to coordinating the colors of your clothesMen's mid-spring outfits
P.S. Do you wear pastels? How? Share your feedback, questions or thoughts in the comments below! For more articles on style, fashion tips and cultural insights, you can subscribe to Attire Club via e-mail or follow us on Facebook or Twitter!