The tie bar is a classic accessory that has recently been take out of the dust, as more men show an interest in the revival of classic men's attire. The tie bar or tie clip, as it is also known as, can make a big impact on how your overall presentation looks.
Here are the things you need to know, from the when to the how and why.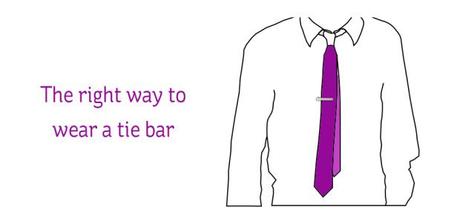 1. Purpose: A tie bar is supposed to keep your tie fastened to the placket of the shirt you are wearing. It's best use is in windy or general outdoors environments. Of course, that does not mean that you can't wear one inside.
Here's an important tip: since the purpose of tie bars is to keep your tie from flying away, there is no need for them if you are wearing a cardigan or a waistcoat. Your tie will be safe and sound, so there's no need for a tie bar there.
2. Width: The thumb rule is that a tie clip cannot be longer than your tie. It is actually supposed to be shorter. Your tie bar should be 1/2 to 3/4 of width of your tie. It is said that a bar tie that is exactly the width of your tie will give you a retro look, but we think you should stick to the 3/4 rule.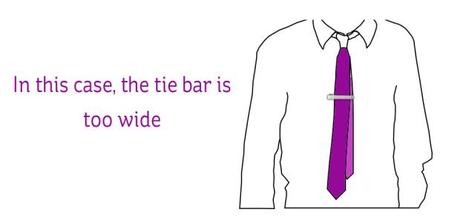 3. Placement: If you place your tie bar on the wrong place on your tie, your look will be out of balance and immature. The rule, if you will, is to clip your tie bar between your third and fourth jacket buttons, around the sternum, just below your pectoral muscles.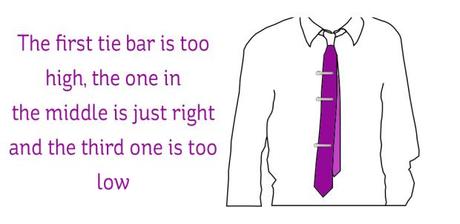 4. Color: To play it safe, we recommend that you either wear a silver or a golden tie bar. Remember that both silver and gold are neutrals, so you can wear them with anything, even if you have another metallic element on. For example, if you have a golden neck piece, you can do a silver tie bar.
Many sites and handbooks recommend that you wear only this type of clips, but we're saying "why not?" when it comes to more colorful ones. Just make sure it's tasteful and if the tie clip will be the star of your outfit, it can be, but all your other pieces have to support it well. Of course, it is recommended that accessories are accessories and not main pieces though.
5. When: A tie bar is appropriate for any occasion. It's not too formal or too casual. You can wear it with jeans and you can wear it with silk shirts. Basically, every occasion that requires a tie is appropriate for a tie bar too.
6. Details: Make sure that your tie bar is perpendicular to your tie. If you are placing it at an angle, make sure you don't do it anymore.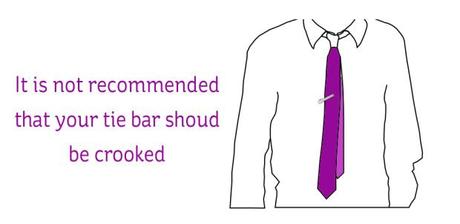 Another thing we can discuss is whether tie bars go with pocket squares as well. There's a conversation in the men's fashion world about that. We think that they do go together, but in this case it might best to leave just one of them be more visible (in terms of color, shine, etc).
Third, there is a difference between a tie bar and a tie chain. Basically, if your tie bar has a chain, it's a tie chain. Tie chains are not very fashionable right now, but we're not saying you shouldn't wear them.
Now that you have these tips, you can decide whether you want to wear a tie bar and if so, you can decide how to incorporate it into your wardrobe.
Fraquoh and Franchomme
P.S. What do you think of tie bars? Do you enjoy wearing one? How often do you wear tie bars? Let us know in the comments!