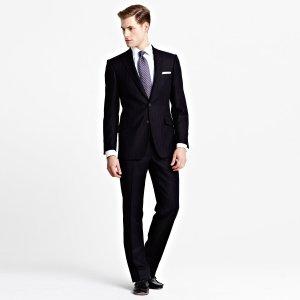 This Thomas Pink outfit would make a great prom outfit: it's simple, elegant and classic.
Prom is a festivity that takes place not only in the United States, but all across the world, even though it has slight variations. American guys are not the only ones wondering what they should wear. If you are an American boy, trying to figure out how to look your best for prom, you would probably be surprised to find out that boys your age have the same dilemma all over the world. Prom season lasts from April to June, but it varies from place to place.
For many guys, prom is the first real social event they take part in, or, better said, the first formal event. We know that many 18 year olds will probably be wearing a suit for the first time when they go to prom. Dressing well is hard if you don't even know the basics of fashion, so we decided to make a short, quick and smart guide in which we will explain the essential things you need to know when you will be dressing up for prom. Wearing the right clothes can make you feel great and improve the attitude with which you attend your prom!
Right from the start, we need to tell you that the number one rule is to keep it as simple as possible: don't try too hard if you don't know what you are doing.
We don't need to tell you what you should wear, you already know that: a nice suit or a tuxedo, that fits your taste and preferences, but what we want to tell you is how you should wear it!
Choosing a suit
Fit
You can make an impression in wearing black and white and a colorful pair of shoes. Everything falls into place with this Thomas Pink outfit.

The jacket and the shirt. The fit is the first most important part when you are purchasing a suit. In very short, what a well-fitting suit means is that the pieces need to touch your body, but not be too tight. The shoulders of your jacket should match the shoulders of your body. The same goes for the shirt: it should touch you, but not squeeze you. Your jacket should be long enough to cover your tush, and the sleeves should be just long enough to pass your wrist line. Make sure that your shirt doesn't have any pockets. If it does, then it is not a formal shirt, it is a work shirt.

The pants. The pants should not pleat more than once. To make sure they are in the right size, you should always place them at your natural waist: not higher and not lower.
 The size. A lot of times, guys in their teens have trouble finding suits in the right size, as there is usually at least one element that doesn't fit:  if the sleeves fit, it is going to be too short, if it's the right length, the sleeves will be too long, etc. The best way to solve this issue is to buy something in a bigger size and have it adjusted by a tailor.
Color
There is no right way to go in terms of color. If you want to be very classic, you can go with a black suit and a white shirt.
However, since you are going to prom and not a black tie event, you can also wear something else. For a more casual, yet still formal look, you can opt for a gray suit, a navy one or even a khaki one.
If you want to be very colorful, you can do it too, but you need to make sure you don't have too many colors on. If you are wearing a very saturated color, such as green, purple or red, you can keep your other pieces neutral. Neutral colors are: black, white, beige, gray, khaki, and they go with anything.
Choosing accessories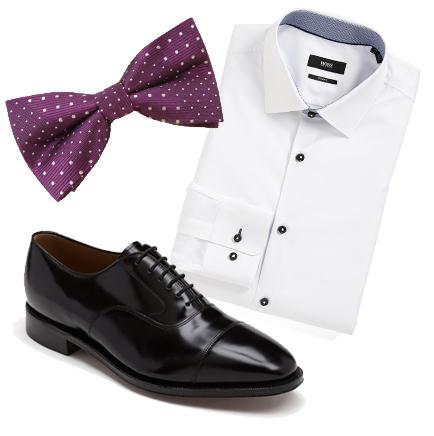 Our suggestions: a nice dress shirt can be matched with a colorful bow tie with a pattern.
The size. The number one rule when it comes to accessories is that they need to be proportionate to your body. If you are a dude with a bigger frame, you should always opt for bigger accessories, if you are very slender guy, you should wear slim accessories and if you are a medium-size boy, you can work medium-sized accessories very well. Wearing accessories that are not proportionate to your body will make you look strange and disproportionate overall. You might not have noticed, but all accessories come in small, large and medium sizes: ties come in different widths, watches have different straps, and even belts come in different widths.
Ties and bow ties. When it comes to accessories, in order to complete a formal look, you should wear a tie or a bow tie. If you are wearing a tie, make sure that after you tie it, the tip of the tie should touch your belt. It shouldn't be longer or shorter. Ties are generally long enough to match every guy, search for a shorter or a longer tie only if you are very tall or very short. And by "very" we mean "extremely" Many guys are reticent to bow ties, but they are just as comfortable as ties and if you are planning on dancing, they can give you extra comfort. There are both self-tie and pre-tied bow ties, so if you are worried that you won't be able to work with a self-tie bow tie, you can opt for a pre-tied one. If you are wearing a tuxedo, it is mandatory to wear a bow tie, you can't wear a tuxedo with a tie.
Belts and shoes. Make sure your belt is the same color as your shoes. There are a lot of types of dress shoes, but we think that you can wear any kind to prom!
Suspenders. If you choose to wear suspenders, you should not wear a belt too!
Our suggestion number two: wear contrasting colors, such as blue and red to get a big visual effect!
The quick tips and tricks you learned from this article are things you can use every time you will be putting on a new suit!
To conclude, we want to emphasize the fact that your attitude is just as important as the clothes you wear. If you don't feel comfortable in your clothes, you should change them. Whatever you wear, make sure you enjoy your prom and have fun, and don't have any expectations. That way, whatever comes your way will be a surprise if it's something good it will be a moment to enjoy!
Fraquoh and Franchomme
Further reading: Prom style: Should you match your date?
Share on Tumblr
0