What are dive watches?
Dive watches are timepieces designed to resist the pressure created by water when you are diving. However, today, dive watches are not only practical gadgets that help you track the time you've been underwater, they are also elegant accessories you can wear on a daily basis.
Dive watches are an old ambition of watchmakers and the idea of a watch that works underwater and resists to its pressure dates back to the 17th century. However, it was not until the 19th century that watches that were resistant to water and dust became more popular. Back then, they were called "Explorer's watches". By the beginning of the 20th century, these watches were mass produced and used in the army as well as by civilians. Since then, all major watchmakers have produced and developed watches that resist underwater, and today they are reaching impressively high performances.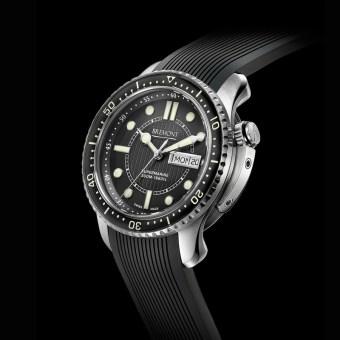 For example, British watch maker Bremont created a collection of fantastic
dive watches
called Supermarine, which feature special technologies and designs that enable the wearer to read time even at very low levels below the sea.
A dive watch, also called a diver's watch, is a watch that has a minimum resistance to 1.0 MPa (10 atm), which is the equivalent of 100 meters / 330 ft. Even though this is the requirement to qualify as a dive watch, most watches in this category have a water resistance of 200 to 300 meters / 660 to 980 ft. With the help of modern technology however, some diver's watches can go even a lot deeper and still work just as well as they do on the surface.
However, it is sure fun to be able to occasionally shower with your watch on, wash your hands or walk through the rain without having to worry that the mechanism of your watch will go bad.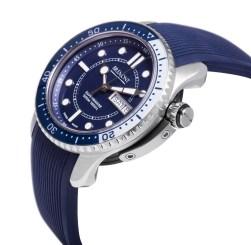 More than that, dive watches are a mark of a man who likes to go beyond the limits. Dive watches are quite complex and need to meet certain standards in order to qualify as "dive watches". For example, one requirement is that you should be able to read the time even in complete darkness.
What makes dive watches special?
For a better understanding of dive watches, we will take a look at some models and discover what makes them be part of an exclusive category both in terms of technology and design!
The Bremont Supermarine S500/BL
This watch by Bremont is made in Switzerland and features a 43 mm / 1.69 inches stainless steel case, it displays the date as well as the time, it has a scratch resistant sapphire glass and it can function very well even 500 meter below the surface.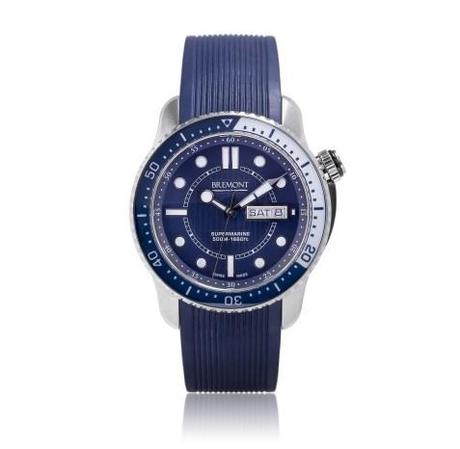 The S500 has a beautiful design and impressive technical features, such as an automatic helium escape valve and an automatic chronometer movement placed in a soft-iron anti-magnetic Faraday cage. The green hands are luminescent and therefore you can read the time even in very low lightning conditions.
The Bremont Supermarine S2000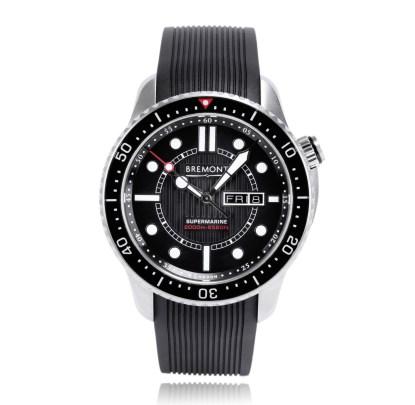 Another dive watch we want to take a look at is the Bremont Supermarine S2000, which is capable of showing the time even 2000 meters / 1.2 miles below the surface. The challenge to design such a watch was that it needed to display the time even at such deep levels, and so, clarity became one of the main concerns its designers had to deal with. The watch features a black dial that is highly contrasting to the big luminous hands and hour markers. The 45 mm / 1.7 inch case has an automatic helium valve. The watch originally comes with a rubber strap, but you can order a bracelet version as well.
Prices
As any accessory, dive watches come in a variety of prices. We know that in fashion and style, sometimes prices are not justified, but sometimes they very much are, as quality craftsmanship, resistant materials and elegant designs are hard to obtain and therefore, expensive. To establish how much you should spend on a dive watch, you need to look at what you want to do with the watch. For a man who wants to do some serious diving, we definitely recommend getting a high-quality watch from a trustworthy brand. This way, you can be sure that there is a very good chance the watch won't go bad and that it will fulfill your needs properly. If you want to wear a watch that you can get wet, swim with or wear at a water park, you can also opt for a cheaper watch, as they will probably do a good job for these conditions. Of course, as we said, for a dive watch to qualify as a dive watch, it needs to pass certain tests and meet a few very strict standards so basically any watch that falls in the dive watches category should be OK, as long as you buy it from an authorized outlet. Never buy fakes, but especially don't buy fakes when it comes to your safety and well-being.
To conclude, we can say that dive watches are excellent story-telling accessories. They are practical and match a man with strong personality with an adventurous spirit that is always in control over his style, regardless of the environment in which he finds himself.
Fraquoh and Franchomme
P.S. Do you wear dive watches? Have you ever dived into the ocean with your watch on? Share your stories, feedback or questions in the comments below! Also, remember that you can follow us via e-mail to receive updates on new articles or you can become a fan on Facebook or Twitter!
Share on Tumblr
0