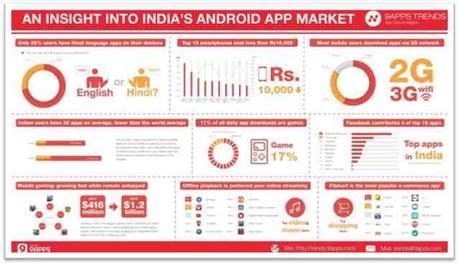 It is no news that smartphones are getting more and more important for us. They are no longer what we merely want. Smartphones are what we 'need' now. And major reason behind the popularity is the apps that add to their usefulness.
Average number of apps download by Indians: You'd be surprised to know that the average number of apps downloaded by Indian users is much less than the global average. This has been stated in the app industry analysis report for 2015 by Alibaba Mobile Unit's Android apps store that boasts of having about 140 million monthly active users worldwide). According to this report, average Indian smartphone user installs about 32 apps. And so, there's still a lot of scope of expansion of the apps market in India.
I think one reason why we Indians download less apps is that although smartphones are getting very popular, many users are still confined to entry level or mid-range smartphones that have less internal storage. This limits the number of apps downloaded in the phones.
Popularity of 2G: The app industry analysis report for 2015 further states that most Indian users still continue to download apps via 2G networks. That can also be because of the budget constraints of most users that restrict them to cheaper smartphones and data packs.
Most Popular Apps: The most popular apps download belong to the category of tools, free messaging, shopping and games. The most popular apps in India in 2015 were WhatsApp, Facebook, Instagram and UC Browser. The most popular ecommerce or shopping apps were Flipkart, Snapdeal, Amazon and Paytm. In tools category Browser, File Sharing apps and Memory boosting apps were most popular.
Gaming Apps: When it comes to games, the report shows that 17% of all daily app downloads are games apps. And in games, racing and action games are most popular.
Instant Messaging Apps: In 2015, out of the ten most popular apps in India, four were by Facebook. These are WhatsApp, Facebook, Messenger and Instagram. Here it is also interesting to note that the instant messaging apps scene has also witnessed a rising popularity of Indian apps like Hike Messenger.
Music and Videos: Indians are also downloading music and video apps. Among these, the most popular apps are those that allow users to download music and videos for offline playback. Online streaming is not very popular yet.
Paid Apps: Indians don't just limit to free apps. Paid apps too are getting increasingly popular. The report by 9Apps estimated that Indians would spend about 15 billion rupees downloading paid apps in 2015. That is a steep rise from mere 1.5 billion in 2012. As per the report, India is Asia's fastest-growing mobile gaming market and the revenues generated from India are expected to cross 1 bn by 2018. This means a huge opportunity for Indian app developers.
Demographics: One surprising fact that the report revealed is that only 20% of mobile users in India are female. That really sounds unfortunate and I hope would change soon. However, the report is not too hopeful about that.
Another statistic revealed by the report is that Indian users in the age group of 18 to 24 are the most prolific app users. Next comes that age group of 25 - 34 and then 13-17 years age group. After the age of 34, the number of apps downloaded decreases with the increase in age.
Popular Language and brands: Further, the report shows that English apps are most common and popular. And while major brands like Samsung dominate the phone market, smaller local brands and Chinese brands are on the rise in Indian mobile scene. Also, the phones that cost less than rupees ten thousand enjoy most popularity. And that, as I mentioned earlier, can account for less apps download and more use of 2G.
It is clear from the report by 9Apps Android apps market that despite the increase in paid apps download, Indian mobile market is still dominated by the needs and restrictions of budget buyer. The reach of high-end and premium smartphones is limited and the use of faster and more expensive data networks is not within the reach of many yet. There surely is a great scope of expansion of mobile apps market and use in India.