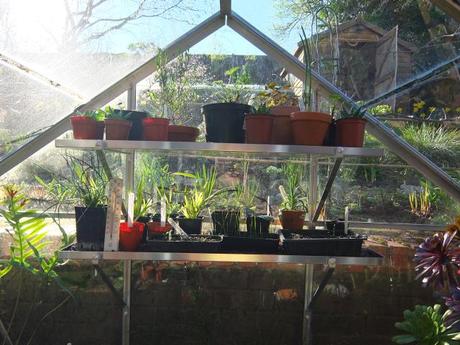 Here we are in March and my greenhouse is at capacity and I haven't really started.  I have to start by showing you the two shelves my sons gave me for my birthday which are at the end of the greenhouse and are wonderful.  I have to be careful what I put on the top one as it is so close to the top of the house but the aloes and pelargoniums seem to like basking in the sunshine.  I have put gravel on the shelves which helps maintain the humidity. The second shelf is more shady benefitting from the one above.  It is currently home to some Kangaroo Paw seedlings which have had a rough ride through the winter with the leaves going black – I'm not sure if they are meant to do that but new fresh leaves are appearing which is a relief.  There are also some cyclamen, pelargonium and Fritillaria rubra seedlings and most satisfying of all some Camassia leichtlinii semi-plena seedlings grown from seed collected from the garden.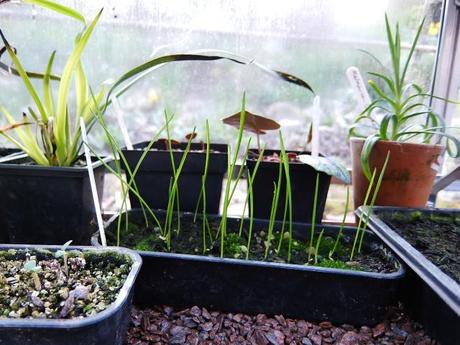 Camassia leichtlinii semi-plena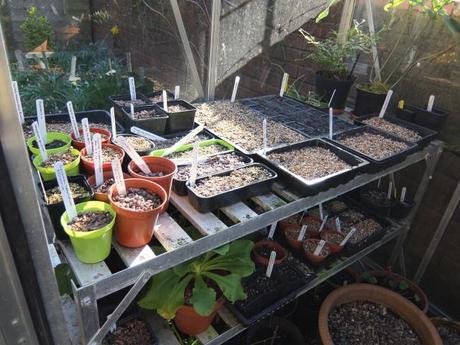 As you can see I have been busy sowing seeds.  These are predominately seeds of perennial plants such as Aquilegia as well as some hardy annuals.  It may be a little too early especially as the temperatures are meant to dip again this weekend but I think they will recover fairly quickly and I have to do these jobs when I have the time.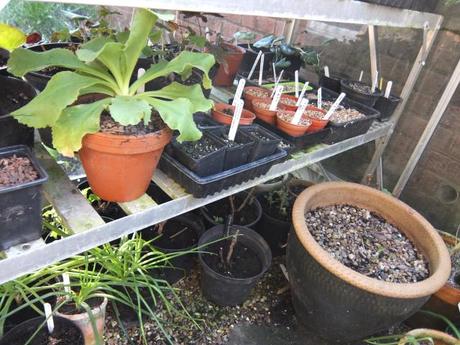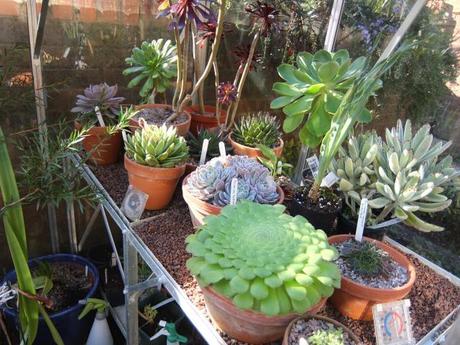 The succulent collection hasn't changed much since last month but it continues to please me.  I really must find some time to repot some of them.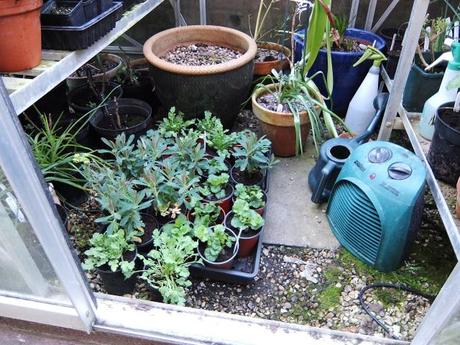 Finally as you can see at the end of the day the greenhouse floor is full.  This is because I have received a number of perennial start plants to review for Plant Me Now which I have potted up.  Although they have spent the day on the patio they are residing in the greenhouse overnight for a while until they have bulked up a little.  I will do a proper review next week.  The heater is on a thermostat and is set to keep the greenhouse frost-free, I find it a fairly effective approach and the succulents seem to be happy.
Oh and the large pots are home to some Agapanthus which are just showing shoots and a bottle brush that I grew from seed a few years back and I haven't had the courage to plant outside yet.
I suspect that by this time in April the greenhouse will be bursting at the seams and hopefully there will be more trays of seedlings to admire.