At last I am back with another greenhouse review – I am sorry that I had to miss my October review, but as I was not getting out it was difficult to write. My knee is much better now – I even managed a few hours today clearing a border on what was a glorious morning, so I also popped into the greenhouse to take a few quick photos to try and bring you up to date.
Autumn is well and truly here in my english garden – ever increasing numbers of leaves are dropping daily althought the relatively high temperatures mean that the grass is still growing and causing problems for my poor gardener. Whilst I am concentrating on clearing beds and planting tulips for the spring at the moment, he has the soul destroying task of collecting all the leaves to make leaf mold whilst trying to keep on top of the mowing.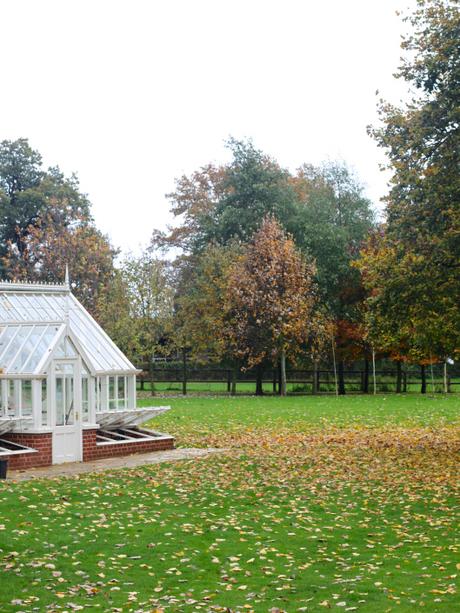 Inside the greenhouse things are not quite as organised as I would like. Between my injured knee and then our holiday I have not been able to work in the greenhouse since late September. You can see that my chrysanthemums have been brought inside now – they should have been potted up into much larger pots in September and quite a few would have been transplanted into the greenhouse bed. As a result of the small pots, the flowers are smaller than I would have liked but at least there is some color appearing again in the greenhouse.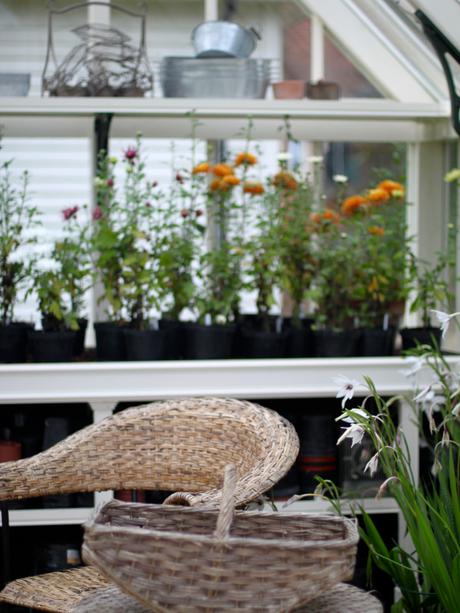 The other side of the staging is home to September sown hardy annuals, which need to be pricked out and moved out into the cold frame asap. If I do not get this job done soon they will grow too big in the greenhouse and start to get floppy.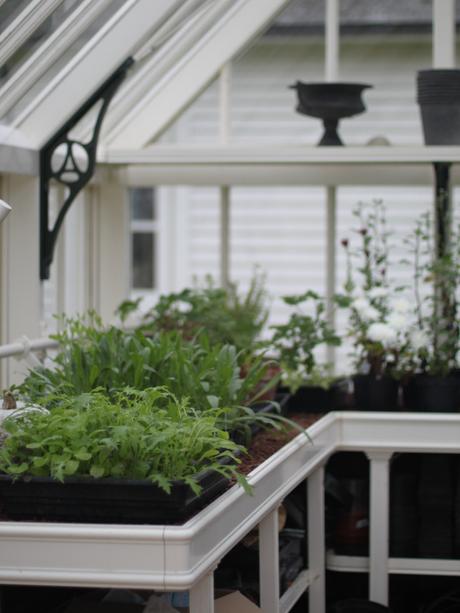 An unexpected bonus this month comes from these pots of acidanthera. I found the bulbs when I was spring cleaning the greenhouse in July, lurking in a bag under the staging. They had been forgotten in the early summer, so rather than throw them away I potted them up and kept the pots in the greenhouse. I have read that these flowers, which are related to gladioli, actually flower better if grown under cover as they are easily damaged by wind and rain. They started to flower in late September and are just going over now. Whilst I am loving having these elegant white flowers to enjoy inside, they are taking up valuable space where my chrysanthemums should be growing. Next year I think I will plant the bulbs into the greenhouse bed when I take the sweet peas out and see if I can have a lovely display in late August/early September before I want to move my chrysanthemums under cover.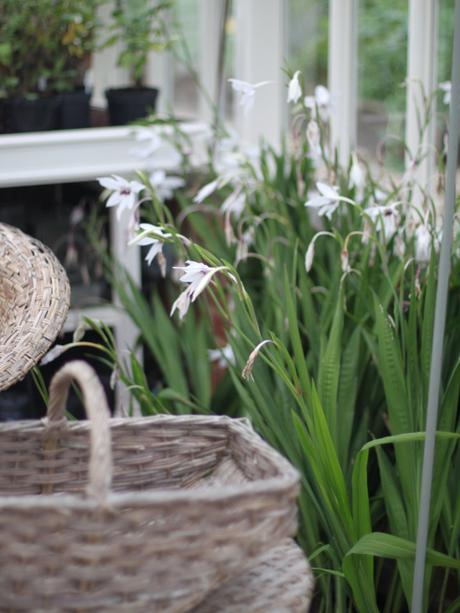 Another last minute addition to my greenhouse bed was a tray of antirrhinums which were sown late – too late to be transplanted into the garden. Rather than waste them I popped them into the area of the greenhouse bed designated for Paperwhites. I still need to plant my first batch of these lovely narcissi bulbs – another task to catch up on for which I have set myself a deadline of this weekend. Any later and I am unlikely to have flowers in time for Christmas. I will tuck the bulbs in around these snapdragons which I hope will keep flowering in the shelter of the greenhouse.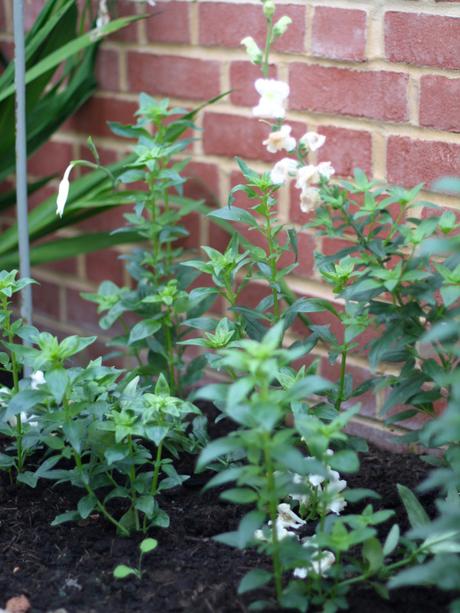 The salad that was sown back in September is ready for eating – I must sow another tray whilst the temperatures are still high. Once the cold weather comes and the days get even shorter it is much harder to get the salad seeds to germinate.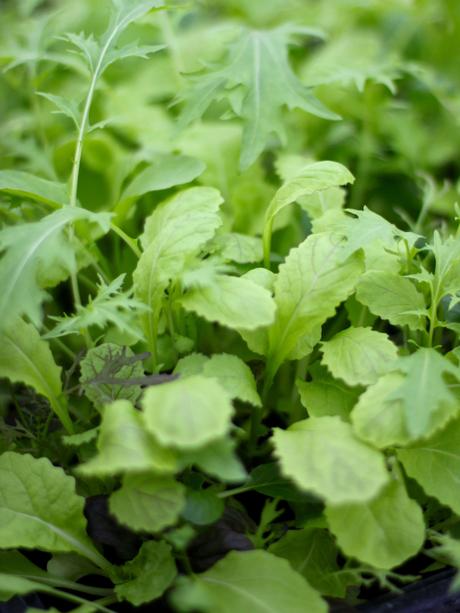 Next to the salad I have a few Crown Prince pumpkins waiting to be eaten. My pumpkin crop was very disappointing this year – I had next to no orange ones and all my miniature pumpkins failed to set fruit. Hopefully next year will be more successful!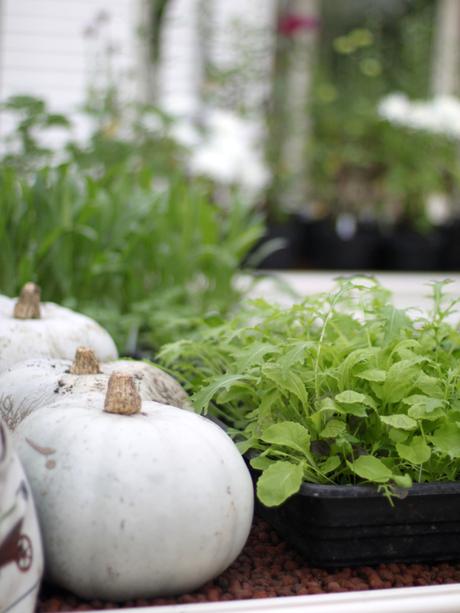 The winter sweet peas sown in September are doing well – I will probably transfer them to the greenhouse bed at the end of the month. As these are to be grown on inside I will need to control their size, so I will not pinch them out as I would with outdoor sweet peas. Instead I will grow them as a single stem – that way I can plant them quite closely together in a limited space.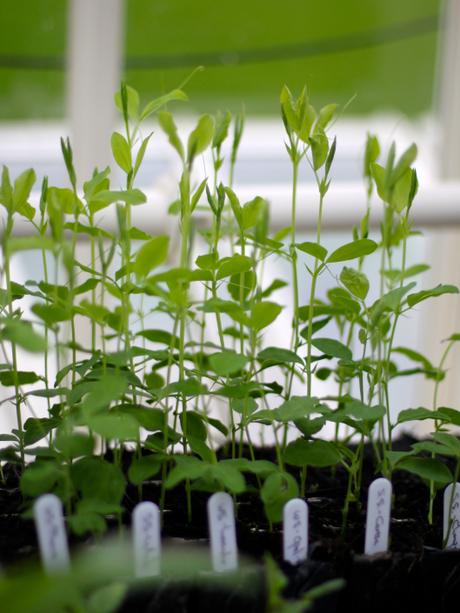 After watering these plants all summer it is lovely to see the chrysanthemum flowers emerging – just as everything else in the garden is shutting down. Every summer I question whether it is worth growing these late chrysanthemums – I have been feeding, watering and pinching out since June. As the long dark days start to take their toll on my garden flowers though, I always answer a resounding yes – the effort is worth it! I will only cut a few handfuls of these flowers for bouquets – really they are there just for the sheer joy of having flowers in the greenhouse during such a bleak point in the gardening year.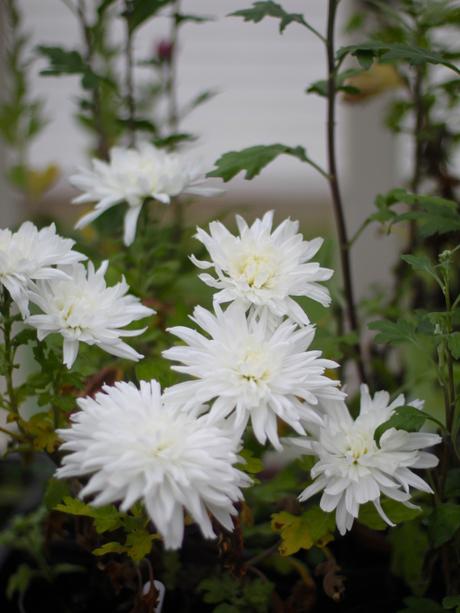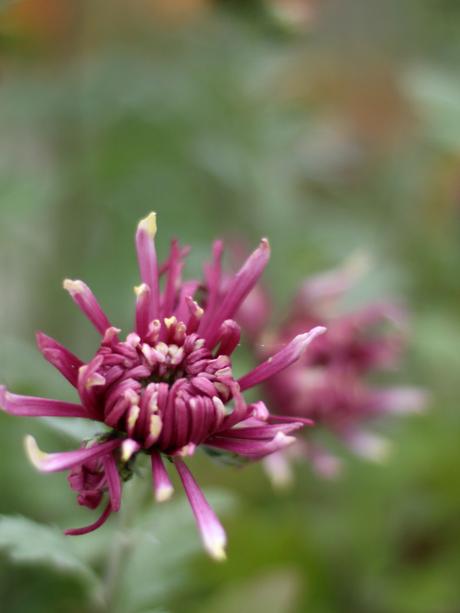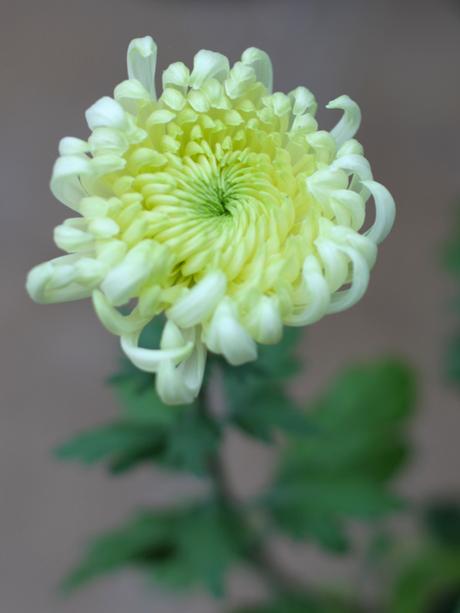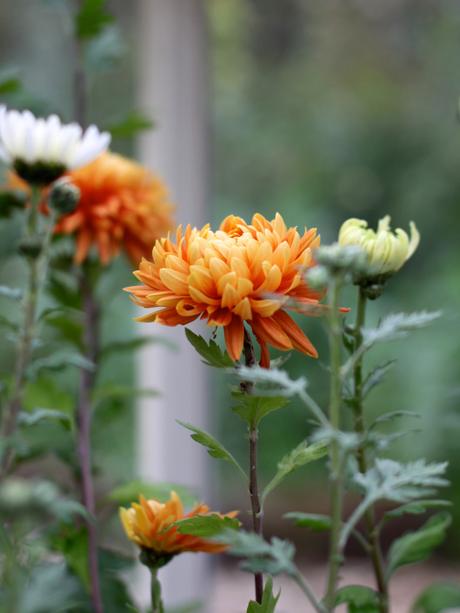 Whilst I had my camera out I could not resist taking a couple of close ups of the acidanthera!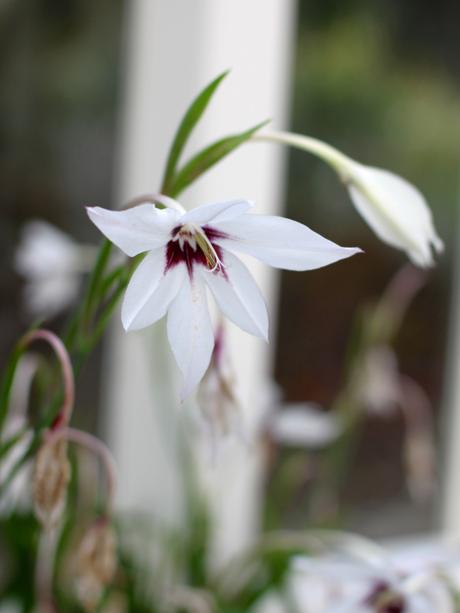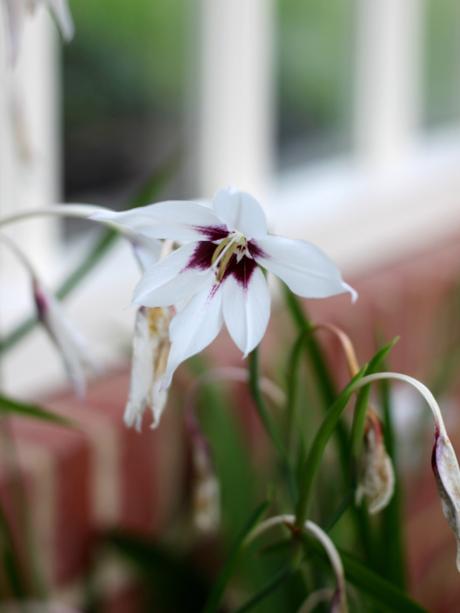 At the other end of the greenhouse there are plenty more hardy annuals waiting to be pricked out.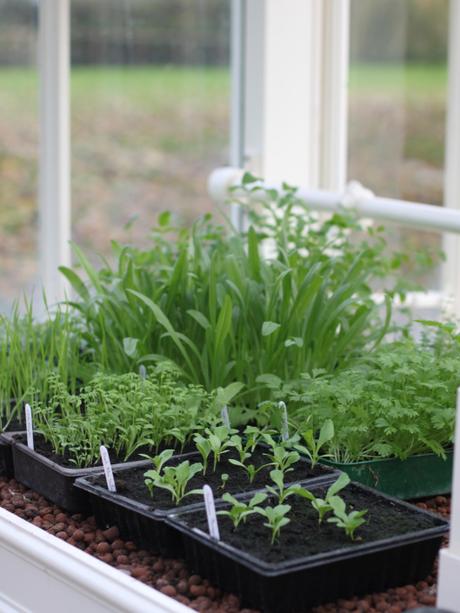 This is a job I can enjoy on a rainy day whilst looking out at the increasing piles of autumn leaves that are carpeting my garden.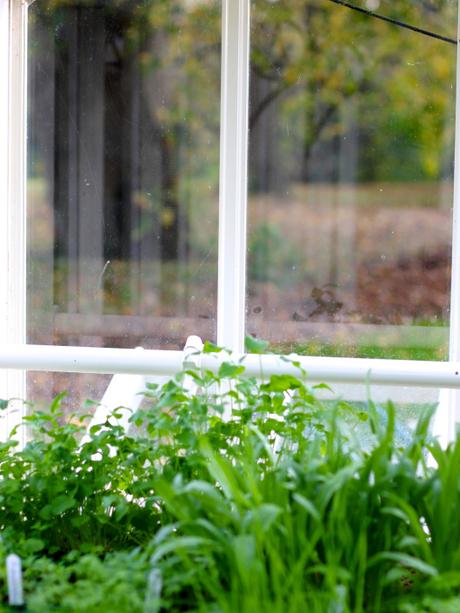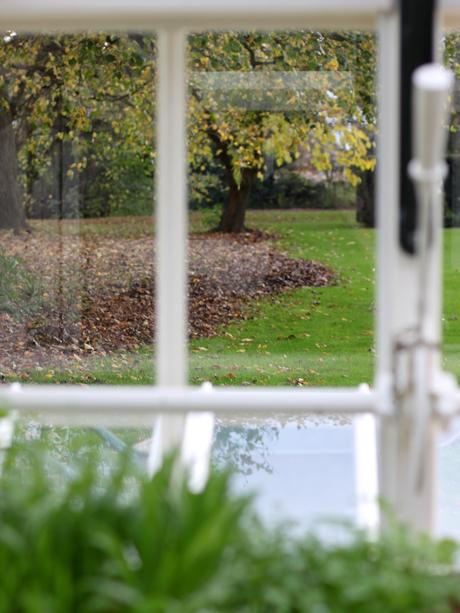 Finally, you can see that the cold frames are still full – these are what is left of the biennials sown in June. They should have been planted out in October, but are yet another job I was unable to complete. I will move them into my garden beds as I clear away the dying annuals and perennials and plant the tulips. Hopefully this space will be clear for the pricked out hardy annuals very soon.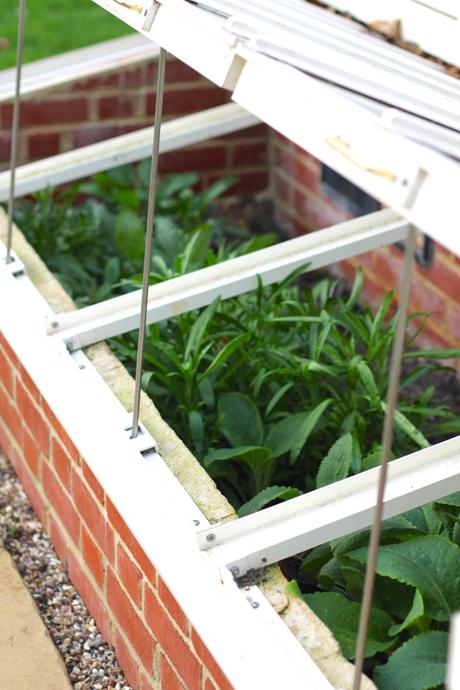 It is hard to believe that we are in November already! After a quiet period in July, August and September it is good to see the greenhouse filling up with flowers again – I am looking forward to even more chrysanthemums and my Paperwhites arriving in December. My little greenhouse in the vegetable garden has already been cleared and 'put to bed' for the winter. I did have plans to grow some winter vegetables under cover in there but these should have been planted in the greenhouse in October so I am too late to get anything growing now – hopefully I will be able to be more organised next year.
I will be back in December with another look at what is going on inside my greenhouse – in the meantime please do leave a comment to tell us what is growing in your greenhouse and, if you have the time to write a post, it would be lovely to leave a link here so that we can all have a peep inside your under cover growing space!