I can hardly believe that we are already in the second week of February – it seems barely any time at all since I was sitting down to write my January greenhouse review! Changes are small in the greenhouse at this time of year but changes there are, so lets grab a cup of tea and head off to have a look around.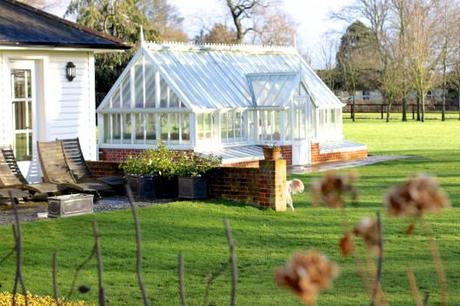 As we go through the door this month, the first big change is right in front of us – the sweet pea frame is now up and covered with netting to support the plants that I am growing under cover.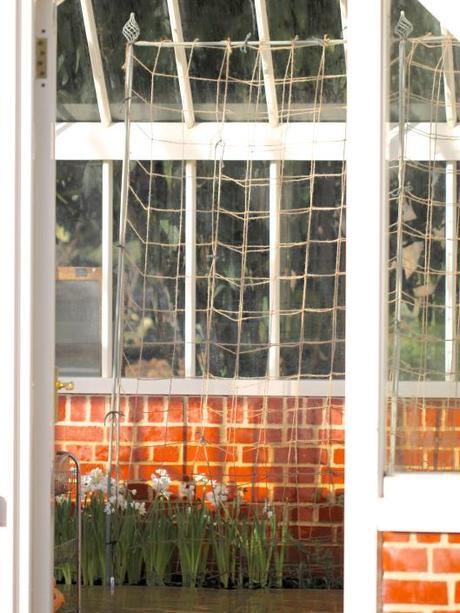 At the base of the netting you can see a group of Paperwhite narcissi in flower. Although these look like the same Paperwhites that I showed you in January, they are in fact a new batch that have just started flowering. Last months bulbs have been dug up and added to the compost heap and another batch planted in their place – hopefully they will be in flower in time for my March review. Today's Paperwhites are destined to have their heads chopped off on Friday – I am planning a very wintery theme for my Valentine dinner party, with hellebores, snowdrops and Paperwhites – all grown in my garden. In previous years I have used Valentines Day as an excuse to go flower shopping, but I grow so much myself these days that I am determined to source everything from my own garden.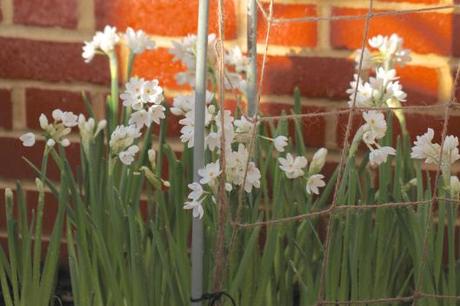 I have planted all of my Winter Sunshine sweet peas (started before Christmas) into the greenhouse bed now. These plants have transplanted well and seem to be starting to grow – hopefully by next month they will be heading up their supports. I am aiming to have flowers in May, earlier than my outdoor sweet peas which usually start to flower in early July.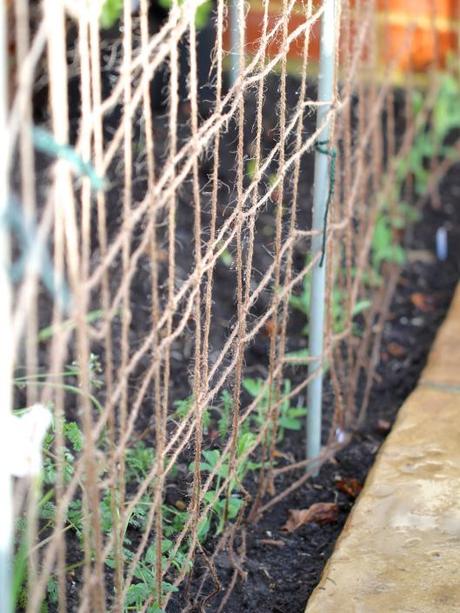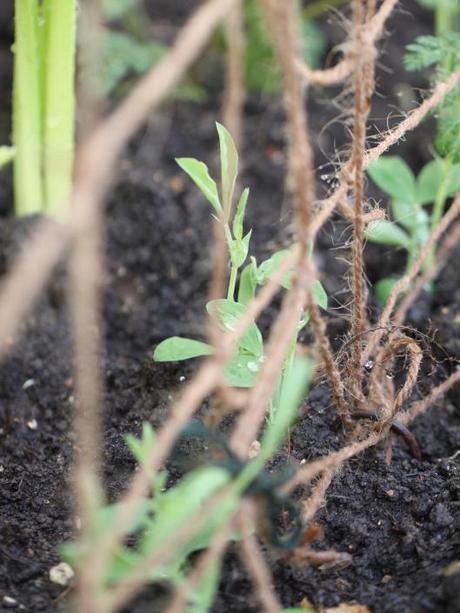 In the shot below you can see the crocus flowers that I had indoors a few weeks ago for 'In A Vase On Monday'. They have just about finished flowering now and are waiting to be planted outside. There are also a few cyclamen plants that I have retrieved from the outdoor containers – they looked lovely in the autumn and early winter, but really do not like proper winter conditions so I have brought them back into the greenhouse where they will continue to flower happily until the temperatures rise. This year I am planning to let them go dormant in their pots and see if they will flower again next autumn.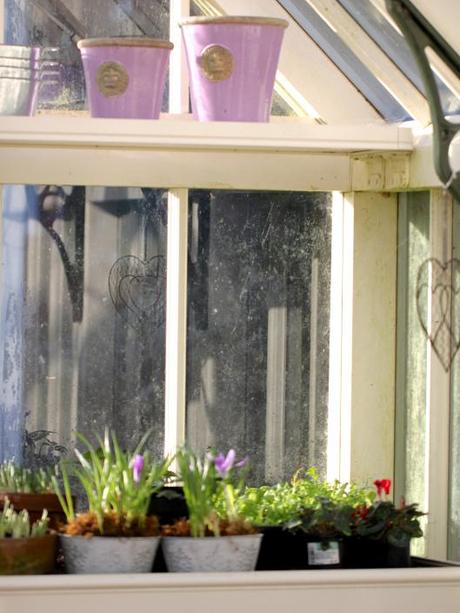 I still have lots of pots of bulbs growing in the greenhouse – they are almost in flower now. The iris and crocus bulbs are starting to show colour, although the hyacinths still have some growing to do. I have already moved a lot of pots of small bulbs outside to create more space, although this will slow down their flowering time. Spring is a constant battle to juggle space – hard to believe with a greenhouse as large as mine, but I always seem to fill it. The trays of strawberries and pak choi that I showed you last month have also been moved to the cold frames now.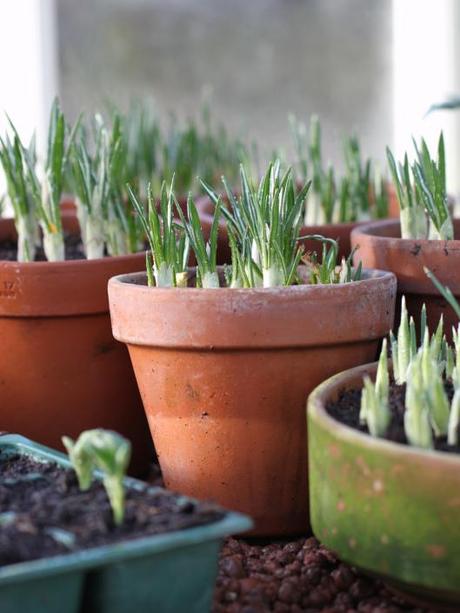 The Christmas Rose (helleborus niger) that I mentioned in January is finally starting to flower. My plan was to force a plant inside both for early flowers and to keep the white flowers pristine. The early flower part failed (my outdoor plants have been flowering since early January), but the new flowers are certainly pristine. This plant will be making its way indoors soon to add to my wintry decorating theme.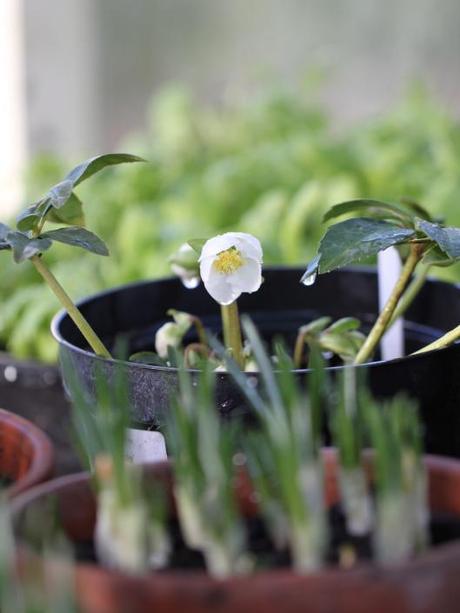 The salad sown before Christmas is almost ready to eat – as this is a cut and come again variety I will hopefully get three pickings from this tray. I have started off some more trays of salad – mainly winter varieties such as lamb's lettuce, mizuna and pea sprouts. Later this month I will be sowing lots of early summer lettuces to plant out when the temperatures rise.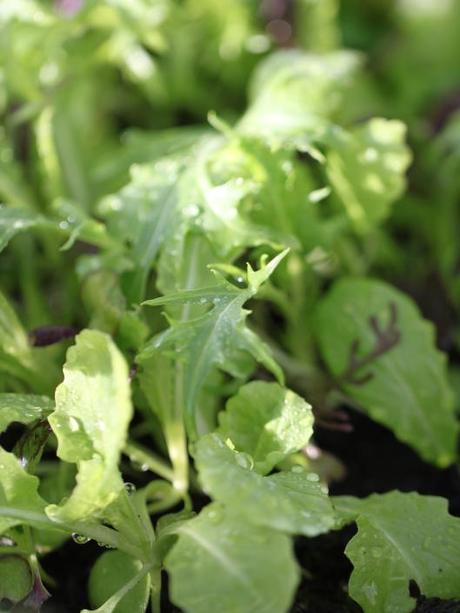 For my Cutting Garden, I have been busy sowing hardy annuals – cornflowers, ammi majus, euphorbia oblongata and orlaya have been sown and put in the heated propagator to germinate, with plenty more varieties to sow as space allows. I have put my larkspur seeds in the freezer for a couple of weeks before sowing, as this is said to improve germination.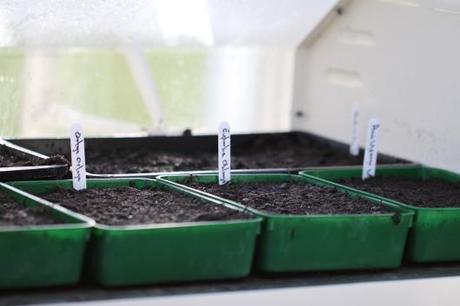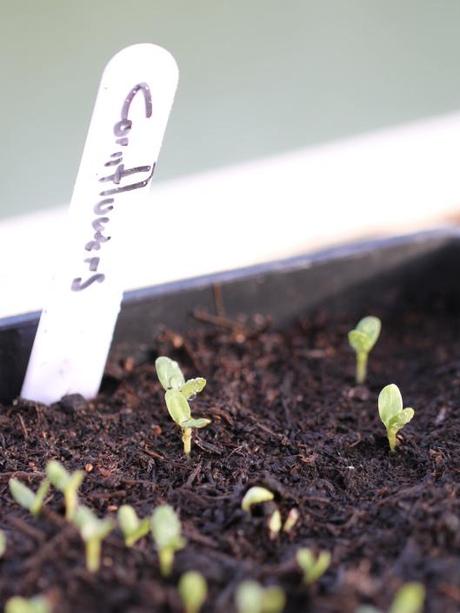 The first sowing of broad beans and peas has been made. The peas are already in the cold frame and the broad beans will be moved there soon. I treat my seedlings quite hard – as soon as they germinate they are removed from the propagator and a week or two later they are in the cold frame – the quicker they are moved to cooler conditions the hardier they seem to be.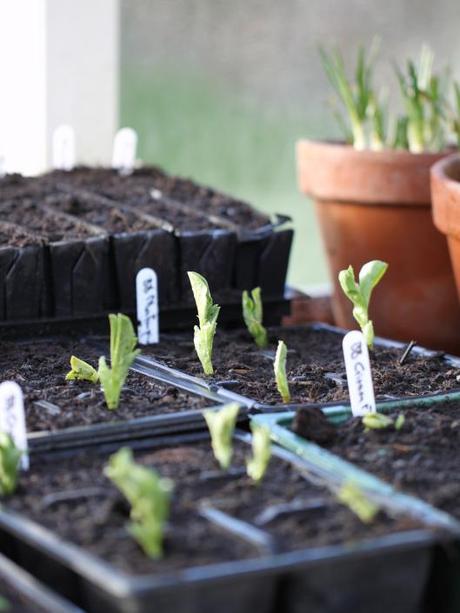 I still have a few trays of ammi majus, nigella and gypsophila sown in the autumn to prick out. Below are gypsophila seedlings that have just been pricked out into plugs – again these are headed for the cold frame as soon as I am happy they have settled into their new homes. In the background you can see the sweet peas sown this month into root trainers – these should germinate very soon.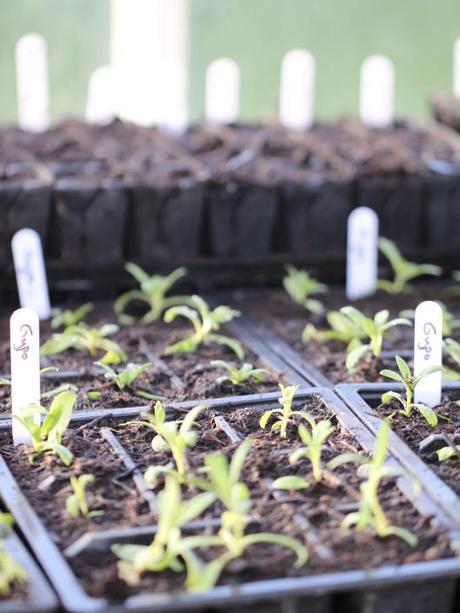 Inside the greenhouse I have been storing pussy willow brought at Christmas. I take it into the house to add to arrangements as I need it, but it stores well in the cool conditions of the greenhouse. You can also see the swelling buds on the camellia plants that I have been overwintering in the greenhouse. I have moved both of these plants into the house now, in the hope that the warmer conditions will bring out the flowers.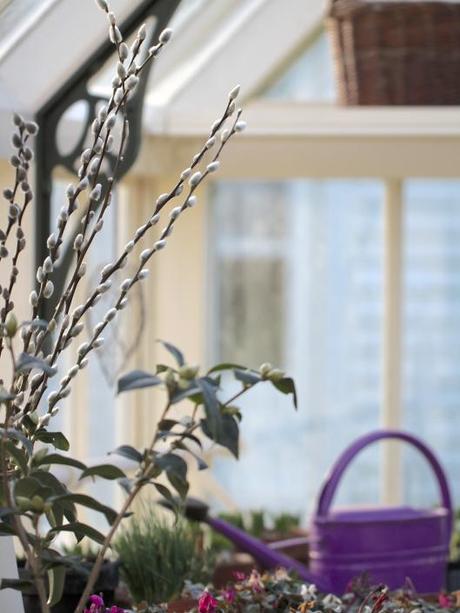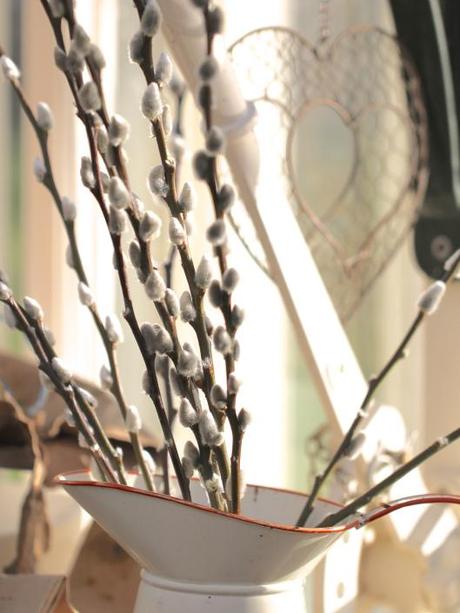 The tulips that I planted in the greenhouse bed before Christmas are starting to poke through the soil – I cannot remember what variety they were, so the flowers will be a nice surprise. I am pleased to report that the bags of bulbs you could see in my last review have now all been planted!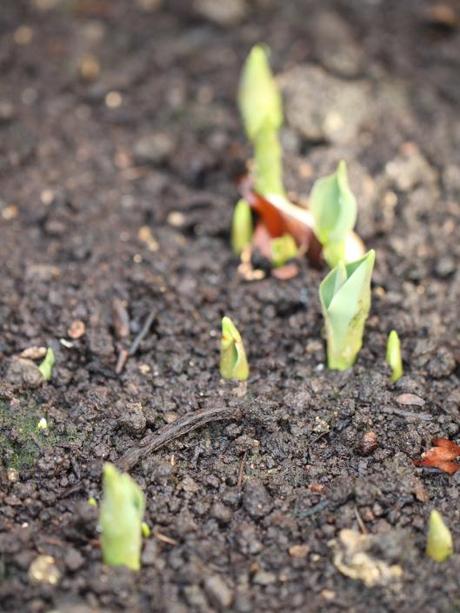 Whilst we finish our (virtual) cup of tea, I will take you on a quick tour of the garden views that surround the greenhouse. Looking straight out through the door you can see a run of mature trees with a wild hedgerow on the boundary. The trees are underplanted with lots of bulbs and in February it is the turn of the snowdrops to take center stage.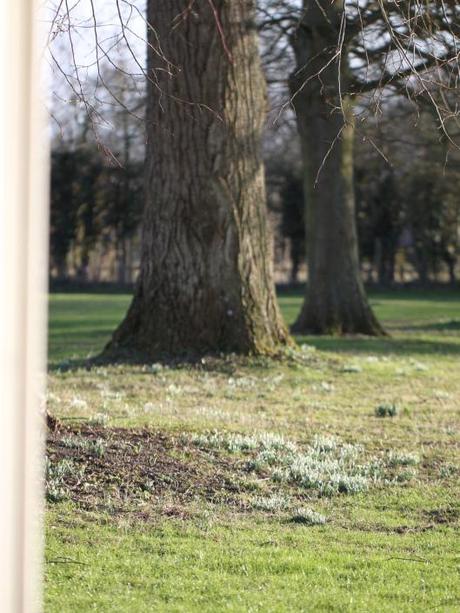 Looking out of the door to the right, we face across the lawn to what I call Horatio's Bed, with the summer house next to it.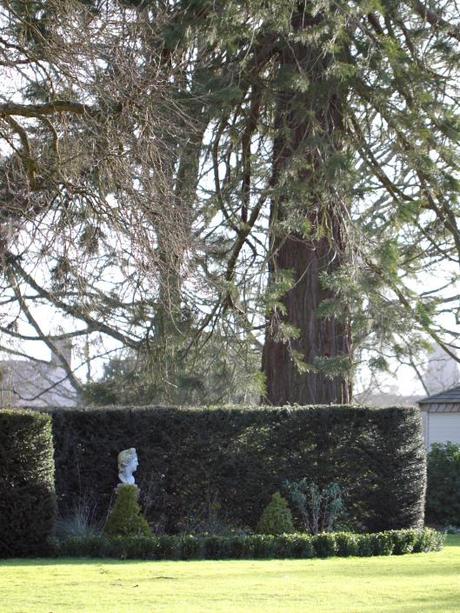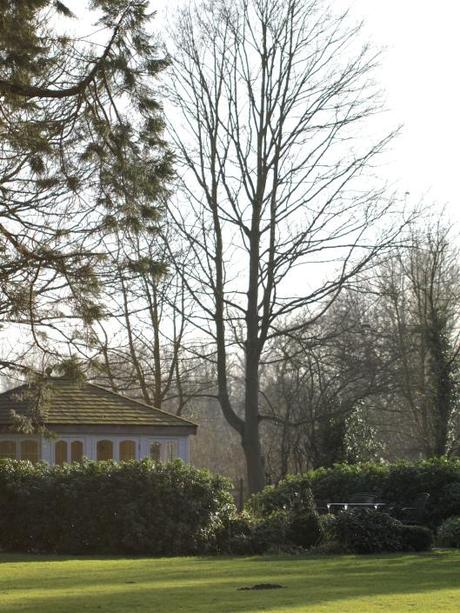 Immediately to our right we are looking back at the house – you can see the small pots of spring bulbs that I have moved out of the greenhouse lining the low wall – I will move these to better sites as soon as they start to flower.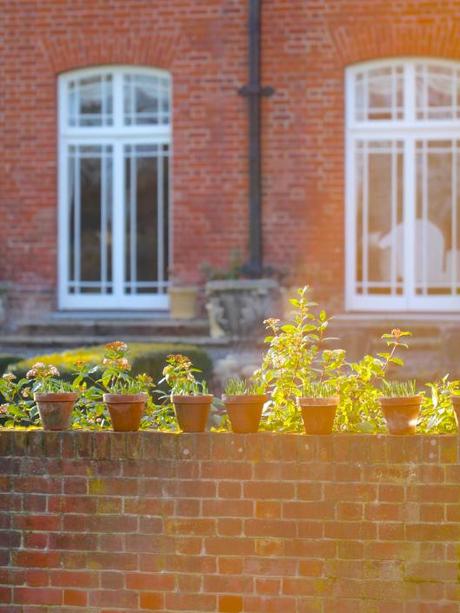 Walking around the right hand side to the back of the greenhouse we could head off down the Winter Walk, but that is a trip for another visit.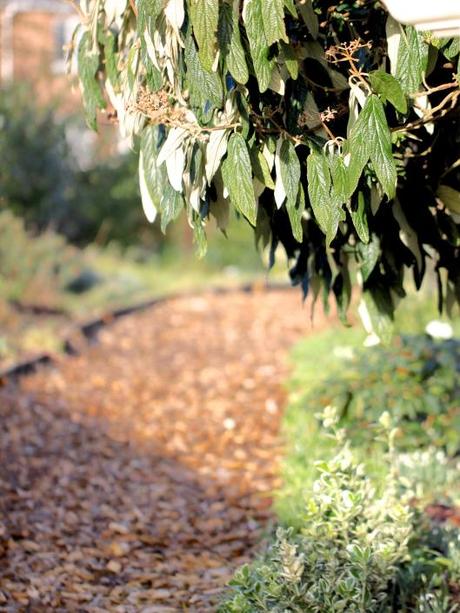 As we walk behind the greenhouse and come full circle back towards the front you can see that we are again looking across the lawn at the beds surrounding the summer house.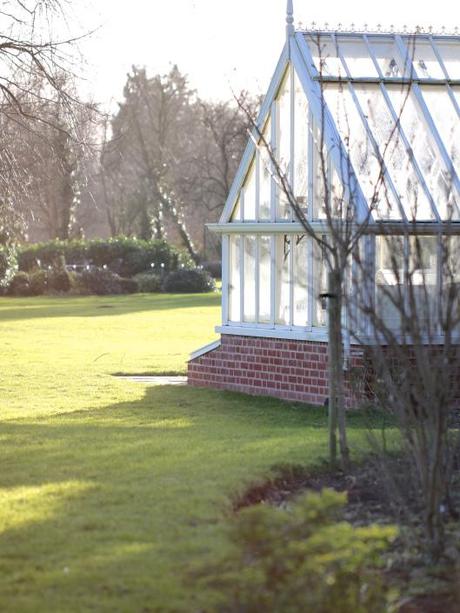 Little progress has been made with my new little greenhouse that I showed you last month – the ground has been too wet to work on. Hopefully there will be more to report on next time.
By March I should be ready to start planting out some of the hardy annual flower and vegetable seedlings. There will be potted bulbs in flower, plenty of germinating seedlings and I will be planning to start sowing half hardy annuals. I hope that temperatures will be rising and the sun will be making a more regular appearance!
If you have any questions, please do leave a comment. I really enjoyed looking at the other greenhouses that linked up last month and thank everyone who joined in. I hope to see you all again and if anyone else would like to join in with a greenhouse review, please do add a link in the comments so that we can all see what you are up to.