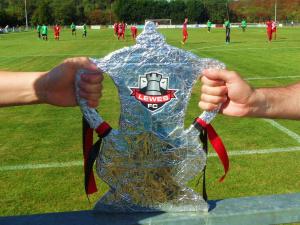 For all the commercialisation of our beautiful game, there is still something magical about the FA Cup Third Round. Whilst the FA have done all they can to milk the competition dry with selling off the competition naming rights, auctioning off the TV rights and moving the semi-finals to Wembley, it is one day in the footballing calendar that still belongs to the fans. Every lower league club starts the season with the hope that this will be their season when they make the third round and draw one if the big boys, setting themselves up for years to come. Never has the feeling of disappointment hit so hard when you get knocked out of the cup "too early". In my official role at Lewes I felt that pain only too sharply when fellow Ryman Premier League Hendon knocked us out this year, then went on a run to the first round. They managed to knock out two Blue Square teams before losing away at Aldershot Town, playing three divisions higher.
Unfortunately, giant killings have been diluted over the last few years as even mediocre nPower Championship sides have put weakened teams out in the FA Cup, preferring to concentrating on finishing in tenth place in the second tier of English football. Consequently, when they lose, the manager will trot out a line about "wanting to concentrate on the league anyway" as mitigated to the embarrassed fans. But there is still some magic drifting in the air this year.
A repeat of the 1987 FA Cup Final between Spurs and Coventry perhaps? Twenty five years ago they were peers. Today they are separated by two divisions on paper although in reality it is a lifetime. Whilst the Sky Blues ambitions now are for a return to the Championship, cup glory is confined to the Johnstone's Paint Trophy. Wigan are hosting another League One side in Bournemouth, Cheltenham Town play Everton.
But this year the four non league sides who have had it this far have hit the jackpot. Ex-Lewes manager takes his Macclesfield Town side to Premier League hopefuls Cardiff City (Ironically both managers are Lewes FC Owners); Mansfield Town host Liverpool, whilst fellow Blue Square Bet Premier side Luton Town play Wolverhampton Wanderers in a game that not too long ago would have been a regular league match. But for real romance look no further that step 7 Hastings United's long trip to the Riverside to play Championship Middlesbrough. Can they hope to get a result? Possibly. Tony Mowbray may fall into the complacency trap and put of a second string side. But whatever happens they carry the pride not only of East Sussex but also the Ryman League with them.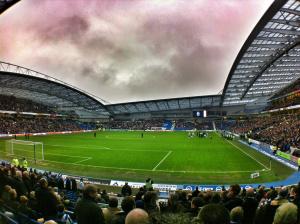 Passing them on their big day out would have been the Newcastle United coach who were heading to the Amex to take on another East Sussex side, Brighton & Hove Albion. Current form suggested that a Seagulls win wasn't out of the question, and with Alan Pardew already one striker down after Demba Ba's desertion to Chelsea, the Toon may have found the streets of Brighton paved with despair.
Thankfully Brighton had seen sense and to avoid clashing with Lewes's big game with Hampton and Richmond Borough, had moved their kick off to 12.30pm which also have me an excuse to take in both games on a day of East Sussex revelry. Well, it's only once that you reach the age of 42 and 365 days.
This was to be somewhat of a cultural exchange as well with SuperHans and Franck making a guest performance from Antwerp, picked up on the way through from Poland by legendary film maker Radish. So excited were the trio at arriving in our promised lands that they completely by-passed London yesterday and headed off instead to the bright lights of Newport, South Wales, for a look at their old new ground at Rodney Parade, which had now replaced their new old ground down the road. Confused? So were we. Best have a beer to calm down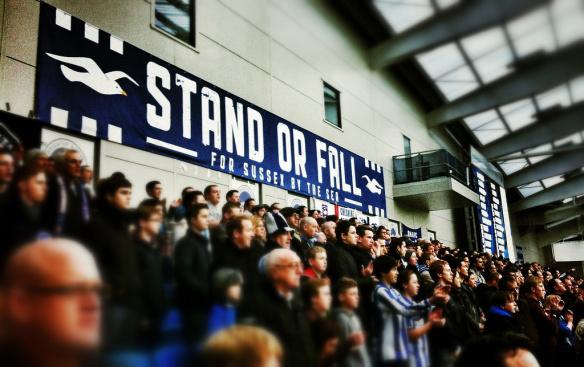 Fortunately Brighton "do" football grounds very well. They looked, listened and understood what fans wanted and put some thought into facilities at the Amex. Small pop-up bars litter the concourse area meaning you are never more than 13.3 yards from a beer, scientifically the furthest distance Danny Last will ever venture away from alcohol. The breeze block walls have been adorned with pictures and memories of BHA games down the years and then there are the locally made pies that for today's early kick off included a gut-busting Full English variety.
Brighton & Hove Albion 2 Newcastle United 0 – The Amex – Saturday 5th January 2012
The cynical Toon-bashers will say that this was a limp, spineless performance from a Premier League team who seem to have lost all spirit. The rest of us simply nodded in agreement and felt sorry for the 1,987 Newcastle fans who had spent significant sums on making the journey south to see "that". As a neutral I didn't think Brighton played particularly well, summed up by the official choice of MOTM of a full back who saw better days in the last decade and rarely ventured forward.  Yes, Newcastle are a side who were lacking some of their most influential players, but as we are often told, the Premier League is about having a squad, not just a team (otherwise, why do you need so many subs for each game?). One fact for the history buffs though was it was the first time a set of brothers, the Ameobi's,  had lined up in the starting XI for Newcastle since 1952.
I rarely need to use my glasses at football but in the first half I had to slip them on as all of the play was at the south end of the stadium. Newcastle simply couldn't move the ball forward. Brighton managed to contain them well enough without really creating a chance of their own.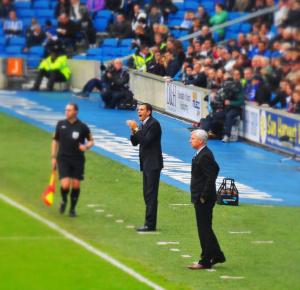 Pardew patrolled his technical area, hoping that telepathy would work for his team, standing for long periods silent in thought.  One of his few failings on the pitch when in charge at West Ham was his inability to change the pattern of a game, and this was clear again today when something, anything, needed to be changed in the first twenty minutes to give his side at least some shape.
The biggest surprise was that it took over thirty minutes for Brighton to take the lead.  Wayne Bridge found some speed from 2004 and managed to get to a ball that looked destined to roll out of play.  His cross was well controlled by Orlandi, who swiveled and shot in one move, beating Elliot at his far post.
The stats at half time summed up the game perfectly.  Brighton had 60% of the possession.  Pardew had 15 minutes to do something to turn the tide and stop a second success FA Cup exit here at the Amex.  He threw on a couple of subs for the start of the second period but it failed to ignite a side who looked a shadow of their former selves.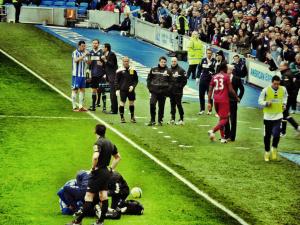 Shola Ameobi was sent off for a second yellow card and replays showed it was an incredibly harsh decision.  The "victim" Lopez added three or four extra rolls across the turf, as well as sly look up to see if his over-reaction had had the desired effect on the referee, and from them all hope for Newcastle was surely gone.  Perhaps not as the Toon then enjoyed their best spell of the game, with Brighton obviously believing the David Pleat inspired clap-trap about it being harder to play against 10 men than 11.  Ankergren was suddenly the busier of the two keepers, and despite the growing noise of the home fans, for the first time in the game the Newcastle fans found their voices.
But it was not to be.  Just a few minutes remained when Lopez, now fully functioning after the cynical foul by Ameobi that saw the Newcastle player sent off (not), fed Hoskins who had timed his run perfectly and slipped the ball through the advancing keeper's legs.  Game over, although again if you listen to Pleat you would know that 2-0 is the most dangerous score in football for the winning team.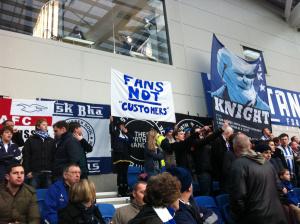 Lightning had indeed struck twice in East Sussex for Newcastle.  Their fans faced a painful 300 + mile journey back with nothing but a kiss-me-quick hat from Brighton Pier.  One final point to note was the crowd of 21,740.  It seemed that in these parts there was a bit of a mutiny against the club's pricing structure for this game.  On a day when most clubs slashed prices to encourage fans to come to games, Brighton seemed to want to charge their "customers" as they stated, normal ticket prices, starting from £28 in the North Stand behind the goal.  Many fans felt this was wrong and simply boycotted the game (otherwise how would yours truly have gotten a ticket).  Hopefully the club will take heed of the lower than expected crowd for the next round against Swansea or Arsenal and adopt a more sensible pricing policy, remembering that the people who buy the tickets are Fans and Not Customers, as one banner quite rightly stated.
The magic of the cup is still alive and well in East Sussex for a few more weeks anyway.