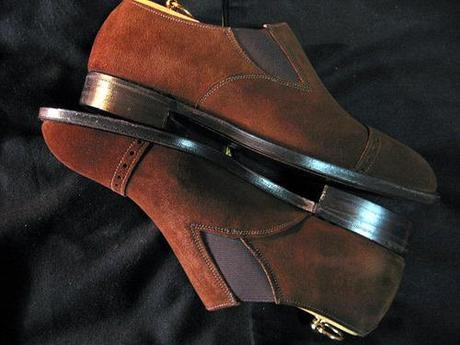 If "shoe porn" means a spectacular visual presentation of shoes, then let me show you one of the greatest shoe porn sites of all time: Centipede. A Japanese site started by a semi-anonymous blogger in 2002, and left untouched since 2009, it remains better than most of the dozens, if not hundreds, or classic men's footwear sites that have come after it.
Much of the focus here is on English firms, including long-gone bespoke makers such as Wildsmith, Peal & Co., and N. Tuczek. For fans of Edward Green, there's a nice sample of old historic lasts, such as the 88, 32, and 33. Here's a pair of split toe Dovers, for example, built on the 32 and made from an unusually hairy Maple Stag suede. There are also special photo sets for J. Amesbury bespoke, A. Harris' collection of rare shoes, and one enthusiasts' tour of British stores. There's no text to accompany the last bit, but the photos are enough to entertain.
The second half of the site is dedicated to makers from America (mostly Alden), Italy (e.g. Bemer, Ugolini, and Mannina), other parts of Europe (e.g. my friend Réginald-Jérôme de Mans' butterfly loafers, which were made for him by Anthony Delos), and Japan (e.g. Spigola, Otsuka, and some names hidden to me through that shroud of katakana, hiragana, and kanji). Lastly, the "etcetera" section is not to be missed. There, you'll find some knockout, old catalogs from GJ Cleverly, Edward Green, and Foster & Son, as well as some curiosities, such as this miniature Berluti shoe (made so that a representative could easily bring models to a trunk show) and a special Globe Trotter shoe case from the 1940s. There's even a pair of New Balances made from an undyed vegetable-tanned leather, making sure there's something for everyone.
Enjoy.