FATHER ANSELM MOYNIHAN, O.P.
"Lo! You were Somebody all of a sudden."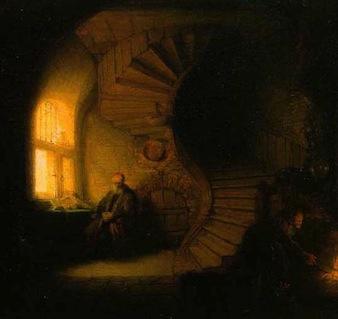 In this line of his
Magnificat
, Paul Claudel (the poet) describes the grace which, at the age of eighteen, brought him back to God after a boyhood of infidelity.  It was
Christmas
Day, and "having nothing better to do," he attended vespers at Notre Dame, hoping the Church's liturgy would provide him with inspiration for his poetry.  Suddenly he was overwhelmed by the awareness of God as a great personal reality, as "Somebody," and from that moment, his whole thought and life became dominated by the great presence so unexpectedly revealed to him.
A similar grace was given in very different circumstances to Leonard Cheshire, founder of the Cheshire Homes.  On one occasion, when he and some friends were having a drink in a public house, the conversation turned on God, who or what he was.  Cheshire, a professed agnostic, said that he thought God was just our own higher conscience, whereupon a girl in the party cried out, 'That is utter rubbish.  God is a person and you know that perfectly well."  With her words Cheshire got a flash of absolute certitude that here was the truth.  From that moment, God became for him the great ever-present reality who alone could give full meaning to his life and work.
Awareness of God, whether it come to us thus by a dazzling rending of the heavens or through the gentle whisper of his voice in our conscience, is at the beginning and end of our spiritual life, at the beginning and end of all religion.  It is the root of what is truly the most radical division of mankind, one to which Holy Scripture constantly reverts, that between the "wise" who keep God before their eyes and the "fools" who ignore him.  The first awakening of the soul to God's reality brings with it that fear of the Lord which is the "beginning of wisdom"; the end of life should bring with it the "wisdom of the perfect," the fruit of charity, whereby a man will experience God's living presence within himself and be filled with longing for that full awareness of God which is the vision of his face in heaven.

ACKNOWLEDGEMENT
Father Anselm Moynihan, O.P. "The great ever-present reality." from The Presence of God (New Hope, Kentucky: New Hope Publications, 2012).
Reprinted with permission of New Hope Publications.
This excerpt appeared in Magnificat in January 2013.

THE AUTHOR

Father Anselm Moynihan, O.P., (? – 1998) was an Irish Dominican priest and the founding editor of Doctrine and Life. In his spiritual classic, The Presence of God, Fr. Moynihan presents the profound teaching of St. Thomas Aquinas on the various ways in which God is present and active in our world and in our lives.
Copyright © 2012 New Hope Publications