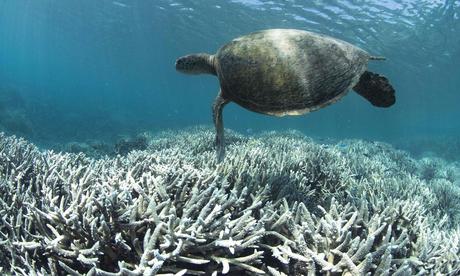 This photo released on 20 April, 2016 by XL Catlin Seaview Survey shows a turtle swimming over bleached coral at Heron Island on the Great Barrier Reef. Photograph: STR/AFP/Getty Images
Don HIne.–If the federal government wants Australians to ignore the Great Barrier Reef as it dies beside us, it has done a masterful job by scrubbing all mentions of the reef from the latest UN climate change report.
The government's actions have been described as Soviet in style and intent but the political thuggery pales compared to the activation of a subtler and more powerful effect known as psychological distance.
Psychological distance is a construct that measures the "distance" of an event or object in terms of geography, time, cultural similarity and factual certainty. If something is nearby, likely to occur soon, involves people like you, and the facts are certain, that "something" is considered psychologically close. The closer it is, the more likely you are to perceive it as concrete and be willing and able to act on it.  Continue:  The Great Barrier Reef and the subtle power of 'psychological distance' | Don Hine | Australia news | The Guardian
Save