Here in Australia on his annual holiday, my wife's uncle told me about the growing number of deals to be found in the UK when booking a return flight from London to Sydney.
"So what's a typical airfare with one of these deals?" I asked him, knowing full well that long-haul airfares have been on the increase for some time both here and there.
"Well, I received an email just last week promoting return flights to Sydney for less than £700."
I did the conversion in my head. £700 was roughly equivalent to $1,000 AUD. 
$1,000 AUD!
I couldn't book a flight from Sydney to London for anything less than $1,500 on a good day. I
might
be able to find a cheaper flight but I'd stop over in nine countries and it would take me four weeks to get there.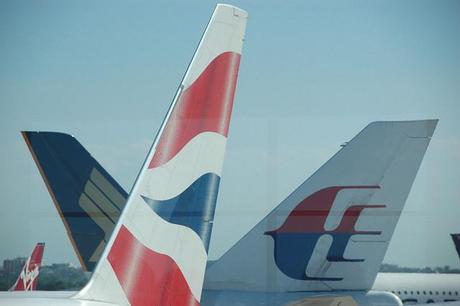 Photo credit: Milolovitch69 (Flickr Creative Commons)
I decided to investigate further online and found one reputable airline advertising direct
economy
flights from London to Sydney for £796 during the English summer, while a rival airline had return flights to Sydney priced at a mere £681. Granted, these flights were scheduled for a time of year when the Aussie winter would be in full swing but, nonetheless, it represented a huge contrast to the airline fares advertised in Australia for that same travel period.
A search on the Australian arm of Expedia for similar flights but this time from Sydney to London revealed an average price of $2,000 or about £1,350. Deal or no deal, this was a significant discrepancy and one with no accompanying explanation as to the reason for the vast price differences.
I asked my wife's uncle to try booking a pair of Sydney to London tickets from the UK in an attempt to take advantage of the lower fares, but the online booking systems wouldn't allow it. What about a one-way flight from Sydney to London, then a return ticket to Sydney taking advantage of the lower prices in the UK, and we'd then save the additional leg back to London for a future visit? Again, no joy. The price of a single ticket was almost as expensive as the full return ticket.
I was beginning to sense a conspiracy.
Having lived in Australia for a number of years, airfares have always been something of a bugbear for me. It's financially punitive enough trying to fly back to see loved ones from the other side of the world, but no-one wants to feel blatantly ripped-off. So why is it costing more for us to fly long-haul from Australia than for people coming the other way?
I've lived in Canada and experienced fairly consistent flight pricing between there and the UK - and vice versa. Ditto for the US. Double ditto for pretty much anywhere else I've lived in or have travelled to. I get it that the cost of most things in Australia, especially in Sydney, has been on the rise for years. From books to house prices, movie tickets to car parking, it's not hard to see why Australia has become one of the most expensive countries in the world to live in. I suppose that's the price you pay (no pun intended) for living in a country where the robust economy continues to buck the trend of poorly performing financial systems elsewhere.
But when it comes to flying home, and with no other available option, you can't help but feel overcharged and short-changed at the recurring sight of these exorbitant airfares when compared to the prices that folks are paying back in the UK. And this peculiar pricing framework doesn't discriminate because you'll pay just as much in the off-season as you will during the peak times of the year.
The airlines are for the most part silent on the issue. When it appears in the media, there's no response or explanation. The gross inconsistency in airfares here seems to exist because that's the way things are and the way they intend for them to stay.
It's accepted that airlines can do whatever they want to do and, as long as Australia-based Brits need to travel back to the UK regularly, they'll keep charging you what they like, when they like, and without any excuse. Which means that, for the foreseeable future, flying to Britain
will remain financially painful yet unavoidably necessary for expats living in Australia.

Is this a problem you've found? How did you get around it? Do you think those of us here in Australia should pay the same as the rest of the world for long-haul flights? 
Post a comment below.

Sign up for regular email updates. It's easy and free.