Hi fans and jewelry gals! Welcome to our first ever interactive shopping experience on 1928.com! We will be feeding you clues to three (3) specially selected products and once you find those, you will discover some exciting discounts to use towards your order! It's a treasure hunt for styles and savings!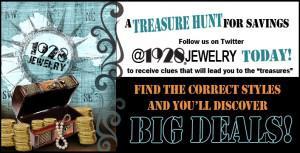 Here's how it will work:
1)   Make sure you are following us on Twitter @1928jewelry. If you don't have a Twitter account, don't worry! You can follow our feed by searching for 1928jewelry on the Twitter homepage, however that feed does not update quite as quickly, so if you do have an account, you should sign up to follow us for the most current up to date clues

2)   Throughout the day (Monday, April 4th) we will be streaming clues that will lead you through our site to find that special jewelry style. Some examples might include what color the metal is, what type of jewelry it is, the brand, etc. For those of you who aren't familiar with our filters located on the left side of our product pages, you can select what colors, brands and types of jewelry you want to view. These filters will be your best friend on this treasure hunt!
3)   The clues will be leaked on our Twitter account, and only on our Twitter account. There will be updates about the treasure hunt, but you will only find the information you need to find the select styles @1928jewelry on Twitter.
4)   Feel free to ask us questions and share what you find on Twitter! This is meant to be an interactive shopping experience, so if you find that special style, help friends by tweeting your own tips and hints. If you have any questions, a 1928 representative will be monitoring the @1928jewelry Twitter account throughout the treasure hunt, so direct your questions there. We will tweet sign-on and sign-off messages so you can know when to expect answers and clues. You can also try contacting us via Facebook.
5)   Finding the Discounts! Take guesses with each clue we give. You must add items to your shopping cart throughout the hunt. You will know when "X marks the spot!" (or that you found the right style) when you see that by adding that product to your cart, it automatically applies a discount! It's that easy! Add one of the three specially selected items to your cart and you will see the price adjust- no codes, no extra steps, just shopping!
6)   Keep an eye on your shopping cart Grand Total. Right above that number is where you will see a discount appear if you added one of our selected styles. Once you see the discount appear, you are free to add or remove anything in your cart with the exception of the item that allowed you the discount. Example: you added a ring and saw the discount appear- you can buy only the ring, everything in your cart, or you can go back and shop until your heart is content, but you cannot remove the ring or the discount will not be applied.
7)   There will be three (3) special items and three (3) rounds of clues leading to those items. They will all offer the same discount, so you can either wait to see if you would rather purchase the second or third item, or grab the discount while you can. The discount will only be offered as long as we have inventory of those special items, so you may want to snag it while you can!
So get ready to shop and remember this is meant to be interactive and above all FUN! Any questions should be directed to the @1928jewelry Twitter account. We will post times and any other information on our Facebook page as well to keep you up to date and ready to hunt for the treasures!
And remember, our Spring Sweepstakes is still going on and you can enter once a day every day! Winner receives $250 and second place winner receives $100 on 1928.com.
Happy Hunting/Shopping!