Heard of ~ Roscoe Tanner – a left hander from
America, known for his big serve.   In 1979 he reached the Finals of Wimbledon, eventually losing to the ice-cool Bjorn Borg in five sets.  Those days, it was Bjorn Borg Vs someone else !  
Wimbledon, the grass court tournament is most famous among the Grandslam events. 
Not sure whether Tanner – Borg  match was telecast but in the next year, we did see a new angry leftie throwing tantrums but stretching Borg no ends – that was John McEnroe; next year in 1981 he lifted the title – many of us, by now getting addicted to Borg's winning ways, could not digest that win.  In the following years, it was Jimmy Connors; John McEnroe; McEnroe; young Boris Becker in 1985; again Becker, Pat Cash, Stefan Edberg, Becker, Edberg, Michael Stitch …………. and slowly we started losing track… when Agassi, Samparas and others started winning…
in between, I craved to see Ivan Lendl winning [which never happened]; those were the days, when I would not even read the newspaper on the day next when Lendl lost……. 
When Ivan Lendl missed Wimbledon in 1982, he uttered what was to  become a famous  cliché: "Grass is for the cows."
It is not all easy ~  Wimbledon, the only tournament played on grass takes place over two weeks in late June and early July, culminating with the Ladies' and Gentlemen's Singles Final, scheduled always for the second Saturday and Sunday respectively. Wimbledon traditions include a strict dress code for competitors, the eating of strawberries and cream by the spectators, and Royal patronage. The tournament is also notable for the absence of sponsor advertising around the courts. In 2009, Wimbledon's Centre Court was fitted with a retractable roof to lessen the loss of playing time due to rain.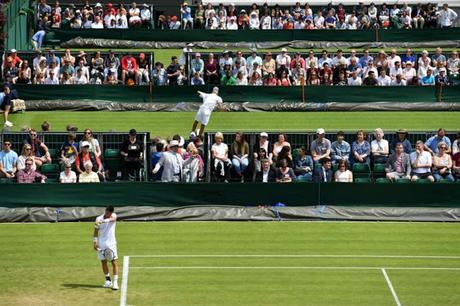 Wimbledon.com (photo credit & news credit too) reveals that it takes around 15 months to prepare a  Championships' standard court before it can be played on.  The grass seeded in April is  cut once the new grass reaches 15mm, and then cut three times a week in May to keep at 15mm.  During The Championships the height of grass will be 8mm, it will be cut every day.  The grass plant itself has to survive in dry soil. Expert research has  shown that a cut height of 8mm (since 1995) is the optimum for present day play and survival. Courts are sown with 100 per cent Perennial Ryegrass (since 2001) to improve durability and strengthen the sward to withstand better the increasing wear of the modern game.
Perceived speed of a court is affected by a number of factors such as the general compacting of the soil over time, as well as the weather before and during the event. The ball will seem heavier and slower on a cold damp day and conversely lighter and faster on a warm dry day. Contrary to popular belief, the  amount a ball bounces is largely determined by the soil, not the grass. The soil must be hard and dry to allow 13 days of play without damage to the court sub-surface.  Technically, the Singles Court length is  23.77m (78') x width 8.23m (27'); while that of the Doubles is  length 23.77m (78') x width 10.97m (36').
Of the many news, Roger Federer admits that he is "intrigued" by the back story of Britain's Marcus Willis, his second-round opponent and the new darling of Wimbledon. After making hard work of disposing of Guido Pella 7-6, 7-6, 6-3 on Centre Court, Federer will face Willis in perhaps one of the biggest mismatches in recent Wimbledon history. Their backgrounds could not be more diverse with Willis pocketing £258 prize money this season compared to Federer's $98,148,225 career earnings. Federer has 88 titles in his locker compared to Willis' solitary Great Britain F14 Futures triumph in 2013.  But in Tennis, like many other Sports, it is not the reputation or seeding that always matter ~ it is the player who plays better on that day !
In every tournaments players including top seeds do tumble – as there would be winners and losers. 

Some reports suggests that  Katie Swan's Nike dress was to blame for her Wimbledon defeat as the Player, aged 17, admits she had to tuck revealing 'nightie' Serena Williams refused to wear into her shorts.  Katie, 17, was beaten 6-2 6-3 by Hungary's Timea Babo and reports suggest that she  was visibly struggling with her £75 Nike dress.   A controversial tennis dress that is so flimsy it's been dubbed the Nike 'nightie' caused a stir in the opening matches at Wimbledon after players wearing it were left revealing a little too much flesh  ~ then there are suggestions that the £75 tennis dress is to blame for Brit star Katie Swan losing her match on Tuesday.
Katie, was visibly struggling with her dress and was forced to tuck the white garment into the bottom of her shorts at one point. Katie, who lost her match at Wimbledon, was wearing the floating Nike dress that has been slammed on social media for being too revealing and impractical.  The dress has made headlines this week after it was slammed for being too revealing. The strict SW19 dress code for players states that 'common standards of decency are required at all times' but it appears the sports kit giant is pushing the boundaries with the 'Premier Slam' dress for female competitors.  Katie is not alone as Czech star Lucie Safarova's midriff was also constantly on display during her first round victory against Bethanie Mattek-Sands.
Germany's Sabine Lisicki said she refused to wear the skimpy dress because it was so flimsy. She instead wore a skirt and vest top as she cruised to victory in her first round match.  Although sponsored by Nike, defending champion Serena Williams didn't wear the dress on Centre Court. She's been weating a version especially designed for her called the 'Nike Women's Premier Wimbledon Serena SW19 Dress'.
With regards – S. Sampathkumar
29th June 2016.