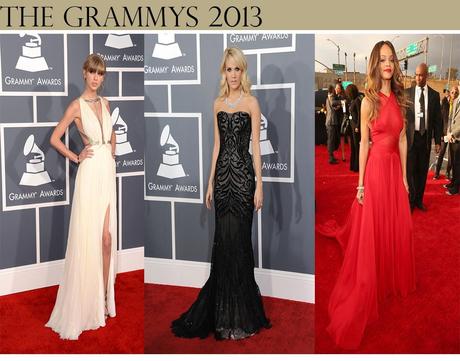 The Grammys this year definitely fell flat for me. I was so excited to watch the red carpet event but found it pretty boring once it started. I think that due to the clothing restrictions placed on the artists, a lot of them made it a point to break the rules. I felt that that was a little taboo and was overly done for publicity. I love Jennifer Lopez and she never stops surprising me but this time her dress was definitely outside of the dress code. *tisk* *tisk* Kelly Rowland was another one that I felt skirted the line for being inappropriate. Although her black cutout dress was strikingly beautiful, I thought it was the wrong choice for such a high profile classy event. 
 Above all the drama, I felt the best dressed ladies were Taylor Swift in the white J. Mendel dress, Carrie Underwood in the black strapless Roberto Cavalli and Rihanna in the Azzedine Alaia. I loved these combinations because each lady kept it very classy but not boring. 
   Rihanna's dress was a bright red and was a tad bit see-through in her abdomen area. THIS is how you add a little sexiness to your look without over doing it. Carrie Underwood is always very classy within her selections and her dress complemented her figure very well. It was the perfect choice. She jeweled herself up with a $31 million dollar necklace, which was just the right amount of jewelry. 
I also really enjoyed her projection dress that she wore during her performance. It just goes to show how far the fashion industry and technology have come. It reminded me so much of the Jean Paul Gaultier bride dress from his 2006 Collection. It's amazing to see how far ahead of the times some Fashion Designers can be.

 

And lastly, we have Taylor Swift, despite my thoughts on her as an artist, I felt that her dress was very flattering and age appropriate. It reminded me a little bit of the 1920's flapper look and I loved the addition of the gold straps.  
Fashion Always,
Alicia G.