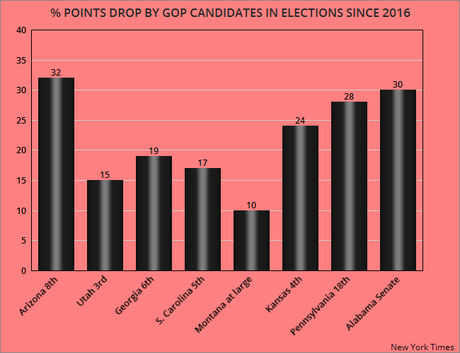 Republicans are running scared of the 2018 congressional election, and that has resulted in a record number of them deciding to retire instead of running for re-election. That fear is justified, and it's charts like the one above that's fueling their fear. The source for the chart is the New York Times.
Since 2016, there have been 8 elections to fill vacant seats in the U.S. Congress, and even though the Republicans have won some of them, they have experienced a huge drop in support in every single one of them.
To be blunt -- if you are a Republican running for a congressional seat in 2018, you had better be running in an extremely safe GOP district or state. Even then, you may not be safe. The elections since 2016 show the American public is abandoning the Republican Party in large numbers. The points drop in those 8 special election has been double-digits in all of them -- ranging from 10 points to 32 points.
This should encourage Democrats and Independents. If they want to flip Congress in this election, they can. All they have to do is show up at the polls this November.