My favorite wardrobe staple this season has got to be the silk button-down shirt (I call it my SBD). It's chic, timeless, ever-so comfy and can literally be worn in so many brilliant ways! The nice thing about an SBD is that no matter what style you are—rocker, boho, vintage, trendy or classic—it works for all, just like how you're able to dress it up for a nice occasion or make it sleek and casual for a day of shopping with your stylish girlfriends.
Yesterday Kit blogged about how style is making it yours and making it work. Just like how an LBD can transform the whole look with a striking necklace, sparkly scarf or belt, a simple SBD does just the same—and I'd argue that it does even more!
We know it's all about the details and that means the accessories, the embellishments, the tucks, the folding of the sleeves, choosing to button up all the way, half way or leave it open with long maxi dress…no matter what you choose, you can definitely make it personal and creative.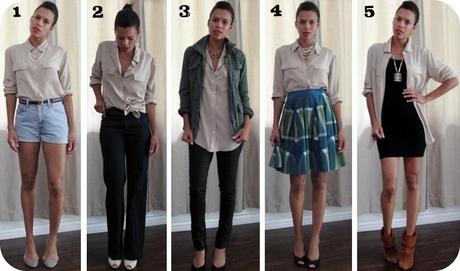 I love blogger/stylist/actress Grasie Mercedes' multiple take (above) on how to wear a silk button-down. She uses necklaces to her advantage and uses a strand of pearls over an all-buttoned-up shirt tucked inside a pair of light jean shorts for a cute retro look! Try it yourself by pairing it with your favorite statement bib necklace (see our past post on the button-up fashion) and trust me, you'll want to wear the look more than once

.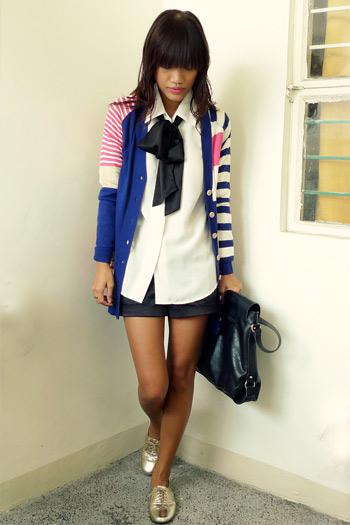 Blogger Aisa Ipac shows us her adorable eclectic look with a black ribbon/bow. If you're itching for something more creative, try taking a patterned or colored silk /satin ribbon and tying it around the collar!
What's your favorite way to wear a silk button down? Do you like it simple and minimalist or dressed and accessorized?
'