There are several factors to consider when an amateur decides whether or not to play an aggressive or safe golf shot, from the lie of the ball to where your next shot will land. Do you usually go for those shots that may have repercussions or do you lay up?
I must admit that most of the time I go for the safe approach, figuring I would rather have a second shot that I could make rather than picking myself out of troubles that lie ahead. There are times, however, where the safe shot is not always the best option.
Case in point... Gary Woodland, during the final round of the 2019 U.S. Open, decided on an aggressive play knowing that the trouble that lay ahead, namely, Brooks Koepka, was a birdie putt away from a tie for the lead.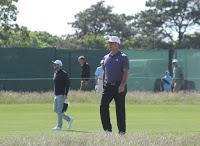 What did Woodland do?
Well, in this case, his caddie made the ultimate call which was for Woodland to take a 3-wood and hit the ball 255 yards to a raised green, knowing that par wouldn't win the U.S. Open.
The golf ball landed on the fringe and Woodland wound up with a birdie, putting him ahead of Koepka and in a position to win.
Not many amateurs can hit a 255-yard 3 wood (especially under pressure) but when should we take the long shot in golf or play it safe?
There are several bullet points to remember before taking a long shot.
- Never go for low percentage shots. If there is trouble near your target and you think the golf club you selected will get you there, steer clear!
- Get out of trouble safely. If your golf ball is buried in the woods or behind a tree, don't try a miracle shot - instead, get the ball back into the fairway with a look at the green.
- Take the trouble out of play from your first shot. Position yourself properly so that, if you need that next shot to be a miracle, you have the option.
Photo: Wikimedia.org