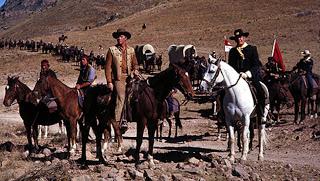 Early in his career, Sam Peckinpah adapted Hoffman Birney's Custer-inspired novel The Dice of God into a screenplay. The project lingered in development hell for years before passing to Arnold Laven, who worked with Peckinpah on The Rifleman. The Glory Guys (1965) is the unmemorable result.
The 3rd US Cavalry prepares for a punitive expedition against hostile Apaches. Captain Harrod (Tom Tryon) rekindles an old romance with widow Lou (Senta Berger), only to find she's engaged to scout Sol Rodgers (Harve Presnell). Tough Sergeant Gregory (Slim Pickens) tries whipping raw recruits into shape. When the regiment goes into the field, General McCabe (Andrew Duggan) disregards orders, pushing ahead of a converging column to claim victory for himself.
The Glory Guys alternates cavalry clichés and sheer boredom. Laven fills time with balls, brawls, love triangles and unit building like a cut-rate John Ford movie. Peckinpah's knack for gritty dialog and telling characterizations fails him, meshing with Laven's pedestrian direction. Whenever the pace flags we get another punch-up, with wooden doors and metal beams snapping like popsicle sticks. We wish the Apaches would hurry up and kill everyone.
An undistinguished cast doesn't help. Tom Tryon and Harve Presnell never made it as Hollywood leading men; their stiff performances show why. Senta Berger is their hapless love interest. James Caan plays an insufferable Irish clown, complete with gnarly brogue. Other troopers, like Michael Anderson Jr.'s youngster, lack personality. Slim Pickens fares best as a veteran Sergeant.
In its final half-hour, The Glory Guys finally captures our interest. James Wong Howe's photography provides striking widescreen shots of cavalry moving through the Durango countryside; the conflict between obsessive McCabe and prudent Harrod finally provides dramatic impetus. It culminates in an epic blood-and-thunder battle, with thousands of extras clashing in the Mexican scrubland. It's so impressive that we wonder why Glory Guys took so long to take flight.
The Glory Guys is a large-scale but typical cavalry picture. Peckinpah revisited this subject (and re-enlisted several cast members) with Major Dundee, a flawed but far better Western.