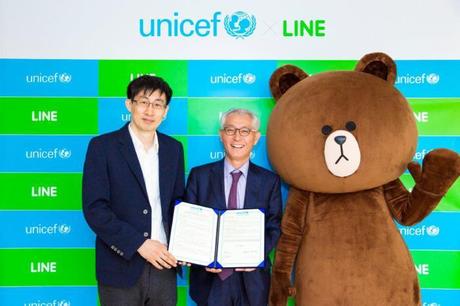 Signing Ceremony_LINE CEO (left) and Executive Director of The Korean Committee for UNICEF (right) with LINE's character Brown!
In the past few months, I have posted several times about various initiatives by LINE Corporation that offer the users of LINE app a chance to earn profit just by messaging or sharing stickers. This time, LINE Corporation has done something even better. This time, they have entered into partnership with UNICEF to raise a fund of minimum Rs. 187 million with its LINE Stickers and Free Coins.
LINE Corporation is the world's leading mobile platform that has over 181 million monthly active users. LINE and UNICEF signed a global partnership to raise this fund on February 13th 2015.
As part of this initiative, LINE plans to use character licensing and will produce and sell merchandise like Plush Toys and mugs etc based on LINE's flagship characters. All these toys and mugs will bear the UNICEF logo. LINE will also raise funds for UNICEF by developing and selling special LINE stickers. LINE's virtual coin called 'Free Coin' will also help in raising the fund. Through this partnership, LINE and UNICEF aim to raise an estimated Rs. 187 million in 3 years.
Jong Nam Oh, the Executive Director of the Korean Committee for UNICEF, said "It is highly meaningful that Korean Committee participated as a representative for the partnership between UNICEF and LINE, a global corporate and a messenger app used in 230 countries worldwide." He added that "The strategic partnership between UNICEF and LINE is expected to enhance brand value, produce competitive products, and moreover, create synergy to increase sponsoring opportunities for UNICEF using LINE's digital platform."
Jung-ho Shin, CEO of LINE Plus Corporation and CGO of LINE Corporation commented, "LINE has been constantly evolving to become the world's leading mobile life platform. I hope this partnership brings excitement to all LINE users by being able to take on an important role to support the children in developing countries."
As these funds are to be raised for UNICEF, it goes without saying that they will be used for the benefit of children. The funds collected by LINE will be utilized for financing various initiatives taking care of the health, nutrition and education of children in developing nations.