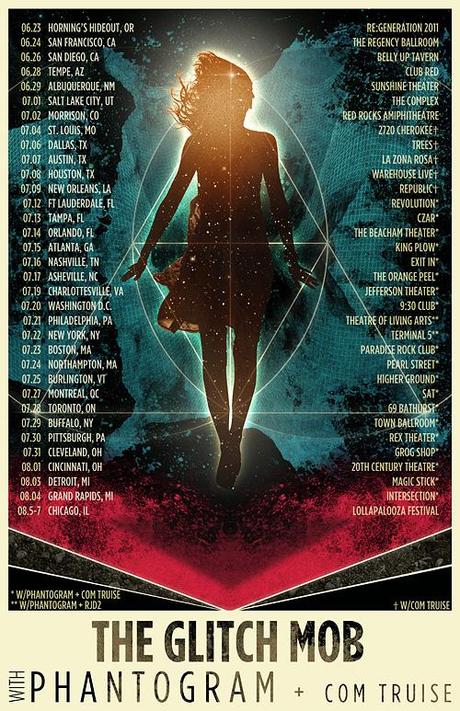 from the press release for the tour:

Releasing one of the year's premier electronic music albums, pursuing an epic tour schedule spanning 2 nationwide tours including Coachella, Lollapalooza and Ultra, plus tours of the U.K. and Australia – apparently all that wasn't enough for The Glitch Mob. If anything, it's just proven to be the beginning...
The Los Angeles-based trio comprising Justin Boreta, Ed Ma, and Joshua Mayer continues their movement into 2011, gearing up to embark on a 35 date tour beginning June 23rd in North Plains, Oregon at the Re:Generation Festival. There they will perform alongside acts such as Phantogram and Com Truise - who join the tour on select dates. The tour ends with a triumphant return for the Mob at this summer's Lollapalooza. Other highlights include Sasquatch Festival, NYC's Terminal 5 and Red Rocks.

Here is a brief glimpse into their live show, this snippet was recorded March 19th in Chicago:
Glitch Mob YouTube
The Glitch Mob
have tons of free music on their music page. Here is one of the tracks you can grab for free by joining their mailing list:
White Stripes - Seven Nation Army (The Glitch Mob remix) [click to download]
Join The Glitch Mob mailing list for info on new music, tour updates and more::
The Glitch Mob Facebook
Click Here to buy music from The Glitch Mob from iTunes.

One more treat, a music video for The Glitch Mob remix of Daft Punk's "Derezzed" from Tron Legacy: