What's better than running in San Francisco on a cool summer morning? Doing it with thousands of your closest friends and Giants fans!! I have to admit, as much as I don't like bigger races, it was fun to see everyone running around in their orange and black, although I wonder if they are really fans, or just like to dress up. It doesn't matter; it made me feel all warm and tingly inside.
I think I mentioned that I lined up right at the start this time, and when I say right at the start, I mean front and center, second row back, right behind the really fast people. So I didn't have to pass anyone! And this, my friends, made a big race into an enjoyable one. If there are 20 people or 20,000 people behind me, I don't care! It makes the race so much better. I may have pissed off a few fast people who had to pass me, but so be it.
I ran this race with a friend of mine who runs about 10 miles a week. When he asked me what my pace was going to be, I said that I just wanted to PR, which meant I wanted to get below a 1:37. He said that he had been training at a 1:35, but wanted to beat that by a bit. This is why you shouldn't run with guys. His slow pace, his pace he runs on his one 10 mile jaunt a week, is faster than my speedy, feel like puking pace! But, we decided we would start off together and if he needed to go on ahead, he would. This would put us at about a 7:15 pace according to the Cool Running pace calculator.
Instead of doing the usual recap, I am going to do a few Good, Bad, Uglies.
The Good: Mile 1
The Bad: Mile 13
The Ugly: Mile 3.4 / Mile 9.3 (Van Ness Hill / Fort Mason Hill)
The Good: Having a partner who is faster than me kept me going.
The Bad: It was a little bit too fast for me.
The Ugly: Doing a hilly trail run the day before a race is not a good idea. My legs were like lead!
The Good: The run started and ended in the ballpark.
The Bad: The run went right through Fisherman's Wharf
The Ugly: The course went over two hills.
The Good: Brunch afterward at Grub.
The Bad: The reason we needed to eat was because there was no swag food.
The Ugly: There were beers, but they cost 9 dollars.
Here is a cliff note recap: The race was good; the course was beautiful; it was mostly flat except for 2 hills; we got to see the golden gate bridge and lots of people wearing orange. There were plenty of water stops, but no Gu/fuel except for power bars. By the time we finished, which was not super late, there was no food left. We were told there had been tons, but the 5k people ate it all. Race director fail! My legs hurt and we wavered between a 7:08 and a 7:40 pace the entire time. My friend ended up hurting his knee so I ended up going ahead of him. The race ended on the field where we got to walk around and pretend to be ball players (that part was really cool!)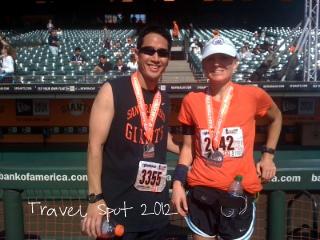 Final time: 1:36:35 (7:22 pace)
This was a new PR by 42 seconds!
Verdict? If you want a Matt Cain Bobble-head and a half of a banana, you should run this race. However, if you just want to run in the city and go to AT&T park, call me, we can do both without paying $100 to do so!
Have you ever run a race that went through a stadium of some sort? Do you get annoyed when you pay a lot for a race and don't get good swag? Would you rather run with someone faster than you or slower than you?
Don't forget to stop by Jill's for some Friday fitness inspiration!