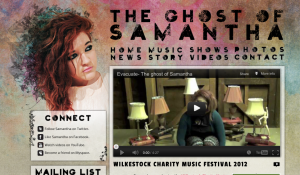 I recently had the pleasure of working with Samantha Grint aka The Ghost of Samantha on her new website.
Samantha is the sister of Harry Potter star Rupert Grint, and is an upcoming singer/songwriter with influences including Kate Nash, The Pixies and Marina & the Diamonds. It's been a pleasure working with her and I'm predicting great things for her. At such a young age she has already written some very witty tracks, and I'm sure there is plenty more to come!
It's been great to work with an artist who has such an individual style and sense of direction, and I believe that together we were able to create something which represents her music and will appeal to her target audience.
If you're looking for a music website of your own, get in touch and we'll talk!