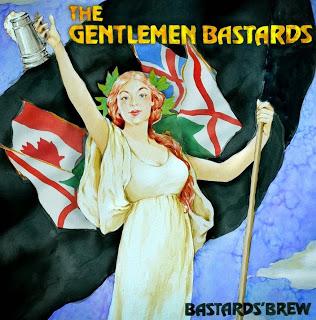 The Gentleman Bastards! How cool of a band name is that? Pretty f'n rad is what I say. So is the rip roaring, grooved out stoner rock these boys from Alabama pack. Actually the band has members from the US, Canada and Iceland believe it or not. Talk about bastardization of culture, those flags are waved proudly.
Riding hot off the heels of their self titled debut, which put them on the underground stoner map, Bastard's Brew creeps up on you like shots of Crown Royal to an unsuspecting born again Christian. It's all smiles through and through, with a sense of comfort no matter what block of the stoner scene you reside in. Clocking in at 8 songs, 35 minutes, with 2 added instrumental takes on songs 1 and 3, Bastards Brew is quick and dirty, splashing you with an onslaught of groovy guitar jams and hypnotically enticing vocals. Those infectious vocal cries bring the jazzy bass, head bobbing drum lines, and groovy guitar fuzz full circle to create an intoxicating substance to abuse.
Each song flows heftily into the next and leaves no room for backfill. The album plays through rather quickly and demands a repeat listen, as truly unique and awe inspiring music does. If you happened to hear their self titled debut and liked what you heard, or if you are new to the Gentleman Bastards, then fear not, Bastard's Brew holds the door wide open and will have you buzzing in no time. Check it out over at bandcamp for a listen.