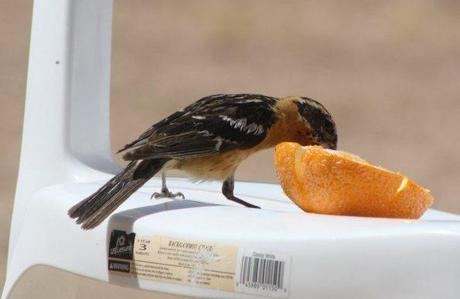 Black-headed Grosbeak in our yard near Blythe, California on May 30, 2011
The Great Backyard Bird Count and eBird have made it into two local newspapers over the last week. Charlie Burchfield, the author of both articles, featured the GBBC in the Tri-County Sunday and in the Courier Express.
Here are a few key things he mentioned:
"It is a free event that provides an opportunity for families, students, and people of all ages to discover the wonders of nature in backyards, schoolyards, and local parks. Participation in the event also provides an important contribution to conservation."
"The data captures a picture of how bird populations are changing across the continent from one year to the next."
"The data collected helps the Game Commission and other wildlife researchers understand the importance of particular locations to birds and bird population trends, information that is critical for effective conservation. These efforts enable everyone to see what would otherwise be impossible: a comprehensive picture of where birds are in late winter and how their numbers and distribution compares with previous years."
This is my favorite part:
"Participants in the Backyard Bird Count are also encouraged to submit their reports to the Game Commission's website www.pgc.state.pa.us and click on "Wildlife" in the menu bar at the top of the page, then choose "Birding" and then click on "Pennsylvania eBird."
That's awesome. It's about time that someone local tries to get others to submit their sightings into eBird. I've been trying for the last couple of years with limited success. Maybe, this article will get more people involved in the GBBC and eBird!
Where will you be birding during the Great Backyard Bird Count?
Advertisement