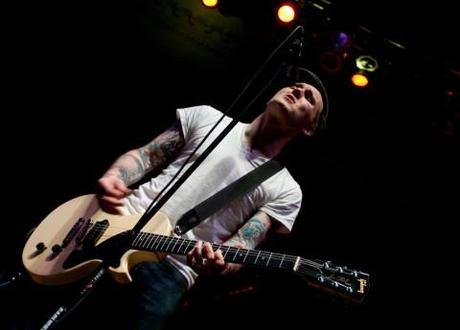 The Gaslight Anthem in concert. Photo credit:
Foshydog
The background
The New Jersey punk rockers The Gaslight Anthem are back with their fourth album, Handwritten, which has been receiving a lot of hype from critics. The album has received overall positive feedback from all over the web, scoring 71 percent in the Metacritic, 8/10 in NME, and B+ in the A.V. Club.
The Springsteen of our time
Many critics compared the band to the likes of Bruce Springsteen and Johnny Cash, in both delivery and content, something that came through especially well in this album. John Hadusek from The Entertainment said that the songs resemble Springsteen's in that they have a special way of connecting to people. Frontman Brian Fallon's lyrics, he continued, "make protagonists out of regular chicks and dudes"; the singer's "husky croon", noted Alistair Lawrence at the BBC, also sets off the favourable comparison.
Not the same old song
Since the band signed with Mercury Label, a major-label recording studio as opposed to the indie label with which they had recorded their last three albums, it's hard not to notice the subtle differences. Lawrence at the BBC deemed the new album the band's "attempt to avoid repeating themselves". In other words, it's changed, yes. But this need not be a bad thing. Handwritten is certainly "beefier and more emotionally offering" than the previous ones, remarked Leonie Cooper of NME, noting that "Fallon's showing more of his true self than ever before." Hadusek from The Entertainment seemed less pleased: Though the album "has heart, musically […] the band's lost its edge", he said, adding, "When the band reaches punkish tempos ('45′, 'Howl', 'Desire'), the guitars sound restrained and controlled; they no longer sprint and dance like they did on The '59 Sound."
But still a similar track
"I can't move on and I can't stay the same".
This line from the lyrics of Handwritten's lead single, '45', accurately captures the band's actual status with the release of its new album, argued Hilary Saunders from Paste Magazine. At the end of the day, subtle changes are just that; subtle. As long as the soul of the group is in tact, and most would agree that it is, the group won't fail to dazzle followers as it continues doing. Even Hadusek from The Entertainment conceded that "Although the band sounds like it's holding back, Fallon sings with passion and gusto. He makes you feel something."
The Gaslight Anthem's '45′: