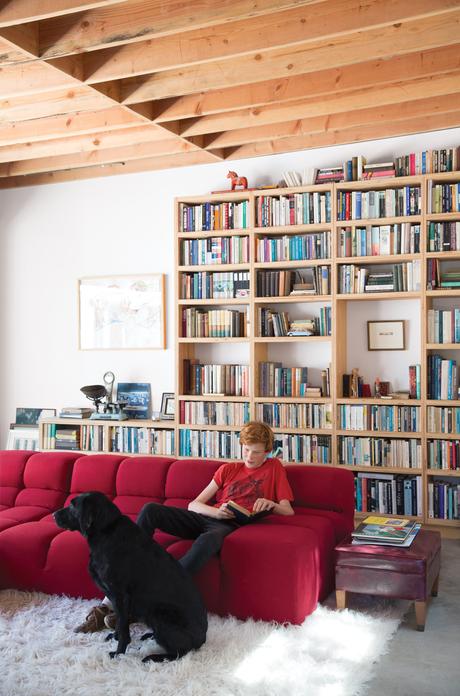 Wes Mahony lounges on a Tufty-Time sofa by Patricia Urquiola for B&B Italia in the family room that architect Emily Jagoda created for his family in their tree-damaged garage in Santa Monica.
Project  May/Mahony Studio Architect  Jagoda Architecture
When Libby May and Eoghan Mahony purchased a 1950s post-and-beam house in Los Angeles' Santa Monica Canyon, they envisioned someday transforming the garage and adjoining workshop into livable space, with an office for each of them and a family room they could share with their sons, Wes, 14, and Duncan, ten. But then an enormous stone pine crashed unceremoniously into the garage, and suddenly the plan was no longer on the back burner. "Our 'someday' could have been years," May acknowledges. "In the end, it was great that we were forced to do the project."
May, a freelance book editor, and Mahony, a television writer, called on architect Emily Jagoda, who had designed an addition to their previous home. After sizing up the two-car garage and the dark, low-ceilinged workshop alongside it—about 600 square feet in all—Jagoda came up with a design for an informal retreat that would accommodate a comfortable family room, a pair of offices, and a bathroom.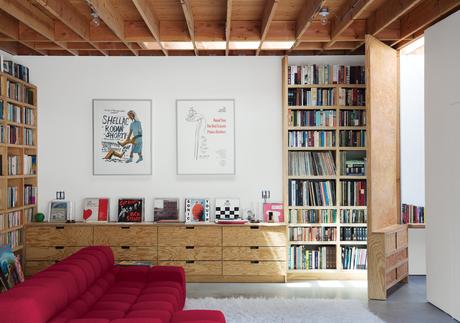 The door to Eoghan Mahony's office is set on a caster and has a hinge that runs the entire ten-foot height.
Rebuilding on the original footprint, this time with ten-foot-high walls, was the first step. A shared office was briefly considered, but the long, narrow workshop felt more like a hallway, so Jagoda borrowed a few feet from the garage and carved out two separate offices, leaving enough square footage for an economical bathroom in between.
Sliding glass doors extend 16 feet across the front of the family room, opening it to the patio. Jagoda retained the original concrete floors throughout—a detail the couple appreciate. "Emily was really keen to keep what was there," May says. "She loves the archeology of a place."
Jagoda also has a fondness for plywood, and, working with cabinetmaker Victor Cejeda and contractor Forrest Poorman,  she used it liberally for bookcases, ceilings, and cabinets. "Many people love plywood for its association with the Eameses' World War II–era wood splints," she says, "but I like it because of the early work of Frank Gehry. I love the pattern of the Douglas fir grain, as well as the color and texture. It's great to work with such a seemingly humble material and treat it like something special."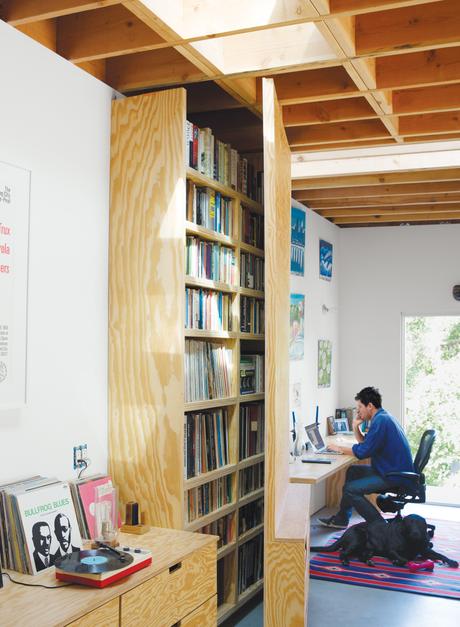 Designed by Jagoda, the door swings open to fit in front of a bookshelf.
Simple and functional, the offices offer abundant natural light as well as built-in desks and storage. "I wanted a big desk because I tend to collect stuff when I'm writing," Mahony says. "Other than that, I needed lots of shelving for books and records, since I have a quasi-pathological impulse to collect those two things." 
A five-by-ten-foot door separates Mahony's office from the family room; when open, it fits neatly into a pocket where a custom cabinet meets one of the bookshelves. "It's really low-tech—just a big hinge and a wheel," Jagoda explains. Mahony adds, "I love that my office can either be hidden from the main room or become an extension of it." 
Whether they're hanging out with friends or playing ping-pong outside, Wes and Duncan are in and out all day long, while May and Mahony retire to their offices as needed. And if that tree hadn't fallen? May laughs. "This would still be full of boxes." 
Log in or register to post comments