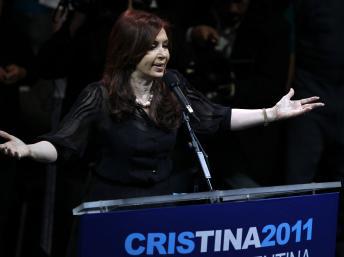 Argentine President Cristina Fernandez Kirchner. Photo: http://www.english.rfi.fr
This weekend's elections in Argentina produced an overwhelming victory for incumbent President, Cristina Fernández de Kirchner. Not only did she score an historic victory capturing 54% of the popular vote in the first round—winning by the largest margin ever in since democracy was brought back in 1983—she also recaptured control of the National Congress.
The vote presents a real mandate for her leadership in the next four years, especially since she accomplished it without the behind the scenes labors of her late husband, Nestor Kirchner.
The real question is how President Fernández will use this mandate to forge the future for her country. Early indications are that she intends to continue the economic and political course that she and her husband began eight years ago using the popular vote as a stamp of approval for her past policies. Through government stimulated consumer demand, those policies have yielded a 9.5% increase in GDP during the first half of this year.
However, this path is fraught with troublesome signs and if she pursues it could lead to her undoing. Critics point to the following worrisome indicators:
Government statistics claim that the inflation rate is at 9% but independent analysts place the rate at more than 20% per year. The latter calculation would bring the GDP growth rate down to a more modest 5.9%
Government spending is increasing on average 34% per year. In August, it rose 43% compared to a year earlier while revenues climbed 34%.
Capital flight is increasing, with $9.8 billion leaving the country during the first half of the year.
The Kirchners' economic growth model appears to have won the approval of the Argentine electorate given the margin of President Fernández' election. However, it is doubtful that voters understand the full implication these policies for the future of the country.
CIPE partner, the Center for the Implementation of Public Policies for Equity and Growth (CIPPEC) worked throughout the campaign to stimulate substantive political debate by researching and presenting policy positions as part of their Agenda for the President program. Their focus has not only been on national fiscal spending but on education, social welfare and 12 other important policy topics. CIPPEC's efforts are intended to create a national dialog on government policies across the board and provide important civil society input into the political process so fundamental to democracy in Argentina.
As President Fernández prepares her government for a second term, it is not too late to engage in such a discussion with civil society groups such as CIPPEC. As in any country, democracy in Argentina would benefit greatly from a better-informed and engaged public that thinks about the future for themselves and their children.