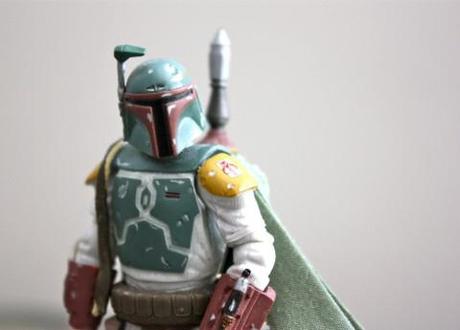 Boba Fett. Photo credit: Ken FAger, http://www.flickr.com/photos/kenfagerdotcom/4328713400/
Want to be awesome? If so and you've got $100,000 to spare, then considering buying one of the most amazing useless and potentially dangerous toys out there: A real jetpack. A jetpack almost just like the one Boba Fett wore. Really.
Tech and social media blog Mashable broke the news on Thursday that Florida company JetLev is planning on bringing their water-powered jetpack to market in spring 2012. The R200 can rocket the wearer (driver?) to a height of 30 feet, using a 200 horsepower engine to pump two extremely high-powered streams of water, generating more than 420 pounds of thrust. Of course, as Mashable noted, JetLev isn't the only company working on personal flying devices: Martin Aviation launched the Martin JetPack 5,000 feet into the air during a test flight in New Zealand just this past May.
But that kind of competition can only be good for the jetpack consumer, who we're picturing as the love child of Sir Richard Branson and George Jetson.
More gadgets »