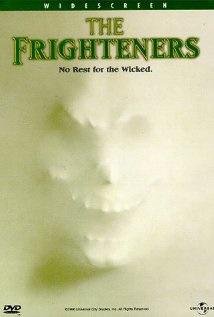 Director: Peter Jackson
Writer: Fran Walsh, Peter Jackson (Screenplay)
Starring: Michael J Fox, Trini Alvarado, Peter Dobson, John Astin, Jeffrey Combs, Dee Wallace, Jake Busey, Chi McBride
Plot: After a tragic car accident that killed his wife, a man discovers he can communicate with the dead to con people but when a demonic spirit appears, he may be the only one who can stop it from killing the living and the dead.
There may be spoilers the rest of the review
Verdict: Great Ghost Story Thriller
Story: The Frighteners starts with Patricia Ann Bradley (Wallace) being hunted around her house by a ghost before we cut away to learn about a string heart attacks happening around the small community. We meet Frank Bannister (Fox) trying to lurk around a funeral before he crashes into Ray Lynskey (Dobson) garden. Following on from that event we see Ray's wife Lucy (Alvarado) as she gets to give treatment to Patricia. Upon learning about the history of Patricia and her lover Johnny Bartlett (Busey) who went on a killing spree before being executed. This has nearly everything put together early on but when The Lynskey start getting haunted they call Bannister a paranormal investigator to clean on the house of the ghost.
We learn that Bannister has been working with three ghosts The Judge (Astin), Cyrus (McBride) and Stuart (Fyfe) to create paranormal activity but now Bannister maybe about to face something new when he sees a number carved into Ray's head. When Ray ends up dead he goes to Bannister for help after missing the light to the afterlife. When the next victim turns gets killed leaving Bannister the prime suspect but also the only person who could save the town even with FBI agent Milton Dammers (Combs) trying to stop Bannister we can only wait and see why the grim reaper has decided to hit this town.
The Frighteners gives everything I love in a good ghost investigation type film, I know it is more focuses on a human trying to find the answers but does end up using the supernatural side of things. I like how this is a mix of a serial killer film as well a who dun it which are always my favorite types. I do think this one sometimes gets ignored and I never knew why because it was something that would end up being enjoyed all the way through. (8/10)
Actor Review
Michael J Fox: Frank Bannister is the former architect whose wife gets killed leaving him to gain paranormal powers where he can work with and see ghosts, his life is about to take a turn when he comes up against the grim reaper who just so happens to be the same person who took his wife. Michael uses all his charm in this role which is sadly his last leading role in film. (8/10)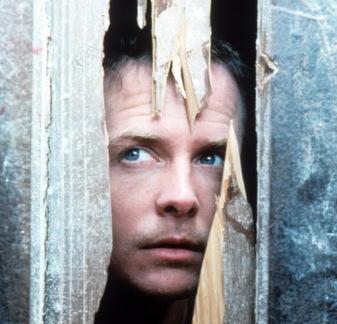 Trini Alvarado: Dr Lucy Lynskey is the wife of one of the victims who has to work with Frank to solve the mystery and finish of the grim reaper forever. Trini does well as the damsel in distress teaming up with Frank. (6/10)
Peter Dobson: Ray Lynskey is one of the victims of the grim reaper but he doesn't go into the light which leads him to go to Frank for help, where he can protect his wife from beyond the grave. Peter does a good job in the supporting role being involved in a lot of the laughs. (7/10)
Jeffrey Combs: Milton Dammers is the FBI agent trying to figure out what is happening h believes it is Frank but due to his real connection we understand why he is slightly eccentric while questioning. Jeffrey brings his style to this film that all works perfectly for his role in the film. (7/10)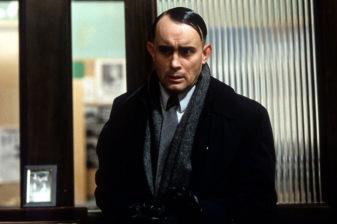 Dee Wallace: Patricia Ann Bradley is the former lover of Johnny Bartlett who is being haunted but she does have a secret about who involvement with the killer and his rampage. Dee does a god job in the supporting role showing a range for the character. (7/10)
Jake Busey: Johnny Bartlett is the serial killer who racked up 12 before he was captured and executed but he wasn't happy with that total as he comes back continuing his killing spree from beyond the grave. Jake is a perfect serial killer character. (7/10)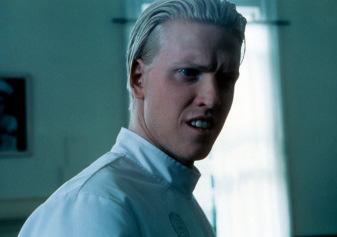 Support Cast: The Frighteners has a supporting cast that includes the ghosts helping Frank and people trying to decided whether to believe him or not.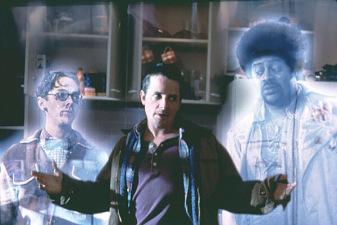 Director Review: Peter Jackson – Peter has been known for his work in with the massive Lord of the Rings franchise but everyone needs to remember that he started in horror and this was his stepping stone to the very top. (8/10)
Comedy: The Frighteners has good laughs throughout which help get through the serious side of the story. (7/10)
Horror: The Frighteners gives us a good horror villain because what could be scarier than a ghist that literally stops your heart. (9/10)
Settings: The Frighteners keeps all the action inside the small town where the community ends up feeling the effects of the horror. (8/10)
Special Effects: The Frighteners has good effects that still work today nearly 20 years later. (9/10)
Suggestion: The Frighteners is a film I think people should watch, it is a nice mix of horror comedy without just being heavily swayed to one genre. (Watch)
Best Part: The first vision kill is shocking.
Worst Part: Doesn't have enough comedy for me.
Funniest Scene: The Judge in the museum.
Believability: No (0/10)
Chances of Tears: No (0/10)
Chances of Sequel: No
Post Credits Scene: No
Oscar Chances: No
Box Office: $16 Million
Budget: $30 Million
Runtime: 1 Hour 50 Minutes
Tagline: Frightening, isn't it?
Trivia: It was during filming this on location in New Zealand that Michael J. Fox made up his mind that he'd had enough of being away from his family making movies and decided to head back to the small screen and star in a new sitcom (Spin City (1996)). This turned out to be his last leading role in a film.
Overall: A personal favorite of mine that really is underrated.
Rating