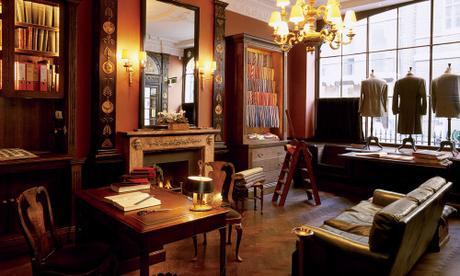 Woody Allen opens the film Annie Hall with that famous line: "I would never want to belong to any club that would have someone like me for a member." That's the line that was in my head when I went to see Anderson & Sheppard a few weeks ago, when they were in San Francisco as part of their US tour. Historically, the firm has been as famous for their inscrutability and unfriendliness as they are for their tailoring – which, as strange as it sounds, somehow just adds to the allure.
Most of the stories revolve around the firm's sharp, cold professionalism and unwillingness to accommodate even the smallest of requests. Some have put it as: with Anderson & Sheppard, it's less about what you want and more about what the firm wants to give you. Graydon Carter once wrote about his experience with the no-nonsense formality and subtle chiding he received from Norman Halsey, the firm's managing director back when Carter was first introduced to Anderson's in the 1980s:
A few years after we had gotten to know each other, I suggested that he call me Graydon rather than "Mr. Carter." "Of course, Mr. Carter," he replied. On occasion, I would try to get him to make something outside the mould, something a bit dramatic, to which he would say "A most daring idea, sir," and the plan would be quietly dropped. During one fitting, when I felt I had put on a bit of weight, I asked Mr. Halsey if he could cut it so the extra pounds wouldn't show. "We're only tailors, sir," he replied politely, but firmly.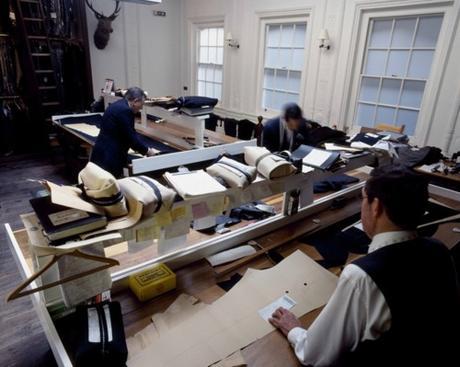 Carter was one of the luckier customers. Mr. Cameron, a cutter whose temperament was said to match his fiery red hair, often threw customers out, shouting after them, "you're in the wrong shop!" Tom Mahon, a former cutter at the firm, once recalled a funny story he heard from his friend Mr. Cooper: 
Whilst Mr. Cameron was fitting a illustrious, high-ranking member of English Society, young Mr. Cooper was then Mr. Cameron's striker (undercutter), standing silently with pins and chalk in the corner of the fitting room, as Mr. Cameron masterfully fitted the gentleman in question.

The unfortunate customer made the mistake of inviting his wife into the proceedings. Officially that's not a problem in Anderson's, as long as the wife stands quietly in the corner in silence like the apprentice cutter, clutching her handbag instead of pins.

Sadly, this is where the good lady made a near fatal mistake, by daring to utter a minor detail with regard to the fit of her husband's coat.

Within a split second Mr. Cameron's tape was lassoo'd around her neck with more skill than any western wrangler, the chalk thrust into her hand, followed with the statement, "You seem to know what you're doing, Madam. The job is yours!"

And with a swoosh of the curtain he was gone, like a Savile Row Batman.
I wasn't expecting to get thrown out, but I was half expecting to get a cold shoulder. Especially since most of their customers order multiple things at a time (some up to few dozen). I, on the other hand, was only planning to get a suit or sport coat, and was going in without even the foggiest idea of what kind of fabric I wanted.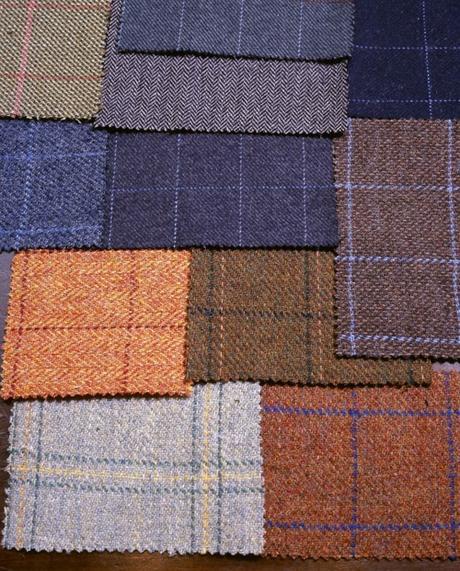 The service, however, couldn't have been friendlier. Colin Heywood, the firm's managing director, greeted me at the door. He was wearing a gray double-breasted suit cut in the signature A&S way: full chest with a nipped waist and soft, slightly extended shoulders. It was as beautiful of a silhouette as you could imagine, and just like all the A&S suits and sport coats I've admired in photos throughout the years. 
Heywood took me to the main room, where he helped me flip through dozens of fabric books, jotting down references along the way so he could send me swatches once he returned to London. Later, I met Danny Hall, the new Head Cutter who's come after John Hitchcock (who's now retired). Hall was equally as friendly. While measuring me, he cheerfully said, "I can tell you work out, sir." (I don't, but I'll take the compliment). 
Perhaps the only amusing moment was when I met John Malone, the trouser cutter. After shaking my hand, he looked down at my Neapolitan pants and asked: "Is that how you like to wear your trousers, sir?" A typical question for initial meetings, although I could tell he didn't approve of the slim Italian cut. As he asked, he reached down and grabbed the fabric around my thigh, I assume to check to see if any fabric could even be grabbed. I said I do, although I'll take whatever's the house style for Anderson's. Colin Heywood broke the awkward silence by saying they cut slimmer trousers nowadays – typically pegged to a 17″ leg opening, rather than their more traditional 18″, and finished with a 1.75″ cuff (compare that to my pants, which have a 15.5″ opening and 2″ cuff). 
Unfortunately, the company isn't really set up as a typical traveling operation. Customers are expected to be seen in London after being measured in the US. They can do fittings in the US, but they only come to California once a year (twice to NYC). Which means, since I don't have plans to visit London, I won't be seeing them again until the fall of 2016. A shame since they were such nice people, but at least for that meeting, they'll be coming with my basted tweed sport coat. 
(pictured below: images from Anderson & Sheppard's A Style is Born book and Instagram account. Also a great video from High Toned)