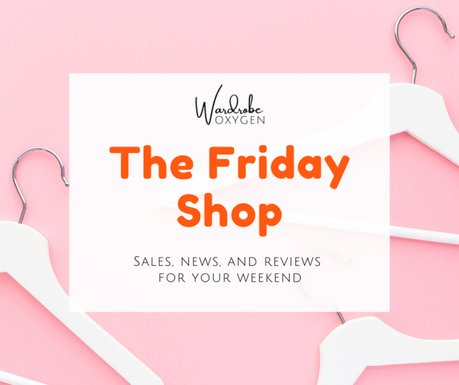 Sale Alert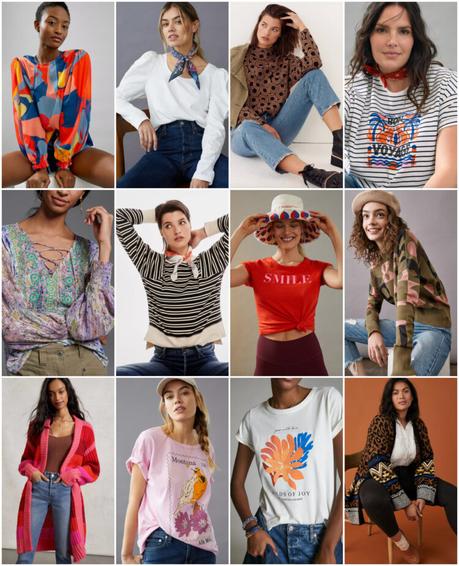 Top row:
one
|
two
| three | four
Middle row: one | two | three | four
Bottom row: one | two | three | four
Anthropologie has 40% off full-priced tops and sweaters at this link. I don't know how long this will last; I'm writing this Thursday and it says, "For a limited time." I took advantage of this sale by ordering this top; I like how it's a fun print for Zoom meetings and Instagram Stories, it's flowy, and would look nice with black pants and come summer with some distressed denim shorts.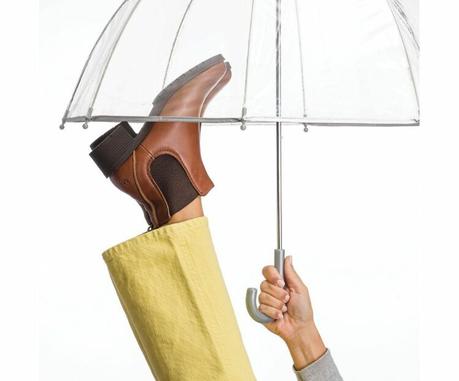 Hush Puppies has really upped their style game in the past couple of years. They have a shoe of the month that is 30% off, this month it's the Hadley Boot. This is a great classic boot that comes in a pull-on Chelsea or side-zip option, is water-resistant, and available in three colors and two widths. Use promo code FEBFAVE at checkout to get 30% off the Hadley Boot.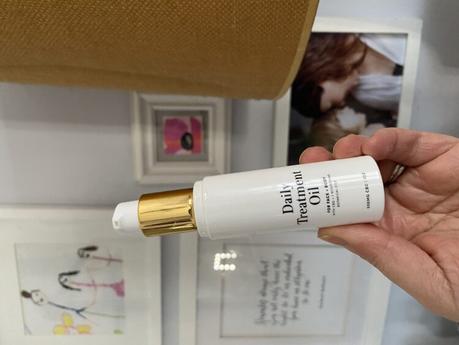 I just ran out of a bottle but had one in the linen closet as I don't want to go a night without!
Equilibria has a BOGO sale going on through Monday, and this is a sale you do NOT want to miss! Buy any product sitewide and get the second of equal or lesser value 50% off. This sale is for new and existing Equilibria customers; if you are a new customer use WARDROBEOXYGEN at checkout and get an additional 15% off your entire order. My picks:
For the face: I use this face oil every night without fail and since using it my skin has been so happy. The winter skin issues I've dealt with before (dry patches, red and broken skin around the nose and mouth, crepey under the eyes) is gone thanks to it and no breakouts.
For aches and pains: I need to do a review of all the CBD topicals I've tried, but the Equilibria Relief Cream is by far the most effective I've tried. I put it on my back every night before bed, and it's healing too. After a Wardrobe Oxygen reader shared she uses it to heal her cuticles I've been doing the same and it works wonders! I also love the Mindful Mineral Soak; it's not cheap so I save it for special/achy occasions but it too works wonders and is more effective than other brands I've tried.
For anxiety/sleep/inflammation: I have written about how I use CBD before and how I use CBD for sleep. If you are curious about CBD for these purposes, or have tried CBD and want to get it cheaper and delivered monthly, I highly recommend the Balance Box. It's easy to pause or cancel a subscription, but with a subscription, you automatically get 20% off each month.
Keep in mind, you can subscribe to any individual product as well as the boxes at Equilibria. Subscribing ensures you get the items every month at a 20% discount, no shipping or subscription cost, and I know from experience it's easy to pause, adjust, and cancel your subscriptions. And if you're new to Equilibria, WARDROBEOXYGEN will get you an additional 15% off that first month.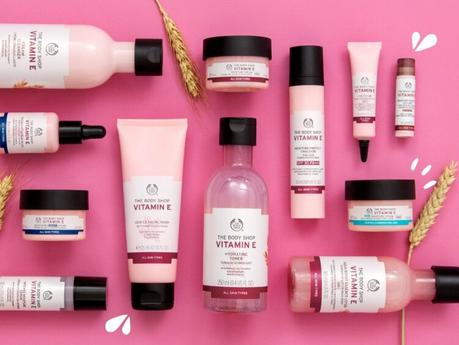 The Body Shop is a company I have loved for decades. I even worked as a trainer for the company for a couple of years in the early '00s. Through March 8th, The Body Shop has all cleansers and toners 25% off and free shipping on any orders $35+. I am partial to the Vitamin E Gentle Face Wash and the Vitamin E Face Wipes (were a go-to for travel).
What I Bought and What I Thought
Accessories That Make Me Feel Pulled Together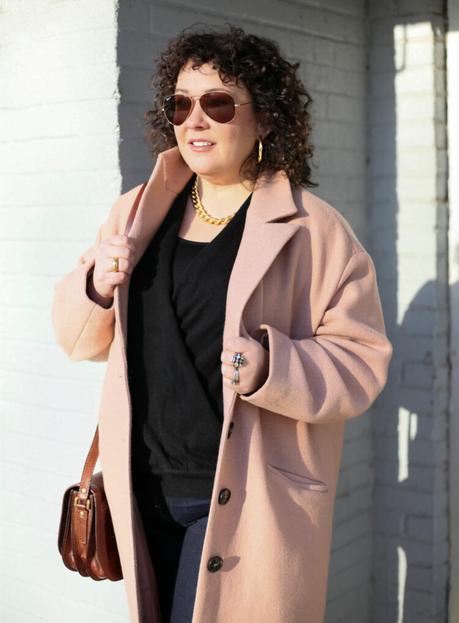 Wearing the Universal Standard Willow Coat in XS (runs big), this sweater from Chico's in 2, one of the rings from this set from Chico's, this ring from Sorrelli, and my
Maxwell Scott saddle bag
.
This has been a tough week for a lot of reasons, and the best way I've found to make myself not look like I just woke (other than wetting my hair as soon as I wake if I'm not immediately showering so my hair doesn't look a hot mess) is to add accessories.
Tube Hoops: I have always been a fan of hoops; they have been my signature earring style since middle school. It's an accessory where I like trying out new trends, and I liked the look of tube hoops. Exactly what they sound like, tube hoops are thicker than traditional hoops but aren't heavy because they are hollow/tubes. They come in a range of sizes; I of course like big but not so big they're heavy. I went with these from Baublebar since the price is reasonable ($38) and I know Baublebar's costume jewelry is good quality and holds up. They're what I'm wearing in the photo above.
Chain Link Necklaces: All 2020 I rocked the Baublebar Hera Link Necklace; so did my daughter. And now it's starting to look like it. I've come to love the look of a statement link necklace; it's a perfect way to look polished with little effort and works with everything from silk to sweats. I've been wearing my Baublebar Michel Curb Chain more often these days (many of you saw it in Wednesday's Instagram Stories) and like my Hera, it has held up beautifully. I am also loving my statement link necklaces from Chico's; above I am wearing this one (it has a matching bracelet and both are a brushed gold), and when I want silver I've been loving this one (seen in this blog post).
Lavender-lensed Aviators: I have already raved about these aviator sunglasses from Ray-Ban that I'm wearing quite a lot. With everything so gray right now, the purple-tinted lenses make the world more beautiful and I swear they improve my outlook and mood. I originally got my violet/gold 62mm Ray-Ban aviators at Nordstrom but they're now sold out; I did find them at the Ray-Ban website.
Rings Over a Size 8: I love the idea of rings, but they don't always love me. My right ring finger is a size 9, my middle fingers size 10, and I used to be a size 11. These aren't sizes easily found at retailers. I have this insignia ring from REALM and I wear it ALL THE TIME because it looks classic but also badass and comes up to size 11. I also have an adjustable ring from Sorrelli (seen above) that is sparkly and beautiful and doesn't look cheesy and fits even my pointer finger. I have also had great success with Chico's for rings up to size 9 (but a roomy 9), and Baublebar also goes up to 9.
The Face Masks I Actually Wear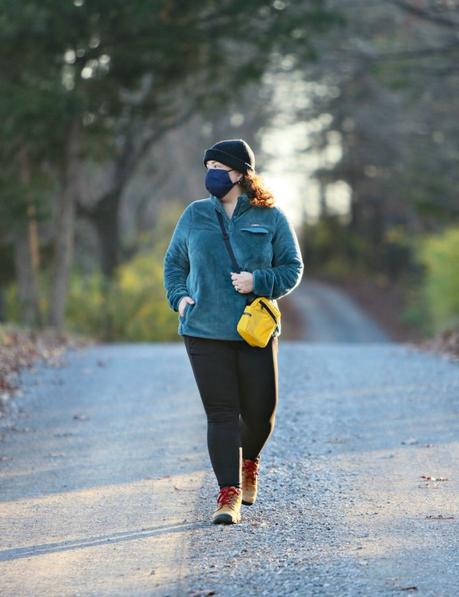 Wearing the Tom Bihn V4 face mask
I have a lot of face masks, but honestly this far into this existence, I don't like most of them. They're not secure enough, I end up breathing them in, they are hot, no nose wire, no filter pocket... I think many of you can relate.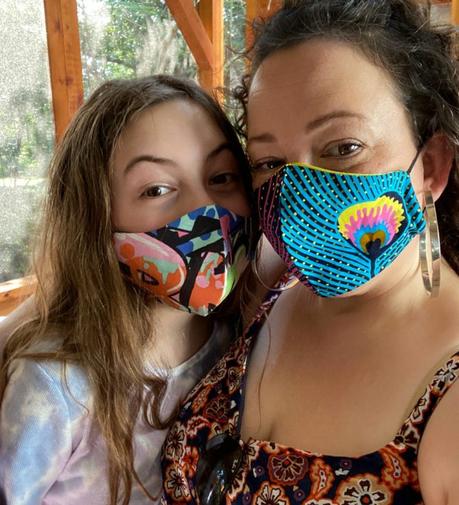 E and I both wearing Candace Cort face masks
Going through my face mask collection, these are three face masks I choose over and over again:
For Style: Candace Cort Designs masks do not have a filter pocket, but they are two layers of 100% cotton, they wash really nicely, and fit my face beautifully. I love them so much I ordered a bunch to give to brand contacts and a few readers this holiday season. I have a... medium-sized face. Masks that run small are too small for me but a lot of masks seem to want to cover my eyes as well as my nose and chin. These are a snug, comfortable fit and look beautiful too. I own about five now; my favorite is Featherweight. Candace Cort is a NYC-based Black woman designer who makes clothing as well as face masks.
For Activity: I heard of over and over because they must have gifted these to every celeb on the planet and every celeb has been wearing them. Most of my masks drive me crazy when I go for a hike or more serious walk and I liked the idea of these masks being made for fitness. I got the Ultra Sport Face Mask in Magenta and it's pretty fantastic. It is made from three layers plus a filter pocket and a nose wire. It fits my face great; I feel I can breathe better than most of my other masks and I don't end up breathing it in. I have only steamed it, can't say how it washes. The only negative is the ear loops are a bit thick and sometimes because of that slip off my ears. MasQd is a female and minority-owned small business that has all its masks made in the USA.
For Everyday: Tom Bihn's face masks are the family favorite. I find the S/M size to fit me perfectly; my husband wears the M/L. Our kid can wear the S/M too; it fits well around the edges and the ears but has a lot of extra volume at the nose and mouth and she ends up breathing it in. I also find myself breathing it in a bit, but it's not too bad. Tom Bihn has four styles of masks; is by far our favorite for everyday (though I want to try which is the most recent offering). is a great one if you will be outside a lot as the flannel keeps you warm while not overheating and being able to breathe well. Tom Bihn is a small business located in Seattle that does a lot of good for their community and the world as a whole; read my Tom Bihn review.